How Paid Surveys Can Help Women in India Contribute to Their Family's Income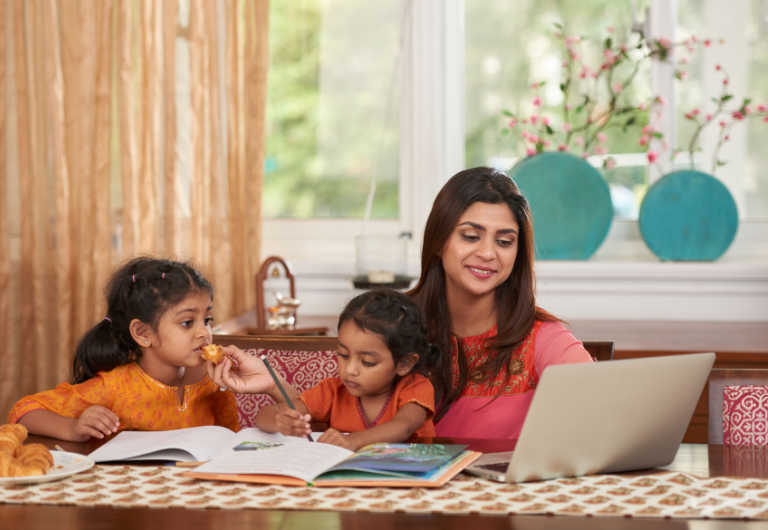 A survey recently conducted by the National Sample Survey Office's (NSSO) revealed some facts about how men and women in India spend their time very differently. Indian women spend an average of 299 minutes per day on household activities, on activities such as cooking, cleaning, caring for children, and other household chores that contribute to the well-being of the household but are not recognized as economic activities.
In this article, we want to highlight the benefits of joining LifePoints paid surveys and show how it can help women across India contribute to their family's income without leaving their homes. Keep reading to earn money online in India for your personal monthly expenses.
First things first: what are paid surveys? 
Online paid surveys are a legitimate way of earning some extra cash by simply giving your opinion by completing online surveys. Companies all over the world need the public opinions to improve products they offer in supermarkets and stores, and these companies are willing to pay all types of consumers just for giving their honest feedback about their products.
This activity is called market research. It's completely legit and the globalisation of the internet has made it possible to simplify the process by connecting consumers with different brands via paid online surveys.
If you are a stay-at-home mum, or if most of your activities are household chores, taking surveys for money can be an easy and fun side hustle to earn extra income every month. All you need is an internet connection and a little bit of time every day to respond to surveys about your purchasing habits and favourite products.
What are the other benefits of paid surveys for women?
1. You Can Earn Money from Home 
LifePoints is a flexible platform that allows you to take surveys from the comfort of your own home. You don't have to travel anywhere or have any specific educational background or expertise. You will earn points for each survey that you participate in, which can then be redeemed for cash or gift cards. If you have a mobile phone, you can also download the LifePoints app, available for iOs and Android, to take surveys even when you're queuing at the supermarket.
This flexibility allows you to work around your home schedule and other commitments while earning money.
2. Paid Surveys allow you to Earn Extra Income
LifePoints is an excellent way to supplement your family's income and earn money online.
You can take surveys at any time of day, allowing you to fit your work around your other duties. The more you participate, the more opportunities for earning money are generated because LifePoints offers surveys based on your personal preferences and profile. Your earnings depend on the number of surveys you take and how quickly you can complete them. Plus, you can start earning points the moment you sign up and begin taking surveys.
3. Paid Surveys Contribute to Your Household Economy 
Joining LifePoints gives you monetary independence, which allows you to contribute to your family's income without having to rely on others. With the money you earn through taking paid surveys, you can contribute to household expenses or save for future expenses.
4. Taking Surveys Contributes to Your Personal Development 
Taking surveys on LifePoints provides an opportunity to learn about new topics and issues. Many surveys cover topics such as health and wellness, beauty, fashion, and trends.
Participating in these surveys contributes to your knowledge base and helps you stay updated with the latest trends and developments. You also have a chance to share your opinion and thoughts on different subjects, which is an excellent way to feel heard.
5. Supporting Women-Owned Businesses 
Through LifePoints, you can support women-owned businesses by taking surveys and testing products they produce.
As a member, you can participate in special surveys to give feedback on a wide range of products. This allows you to make your voice heard and support businesses owned by women. It's a great way to contribute to women's empowerment while also potentially finding new favourite products.
I'm interested. How do I start? 
Starting off to get money for surveys is super easy. You'll start by signing up for a paid survey site like LifePoints and then filling out your consumer profile through our first profiler and answering a few lifestyle and preference questions.
Once you're done, the surveys will start rolling in, and for each one you complete, you'll earn virtual points (LPs) that accumulate in your tracker. When you've got enough points, you can redeem them for a reward of your choice. Take a look at our Rewards Catalogue, we offer hundreds of free gift cards in India, such as Airtel, Big Bazaar, Flipkart, Zomato, Vodafone, Lifestyle, and Myntra.
Have your voice heard and get paid too 
There are thousands of other companies looking for your opinion. When you take online surveys, you get to say what you think about big brands, and what you say is shared directly with people at those companies.
Become a LifePoints member and when you take surveys, you also get paid. You earn points, known as 'LifePoints', that you can then trade for your choice of reward. Some of your options include a cash transfer among others, or even a donation to the Special Olympics. Read the How It Works page for more information.
Better yet, sign up today or download the app and you can get 10 free points to get your earning started.
---