7 proven tips to help you plan a holiday on a budget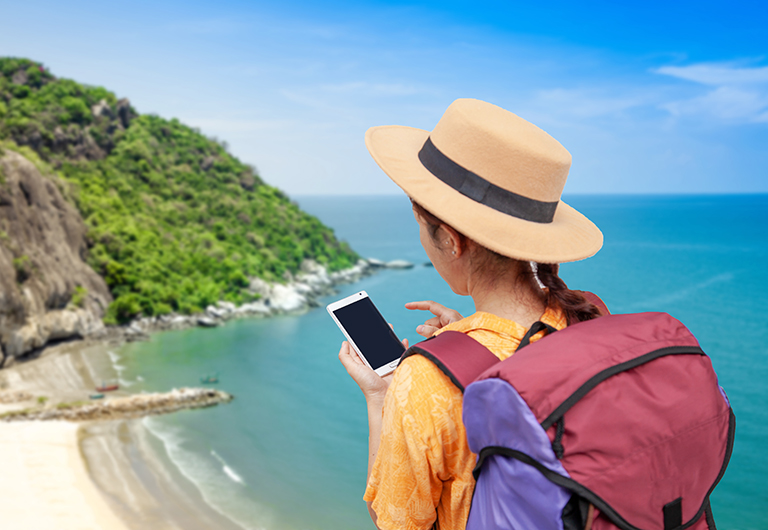 Looking for budget-friendly ways to plan your next holiday? With the right strategy, you can explore new cultures and make unforgettable memories.
Travel doesn't have to break the bank. These seven tips will help you explore the world on a budget. Planning is a breeze when you set a budget, do your research, and earn extra cash with LifePoints.
Read on to see how you can:
Set a travel budget and stick to it
Boost your travel budget with fun side hustles
Secure bargains with some planning
Explore budget-savvy travel options
Pack strategically to travel cheap
Go beyond tourist traps and enjoy local foods
Tailor your travel with specific tools and travel hacks
Tip 1: Set a travel budget and stick to it
To plan a holiday on a budget, the first step is to establish an achievable budget. Calculate how much you can afford to spend on your trip, then assign funds to transport, hotels, food and activities. Once you have your budget, you'll make rational choices about what you buy, and you'll be less likely to go overboard. You might even have some budget left over for a cheeky treat or two.
Tip 2: Boost your travel budget with fun side hustles
There are lots of ways to boost your budget before embarking on your trip. You can sell old items, sell digital prints online or take up freelance work. But one of the easiest ways to up your budget is by taking surveys with LifePoints. Share your opinion on big brands and earn rewards like PayPal cash or Amazon gift cards. It's that simple and easy.
Tip 3: Secure bargains with some planning
Get the best deals on your travels by planning ahead. Airlines and hotels offer discounts when you book early, which can help you save big. Sites like Google Flights, Google Maps and Booking.com can help you find the best deals, making planning a breeze.
Tip 4: Explore budget-savvy travel options                                                                                    
Being flexible with your travel plans opens up a world of exciting options. If you skip the typical tourist spots or travel during less popular times, the savings can be huge. With some research, you may even discover places you haven't heard of but are more exciting than popular travel destinations.
Sites like Kayak and Skyscanner are fantastic resources that can help you find affordable deals that match your budget.
Tip 5: Pack strategically to travel cheap
Unexpected expenses, like overweight luggage fees, can add up when travelling. Avoid these expenses by packing lightly and checking the weight limit with your airline. You can also save on overpriced food and drinks at the airport by bringing your own snacks and a reusable water bottle.
Tip 6: Go beyond tourist traps and enjoy local foods
Trying local foods is a fantastic way to immerse yourself in a culture and save money while travelling. Food from places like street vendors are great options to eat like a local and avoid expensive tourist traps. To discover these hidden culinary treasures, simply ask the locals for recommendations.
Tip 7: Tailor your travel with specific tools and travel hacks
There are useful resources out there to help you find deals and hacks for your dream destination. For example, if you're going on a safari in South Africa, check out safari blogs for the latest hacks and deals. It's an easy way to stretch your holiday budget.
Your other travel questions answered
What's the cheapest way to travel?
The cheapest way to travel will depend on where you're going. Sometimes the bus will be the cheapest, sometimes it's a train and other times flying will be the cheapest. Make sure you research all your options to find the cheapest and most convenient way to travel.
When is the cheapest time to book a flight?
A good rule of thumb is that flights are cheapest six to eight weeks before you depart. You can still find deals at other times, so keep a lookout for them.
What is the cheapest day to fly?
Tuesdays and Wednesdays are the cheapest days to fly.
What is domestic travel?
Domestic travel is when you travel within Australia. For example, someone who lives in Sydney and travels to Brisbane is travelling domestically.
Where can I travel without a passport?
Unfortunately, you need a passport to travel outside of Australia. If you don't have a passport, Australia is lucky to have some of the best locations in the world for you to travel to. If you travel domestically, consider looking for Australia-specific travel hacks to save some cash.
Join LifePoints today and move closer 1 step to booking your dream holiday
By taking surveys with LifePoints, you earn rewards. Each survey you complete earns you points, or LifePoints, which can be redeemed for rewards. Your options include Amazon gift cards or a PayPal balance transfer, both of which are valuable for planning budget travel. Check out the How It Works page to learn more about earning rewards with LifePoints.
LifePoints not only helps towards saving you money for things like your dream holiday, but also gives you a chance to make your voice heard. By sharing your thoughts and opinions about popular brands, you can directly influence their decisions. Learn more about the impact of your feedback by reading the How Surveys Make a Difference blog.
 
Sign up today or download the app and you can get 10 complimentary points to kick-start your earnings.
---