How to plan your perfect Halloween Party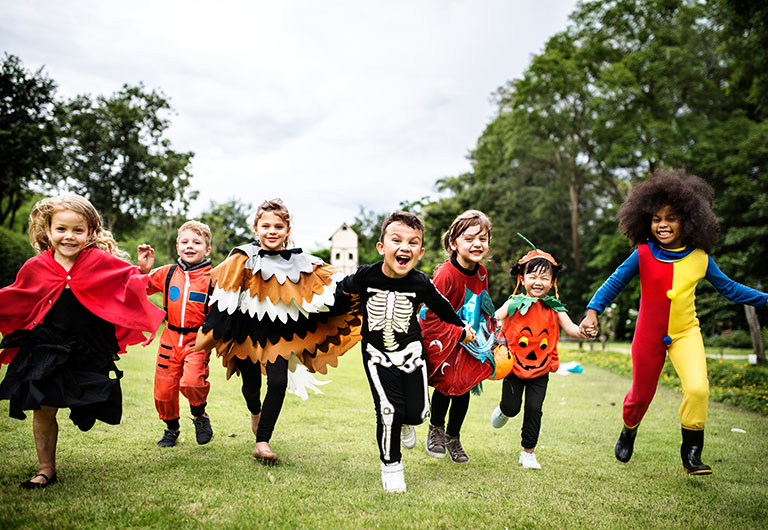 Halloween, a Spooktacular time filled with delights, is the perfect opportunity to throw a memorable party. Whether you're planning a party for your kids, or kids at heart, this guide has you covered.
Here you'll learn how you can plan a party your guests will talk about for years to come. Luckily, you can plan the event on a budget. For each idea, you can find a free gift card you can get from LifePoints, which can help you pay for your Halloween food, decorations and, of course, the all-important candy!
Things to think about when planning your Halloween party:
Watch some Halloween movies to set a spooky mood
Make your space spooky with some Halloween decorations
Join in with Halloween traditions
Break out the Halloween candy
Make your own spooky treats for your Halloween party
Give your guests something to take home
1. Watch some Halloween movies to set a spooky mood
Free LifePoints gift card that can help: Amazon
Setting the tone with a Halloween movie marathon is a fantastic idea. Whether you want to scare your guests or create a fun atmosphere, Halloween movies set the stage for an unforgettable party.
From horror staples to family-friendly movies, Amazon has a big library of Halloween movies for all ages. Grab your favourite snacks, dim the lights and let the show begin.
2. Transform your home into a haunted house with some Halloween decorations
Free LifePoints gift card that can help: Coles
Festive decorations can make a Halloween party more than a normal party. Up the spooky vibes with decorations such as lanterns, skeletons and ghoulish lights. Decorations will transport your guests into a spooky world as soon as they enter your very own haunted house. Coles is a great place to find Halloween decorations, with everything you might want under one roof.
3. Join in with Halloween traditions
Free LifePoints gift card that can help: eBay
Celebrate Halloween with an Aussie twist by attending local traditions and festivities. Every country has unique traditions for the holiday, and Australia is no different. Some Australian Halloween traditions include trick or treating, apple bobbing and pumpkin carving. For instance, ghost tours are a suitably spooky way to kick things off. Try out the Brisbane cementary tour to really get the goosebumps raising.
Whatever your local tradition is, you might need to buy a couple of things, and eBay – in its own words – sells everything. This makes it ideal for buying what you need.
4. Break out the Halloween candy
Free LifePoints gift card that can help: Woolworths
Treat your guests to Halloween goodies that will satisfy any sweet tooth. Woolworths has one of the biggest selections of sweets and chocolates. You'll be spoilt for choice and your guests with gobble up their favourites in no time. From classic gummy bears to pumpkin-shaped chocolates, your 'Treat' station will be your party 'Trick'.
5. Make your own spooky treats for your Halloween party
Free LifePoints gift card that can help: Myer
Premade sweets and chocolates are great, but homemade treats will propell your party to another place. Get the 'kids' involved in the kitchen and don't worry about the mess – it's all part of the freaky fun. Some ideas we love include 'witch hat cupcakes', 'popcorn hands' and 'spider web pizza'. Or get creative and come up with your own recipe. Here's another idea – share your creepy creations with us on our Facebook or Instagram pages.
Homemade treats are also great if you have guests with dietary needs. If you have some vegan or gluten-free friends, you can make them something they can enjoy. Whatever you decide to make, you might need some cooking equipment. Luckily, Myer has everything you need to become a pro in the kitchen.
6. Give your guests some Halloween gifts to take home
Free LifePoints Gift Card that can help: Woolworths
Sending your guests home with a goodie bag as a thank you for coming is a lovely touch. If they've had their fill of Halloween candy, send them home with mini witch hats or spooky decorations as an alternative. If you want to make your guests feel extra special, give them personalised gifts. These small touches can make your Halloween party one that people remember for a long time. Check out Woolworths for affordable little treats – or tricks if that your thing – to give your guests.
Craft your Perfect Halloween Experience with LifePoints
With the right plan, you'll host the ultimate Halloween party. No matter what your guests like, they'll have a spooktacular time.
By shopping with the help of LifePoints gift card rewards, you'll have everything you need for your party to go bump in the night! Plan meticulously, embrace the festive atmosphere and watch as your Halloween party becomes the talk of the town.
Now it's time to start earning
LifePoints helps you plan your Halloween party. Once you've signed up for LifePoints, you can take surveys. For each survey you complete, you get points, also called LifePoints.
When you have enough LifePoints, you can swap those points for something from our list of over a dozen rewards . You can get all the gift cards mentioned earlier, plus others like Uber gift cards, JB Hi-Fi gift cards or PayPal cash, among others. PayPal is like cash, and gift cards can buy you anything, like snacks or decorations.
To find out more, check out the How It Works page.

Sign up today or download the App , and you get 10 complimentary points to kick-start your earnings.
---