How to save money on food using tips and tricks from everyday people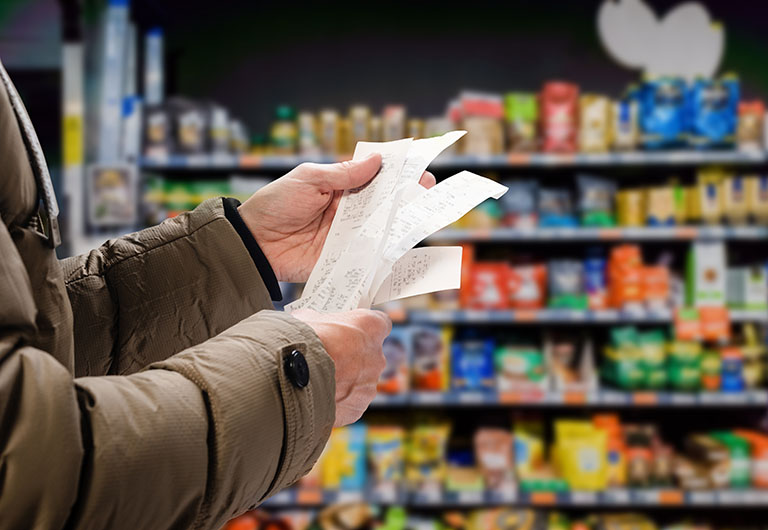 In 2022 food prices increased 9.9%. Food is one of life's essentials, but with a bit of planning and some creative tips you will be ready to save money on food.
LifePoints community members recently shared their best tips for saving money on Facebook and Twitter. They shared some fantastic tips that you can use today to eat for cheap:
Plan ahead
Cooking at home
Cutting down
Growing your own food
Buying in bulk
This is the second part of a cost-of-living series, so read about how to combat inflation with tips from real people to learn more ways to save beyond food and drink.
Different ways to save money on your food bill
Plan your food ahead and save
If you want to save money on food, you have a few options. For instance, you can plan your meals ahead. You can do this in a few ways like a spreadsheet, writing your plan out on a piece of paper or even memorizing it in your head, whatever fits your style. There are a lot of different types of meal plans:
Meal planning for dietary reasons
Meal planning for families
Meal planning for college students
Meal planning for health reasons
Meal planning for vacation
Planning your meals can have a lot of benefits. One of these is that you can take advantage of sales. Christine explains on Facebook how she uses planning and coupons to save some on her food bill: "Plan ahead a week's worth of meals a use as many coupons and find the best price for items"

Not only will you save some money by cooking meals in advance, but you'll also save some time by not cooking as often. Not cooking as often will also save you the effort of doing the dishes too.
Cook at home
Cooking at home was one of the more popular responses from the LifePoints community, and for good reason. Every year Americans spend almost $2,500 per year eating out. With eating out costing more than cooking at home- the average meal out costs $13 while the average meal cooked at home costs $4. With eating out being on average $9 cheaper there is a lot of room for you to save some money.
Priya, a LifePoints member on Facebook explains how she saves money by cooking at home: "Cut down on online food delivery and enjoy home cooked healthy food"

As Priya says, this also allows you to eat more healthy food, so you're saving money and getting some additional benefits.
Fernando, another LifePoints community member, explains it in a simple way: "Eat at home by cooking own food will cost a lot cheaper"

Cut down on food waste
Cutting down on waste is one of the best ways to save on food without sacrificing anything. Every year the average family of four throws out $1,600 of food. There will always be some food waste, but there is also some room to cut some of it out and find some savings.
Jai cuts down on food waste and saves some money by checking sell by dates: "Always check the expiry date."

Checking the expiration date isn't the only way LifePoints members have cut down on waste. Sandy saves by preserving her foods: "Can and freeze fruits and veggies when in season."

There are a lot of ways you can and freeze fruits like batch cooling, pickling and making jams. Doing these will help you throw less out and let you have produce that's not in season any time you want.
Some of the best options to cut down food waste include:
Plan ahead, as we said earlier
Find recipes online that use what's in your fridge
Get food with the longest sell by date so you have more time to use it
Only buy what you need
Buy canned and frozen foods instead of fresh so you have more time to eat them
Grow food yourself
You can even cut parts of your food bill out completely by growing produce yourself. Cecile explained on the LifePoints Facebook page how she gardens: "I planted vegetables in my garden. Get something free instead of buying." You'll be saving money and you'll be able to build a new skill while having some fun.

RN from Facebook is also a fan of gardening to save money, but they also see it as a way to get some extra cash by selling the extra they won't eat: "Do gardening so you can eat or sell for your benefit."

Even if you don't want to sell the extra you can always share it with friends and family so the people you care about can also save money on their food bill.
Save money on food by buying in bulk
Buying your food in bulk is a great way to cut down costs, and it's really easy to do. Buying items in bulk will be cheaper, so it is a great option if you buy something a lot. You have a few stores to buy in bulk from that sell anything, such as Costco, eBay or Amazon.
Mini, a LifePoints community member, finds buying in bulk to be one of the best ways to save: "I bulk buy on items which we use more often".

"If you've been inspired above to cook at home, bulk buy your ingredients to save even more. You'll be batch cooking like a pro in no time. Sheryl is a fan of doing this, as she explains on Facebook: "cook meals that would last for a day or 2."

Buying in bulk can also save you money on more than just food. Items that you buy a lot, which don't go off are the perfect things to bulk buy. Why not make a list and buy stuff like paper towels, laundry detergent and plastic cutlery in bulk and store them for when you need it? A list will help you remember what to buy and you'll save a lot.
Earn some extra money as well as saving money on food
These tips are a great way to save money on food. Why not earn some extra money as well? This way you can enjoy all the foods you love even when costs increase. There are a lot of side hustles out there. One of the easiest and quickest is earning gift cards and PayPal cash by taking our surveys through LifePoints.
You can take our surveys on any device, including on the LifePoints app from wherever you want. You simply sign up, take part in our surveys and share yohave your voice heard on the latest products or trends, get paid rewards points that you can swap for rewards."
Find out what rewards you can earn by visiting the LifePoints rewards page. And find out what our LifePoints members enjoy about taking surveys – watch their review videos now.
Get ready to save money
With the tips from the LifePoints community you're now ready to cut down your food bill. Whether you plan ahead, cook more or grow your own produce, you'll find some savings. We want to say a huge thank you for the hundreds of ideas and life hacks shared by our members on social media. Share your own food saving hacks on Facebook and Twitter pages.
Watch out for more LifePoints articles on how to save money during the cost-of-living crisis.
Have your voice heard with LifePoints today
With LifePoints you can earn points you can exchange for gift cards and rewards. Sign up to LifePoints today and you can get 10 free points!
Read on to see how surveys really pay you.
---