Pros and Cons of Taking Online Paid Surveys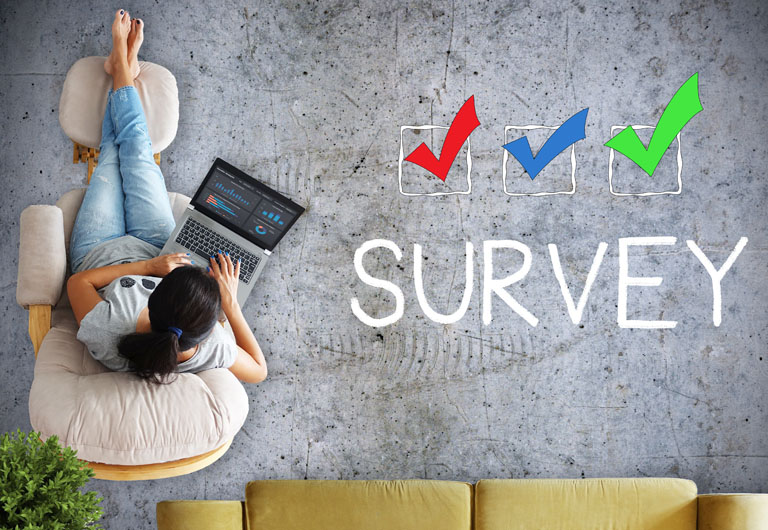 If you're looking to make some extra cash, taking surveys online is a great option.
But before jumping in with both feet, it's important to understand the trade-offs involved: from autonomy and convenience to earning expectations. To help evaluate if this side hustle might be for you, we've broken down everything about online paid surveys — pros and cons included.
Pros of Paid Online Surveys 

1. You can do it in your spare time
Ready to make money on the go? With paid online surveys, you can answer questions right from your phone/laptop and cash in almost instantly. Sites like LifePoints, set you up with a flexible way of making some extra income on your own terms — no matter where you are.
Taking surveys for money can be a gratifying experience in terms of unlimited 24/7 access to earning opportunities. All that's needed is an internet connection and off you go.
2. Get paid on your own terms
Legitimate survey sites allow for quick and easy payments through popular gift cards like Amazon or PayPal credit. All you need to do is reach their threshold (which usually ranges from $5-$10) before requesting your payout. If you're willing to put a bit of time into responding consistently to the surveys you get invited to, you could receive constant payouts based on your earnings.
Depending on the survey length, your time will be rewarded differently. Typically, most surveys only take a few minutes to complete, so your next reward is only a short time away.
3. It's a fun way to help shape the products of tomorrow
When you take surveys, you're not just earning money — you're also helping to shape the products of tomorrow.
Global brands and organizations need consumers' feedback to make the best of their products and services. From how advertising measures up to product appeal — there's always something new for research-savvy individuals. It's fun and rewarding — that's what makes it great.
4. Have a first-hand insight into products you love
By taking paid surveys, you will be responsible for the shaping of new products and have a first-hand insight into which products are in development and what companies are working on new projects.
Many people join online paid survey sites for obvious cash rewards. However, the most loyal survey-takers usually stay because they find online surveys an interesting way of having a sneak peek into the future — if you want to become a true influencer and have a saying on what products will hit the market first, online surveys are definitely a side hustle to consider.
5. You can (literally) start today
Everyone can join a paid online survey site. Companies and brands are always on the lookout for different demographics to give their opinion on their products and services. With paid online surveys, you don't need to worry about having the 'right' knowledge or even understanding a complicated topic — all that's required is access to the internet, your phone/laptop, and your opinions.
After providing some basic demographic info, tailor-made survey topics will be sent your way. Signing up with a survey site and taking your first paid survey can be done in a matter of minutes. So go ahead and start taking advantage of this great opportunity to make your voice heard.
6. Your opinion matters
We've all heard it before: Your opinion matters. And when taking surveys for money, your opinion truly matters — and it's rewarded.
Participating in surveys is a great way to help shape the products and services that companies provide. Your opinion could have an actual impact on what's available out there — so why not give it a go? Even if you think something needs improvement, you may be asked about it through online surveys. Make sure your views are included when businesses plan their next move — join the conversation today.
7. Strong security checks
Just as it happens with any service that provides or manages money, it is important to follow the strong security checks in place. Actually, this is not a con but a pro, because legit online survey sites implement quality checks to secure their member's earnings, avoid fraud and ensure the quality of the survey responses.
However, when signing up for surveys for cash, it is important to get familiar with basic security and quality checks. If followed correctly, they will prevent your account from being temporarily suspended or even canceled. Things like preventing the use of VPNs, signing in with multiple IPs, and avoiding having multiple accounts are important to keep in mind when responding to surveys.
8. Becoming part of a community
Many online paid survey websites foster a community atmosphere among their members. For example, at LifePoints, we make sure to have plenty of ways for our members to give their opinion on multiple topics.
Occasionally, some people use our social media platforms to build out their community too, making our members feel they are much more than just survey responders to online questions. Being part of a global and diverse community is possible; if you're willing to engage with other survey takers.
Cons of Paid Online Surveys
1. Consistency is needed
Survey sites are bustling on the web, and if you're ready to take full autonomy of your experience, make sure that self-motivation is always at its peak. Consistency is always the key. Make sure you respond timely to survey invites and allocate some time to do so.
With careful planning, you will hit your financial expectations; but only if you're consistent and respond regularly to the surveys you're invited to take.
2. Disqualifications are in order
If you ever feel locked out of surveys due to being part of the wrong age group or not using a particular shampoo, don't worry — it's normal. It may be frustrating, but most times, based on your demographic data as well as some screening questions, you will be shown survey topics that fit your personal background and your interests.
Legitimate survey sites like LifePoints have tools in place to match survey topics with your unique personal backgrounds and interests. That makes taking paid surveys much more enjoyable for all those involved while avoiding long questionnaires that lead nowhere.
And if you get disqualified and can't complete the survey, at LifePoints, we still reward you with a handful of points to acknowledge your time and interest.
3. Paid surveys won't make you rich
Paid surveys can be a great way to supplement your income, but it's not something you should rely on as the sole provider of funds for daily living.
The amount and frequency of payouts and surveys availability depend largely upon two factors:
How much work is available
Are you a good match for that survey? Factors like your lifestyle, interests, age, and location, will be criteria requested by different brands and services. No particular profile gets more surveys, but depending on the studies available at the time, you will qualify for more or fewer surveys
Paid online surveys will not make you rich, but it could be a fun, easy, and profitable side hustle to make a couple of extra pounds.
4. Some payouts can take longer than others
You'll usually have to reach an earnings threshold before you can cash out (commonly between $5-$10). If you're new to a survey online website, your first redemption can take a little longer than the subsequent ones — which is done for security reasons. However, once you cashed out your first earnings, the subsequent times you can expect to receive your money or rewards within a few days.
So... Is It Worth It?
Absolutely. As you can see, the pros outweigh the cons when it comes to taking surveys for cash. If you're looking to make some extra income in your spare time, paid surveys could be the perfect solution. With minimal effort and no special resources or knowledge required, there's truly something for everyone.
That being said, it is important that you vet any sites before engaging in their services; protecting yourself from virtual con artists is key. Always check which sites are legit. Stay consistent, respond honestly and accurately, and watch your earnings increase.
Ready to put your opinions to good use and start benefiting right away? Fantastic. Join LifePoints today! We've paid over $23 million to our members in the last year alone. Sign up now and start making money while never leaving the comfort of your own home.
fort of your own home.
---