Travel More, Spend Less: Your 7 Steps to Plan a budget holiday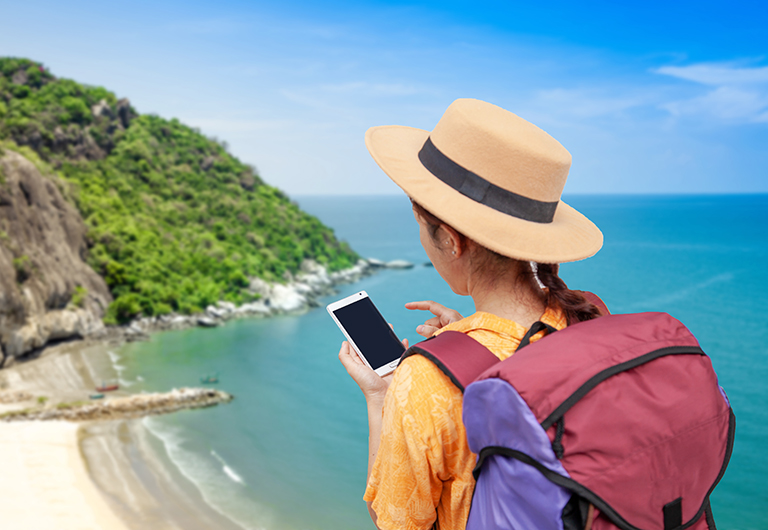 Ready to embark on a thrilling adventure without spending a fortune? With the right strategy, you can enjoy a trip full of excitement and still travel cheaply.
Embarking on a journey of a lifetime doesn't have to be costly. With these seven money-saving tips, you'll explore the world without hurting your wallet. Plan ahead, explore all options, and earn some extra cash with LifePoints to fund your dream adventure.
Read on to see how you can plan your budget holiday:
Make a holiday budget and stick to it
Up your holiday budget with side hustles
Maximise your savings with some clever planning
Look for budget holiday destinations
Pack wisely to avoid extra fees
Travel cheap and dine like a local to save cash
Get more out of your trip with tailored resources
Tip 1: Make a holiday budget and stick to it
Ready to make your dream holiday a reality? The key is to start with a solid budget. Figure out what you can comfortably afford to spend on your trip. With a clear budget, you'll make informed decisions and enjoy your holiday without overspending. And you might even have some holiday budget left over for a cheeky treat or two.
Tip 2: Up your holiday budget with side hustle
There are plenty of fun and easy ways to increase your holiday budget before take-off. You can sell stuff you don't use or do some freelance work. But one of the easiest ways to increase your budget could be with LifePoints, where you can earn rewards by sharing your opinions in surveys. You earn points for each survey you take, which you can swap for rewards like PayPal cash or Amazon gift cards.
Tip 3: Maximise your savings with some clever holiday planning
You can snag some amazing deals when you plan in advance. Hotels and airlines offer big savings for advance bookings, so it's definitely worth the effort. Use tools like Google Flights, Google Maps and Booking.com to easily find these deals.
Tip 4: Look for budget holiday destinations
Budget holidays can be exciting and you can travel cheaply without sacrificing quality by considering affordable destinations. Some lesser-known locations will impress you with how much they offer. Travelling during the off-season, which is when you travel at less popular times like when schools aren't on holiday, can also save you even more money.
Tip 5: Pack wisely to avoid extra fees
Travelling light can be one of the best ways to save money on unexpected expenses. Overweight luggage fees can add up, so be sure to check with your airline to see the baggage weight limit. And avoid buying pricy food at the airport by bringing snacks and a reusable water bottle.
Tip 6: Travel cheap and dine like a local to save cash
Discovering local foods is a delightful way to immerse yourself in a new culture and save. Street foods are usually the most flavourful option. They are often the cheapest options too. Explore neighbourhood markets or seek out local vendors to avoid overpriced tourist spots. Asking locals for recommendations can also lead you to some undiscovered culinary treasures and travel cheaper.
Tip 7: Get more out of your trip with tailored resources
Score amazing deals for your dream holiday by taking advantage of online resources. For example, if you're going to New York to see the sites, look at Big Apple social media accounts. It's a nifty way to help you plan a budget trip.
Your other travel questions answered
What is travel insurance?
Travel insurance is a type of insurance that protects you from expenses like flight cancellations or lost luggage. Some holiday packages require travel insurance and sometimes it's optional. Check out the Association of British Travel Agents (ABTA) for more info on travel insurance.
What's the cheapest way to travel?
The cheapest way to travel will vary from time to time. Sometimes the train will be the cheapest, sometimes it's a flight and other times a bus will be the cheapest. Research all your options to find the way that best fits your holiday budget.
When is the cheapest time to book a flight?
A good rule of thumb is the cheapest flights will be available six to eight weeks before you fly. This isn't a sure thing as flights can fill up and prices change, so if you find a good price, it might be worth booking it.
What is the cheapest day to fly?
On average, the cheapest days to fly are Tuesday, Wednesday and Friday. Targeting those days can help you go where you want while sticking to your holiday budget.
What is domestic travel?
Domestic travel is when you travel within the UK. For example, someone who lives in Brighton and travels to Edinburgh is travelling domestically.
Sign up to LifePoints to get one step closer to booking your trip
Taking surveys with LifePoints is not only fun but you also get paid. You'll receive points for every survey you complete, which you can swap for rewards like Amazon gift cards or PayPal cash. With PayPal's flexibility and Amazon's vast choice, you'll have plenty of options to help you plan your holiday on a budget. Check out the How It Works page for more details.
 
LifePoints not only helps towards saving you money for things like your dream holiday, but it also gives you a platform to share your thoughts on top brands. Your opinions are shared with top brands where they can make a real difference.
Sign up today or download the app and you can get 10 complimentary points to kick-start your earnings.
---