The Great UK Bucket List: Top 10 ideas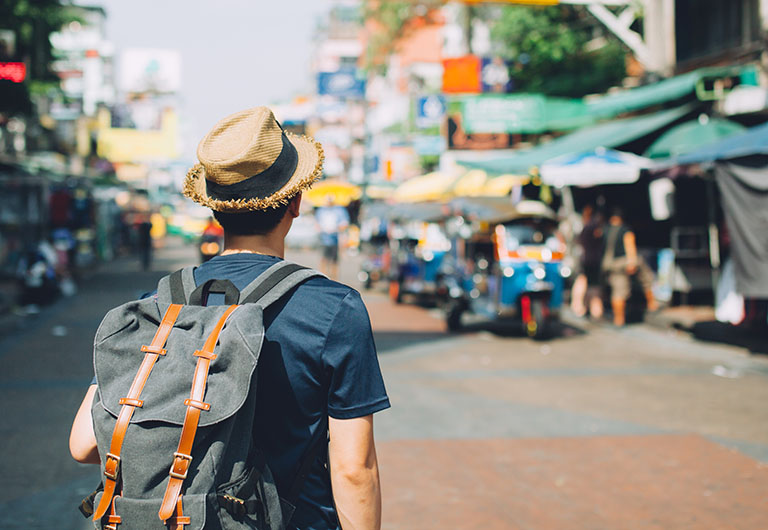 Building your bucket list and need some inspiration? You've come to the right place!

In this guide, you'll see a bucket-load of bucket list ideas from around the UK. What's more, you'll learn how LifePoints can help you save on your travel. From visiting the Scottish Highlands to having afternoon tea in a manor, you'll be ready to embark on your bucket list travel adventures once you're done reading.
Ready to write your list? Here are a few of our top UK bucket list ideas to get you started:
Hike to the summit of Snowdon
Give your bucket list some magic at the Harry Potter Studio
Add some comedy to your bucket list at the Edinburgh Fringe Festival
Cross Stonehenge off your bucket list
Your bucket list needs some relaxation with a Punt tour in Cambridge
Explore the Scottish Highlands
Enjoy an afternoon tea in a historic manor or hotel
Explore the Northern Irish Giants Causeway
Attend a traditional Scottish Highland Games
See the White Cliffs of Dover
1. Hike to the summit of Yr Wyddfa
Trekking to the summit of Yr Wyddfa, which used to be known as Snowdon, the highest peak in Wales, is worth a spot on any bucket list. Nestled within the beautiful Snowdonia National Park, Yr Wyddfa offers breath-taking natural beauty.
Whether you're an experienced hiker or a novice adventurer, there is a path for any skill level. From the easier Llanberis Path to the more challenging Pyg Track, each route offers something unique.
And if you're not one for walking, at Yr Wyddfa, you can always take the train to the top.
Reaching the summit is an accomplishment on your bucket list and a memory that will stay with you forever.
2. Give your bucket list some magic at the Harry Potter Studio
The Harry Potter Studio is a bucket list must for anyone who's ever dreamt of stepping into the enchanting world of Harry Potter. The immersive experience lets you go behind the scenes of the iconic films that captured imaginations worldwide. From wandering around the Great Hall to exploring the sets, the tour will bring the wizarding world to life.
3. Inject humour into your bucket list at the Edinburgh Fringe Festival
Take in some comedy and culture by adding the Edinburgh Festival Fringe to your bucket list. Every August, Edinburgh comes alive with theatre, comedy, dance and music. The vibrant event, considered the world's largest arts festival, is a celebration like no other. Known for its diverse line-up, it showcases both established acts and emerging talents. The bustling atmosphere and street performers make it the ideal addition to any bucket list.
4. Cross Stonehenge off your bucket list
Discover the mysteries of the past and enrich your bucket list by visiting Stonehenge. As a UNESCO World Heritage Site, Stonehenge is a testament to ancient ingenuity. The stone circle, which is around 5,000 years old, continues to be a mystery. To this day, nobody knows the purpose and construction techniques. It's the ideal way to add a little history and mystique to your bucket list. Make your visit even better with a guided tour to learn about the heritage.
5. Unwind with a Cambridge Punt tour on your bucket list
For a serene addition to your bucket list, take a classic punt tour along the River Cam in Cambridge. This quintessentially British activity offers a unique perspective of the classic university town.
Drift along the tranquil river as a guide navigates the flat-bottomed boat. The leisurely ride lets you absorb the sights and sounds of Cambridge in the most relaxing way possible. Whether you're going solo or having a romantic outing, a punt is the perfect addition to your bucket list.
6. Explore the Scottish Highlands
Venture into the beauty of the Scottish Highlands and embark on an awe-inspiring bucket list adventure. Visit iconic spots like Loch Ness, known for its legends, or the naturally beautiful Glen Coe. The Isle of Skye, another Highlands classic, lets you feel like you're in another world. By visiting the Highlands, you're adding one of the UK's finest locations to your bucket list.
7. Enjoy an afternoon tea in a historic manor or hotel
Your British bucket list needs something iconically British. And nothing fits that bill more than afternoon tea in a manor or hotel. Treat yourself to some elegance as you savour an assortment of finger sandwiches, fresh scones and a selection of teas. The debate between cream first or jam first will always go on, but your bucket list will thank you. The setting can make all the difference, so make sure you pick somewhere worthy of your bucket list. It's an experience that lets you enjoy a moment of luxury and indulge in some tasty treats.
8. Add heritage to your bucket list with the Giants Causeway in Northern Ireland
Add another UNESCO World Heritage Site to your bucket list and visit the Giants Causeway. It's a geological wonder that inspires visitors with columns created by ancient volcanic activity. As you walk along the rugged cliffs, you'll see hexagonal formations you can't see anywhere else. The site is full of mythology and legend, with tales of giants and giants' footsteps adding to its mystery.
9. Take a bucket list holiday to a traditional Scottish Highland Games
Take in some traditional sports and cross an item off your bucket list by attending the Scottish Highland Games. The events showcase Scotland's history, athleticism and sense of community in a spirited way. From the thunderous bagpipes to the competitor's energy, the Games offer a glimpse into Scottish traditions.
If you're not up for any strenuous exercise, simply watch events like caber tossing, hammer throwing, and tug-of-war. Each one is a test of strength and skill more impressive than the previous one. As well as the sports, you'll see traditional music, dance and even some clan gatherings if you're lucky. The Highland Games offer a taste of Scotland like no other and are the perfect activity to add to your bucket list.
10. Walk the White Cliffs of Dover
These chalk cliffs on the south eastern coast offer both beauty and history. See panoramic views of the English Channel against white cliffs from a beach. As you explore the area you'll pass the medieval Dover Castle and World War II relics. This experience connects nature and history, shaping a remarkable coastline. So, add a little wonder and heritage to your bucket list.
Let LifePoints help you cross these items off your bucket list
All these ideas are perfect for your bucket list, but bucket list holidays can get expensive. That's where LifePoints comes in.
Once you've signed up for LifePoints, you'll be able to take surveys. For each survey you complete, you get points, also called LifePoints. When you have enough LifePoints, you simply exchange them for over a dozen free gift cards from our list of rewards.
You can get ASDA gift cards, Costa gift cards or PayPal cash, among others. PayPal is like cash, and depending on the gift card, you can buy things for your trip such as travel snacks or sunscreen. Whatever bucket list adventure you go on, LifePoints has a reward that can help.
For even more ways to save on your bucket list travel, check out our 7 Steps to Plan a budget holiday guide.
To find out more about LifePoints, check out the How It Works page.

Sign up today or download the App , and get 10 complimentary points to start your earnings.
---