Your guide to planning the perfect Halloween Party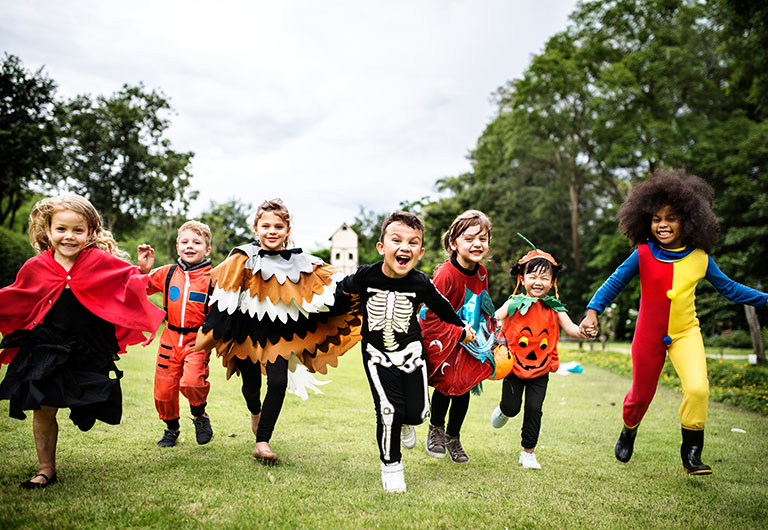 Halloween, a spooky time filled with tricks and treats, is the perfect opportunity to throw a party. Luckily, whether you're planning a party for kids or 'kidults', this guide has you covered.
So, how do you plan a party your guests will talk about for years? And still stick to a very cost-conscious budget? That's where LifePoints comes in. For each idea below, you can earn a free gift card or PayPal cash with us that will go towards paying for your spooky goodies.
So, what are our best Halloween ideas?
Have a Halloween movie marathon to start the night
Let Halloween decorations create a haunting atmosphere
Buy some festive Halloween sweets
Play some spooky Halloween music
Give your guests something to take home
Make your Halloween party a costume party
1. Have a Halloween movie marathon to start the night
Free LifePoints Gift Card that can help: Amazon
Halloween movies are a fantastic way to set the eerie tone for your party. From heart-pounding horror flicks to family favourites, Amazon has a huge choice of Halloween movies. Whether you want to give everyone a good scare or create a fun atmosphere, Halloween movies set the stage for an unforgettable party. Get your favourite snacks, turn down the lights and let the show begin.
2. Let Halloween decorations create a haunting atmosphere
Free LifePoints Gift Card that can help: Marks & Spencer
Turning your space into a supernatural realm is key to an unforgettable Halloween party. M&S has a huge range of Halloween decorations that will transform your home into a spine-chilling wonderland. From skeletons to ghostly lighting, the right decorations will make your party Instagram-worthy. Your guests will be talking about your haunted house for weeks to come.
3. Buy some festive Halloween sweets
Free LifePoints Gift Card that can help: ASDA
Treat your guests to Halloween snacks that will satisfy any sweet tooth. ASDA has an impressive choice of sweets and chocolates to tantalise everyone's tongue. From classic gummy worms to Halloween bat-shaped chocolates, your 'Treat' station will be the highlight of the party. Of course, the 'Trick' will be to have enough for everyone.
4. Play some spooky Halloween music
Free LifePoints Gift Card that can help: Google Play
Make sure your guests are entertained and in the mood to throw some Wednesday-style dance moves with the right music. Turn your attention to Google Play, where you can find a range of Halloween-themed music to get the party jumping.
Whether you're looking for family-friendly tunes or something scarier for adults, Google Play has you covered. Download your music, set up your speakers and let the music take over your guests' bodies. It's sure to be a total 'Thriller' if you try.
5. Give your guests Halloween party bags
Free LifePoints Gift Card that can help: Primark
Sending your guests home with a thank-you gift or party bag is a thoughtful touch. After all, how are they going to carry all their treats? There are so many options to choose from. And if they've had enough sugar, send them home with mini figurines or spooky ornaments. If you want to make your guests feel extra special, give them something personalised to them. These small touches can make your Halloween party one that people remember for a long time. Check out Primark for affordable items and surprising little gems to give your guests.
6. When is a Halloween party not a costume party?
Free LifePoints Gift Card that can help: Sainsbury's
Nothing screams Halloween more than costumes. So, embrace the spirit of Halloween by encouraging your guests to dress up in spooky costumes. If you want to take it to the next level, make the party a contest.
Choose categories like "Best Group Costume" or "Most Original Costume." Then judge the outfits and award the best efforts with prizes. And remember to share your classiest costume cappers with us here at LifePoints on our Instagram or Facebook pages.
Take yourself off to Sainsbury's and get your costume and the prizes for the winners.
Here's the not-so-scary bit – how to earn your gift cards
LifePoints can help you plan your Halloween party on a budget. It's this easy:
Once you've signed up for LifePoints, you simply fill out our surveys
For each survey you complete, you get points, also known as LifePoints
When you have enough LifePoints, you can swap them for something from our list of rewards.
You can get all the gift cards mentioned above, plus others like Costa gift cards, Love2Shop gift cards or PayPal cash, among others. PayPal is like cash, and gift cards are a great way to buy many of the products you'll need, such as snacks and decorations.
So how can LifePoints help? Find out more on our How It Works page.

Sign up today or download the App, and get 10 complimentary points to kick-start your earnings.
---