How To Make Money On Your Phone With Paid Survey Apps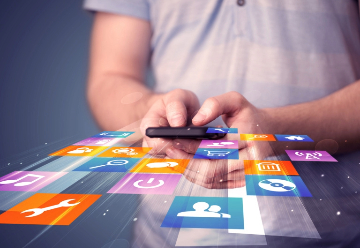 We've all heard the phrase 'time is money.' But have you ever considered that you can actually make money while you're killing time? That's right, by installing a paid survey app on your phone, you can turn those boring waiting periods into money-making opportunities. In this blog post, we'll discuss the benefits of paid survey apps, how they work, and introduce you to some of the best-paid survey apps in the UK, with a particular focus on LifePoints.
Firstly, let's discuss the benefits of having a paid survey app on your phone. You can earn money for completing surveys at any time, from anywhere, as long as you have your phone with you. This means you can make cash while waiting for a friend at a coffee shop, or even while you're queuing in line at the supermarket - the possibilities are truly endless. Plus, you can redeem the rewards earned from surveys, such as gift cards or cash, to buy anything you want, from online shopping to paying a bill.
Now, let's take a closer look at how paid survey apps work. You sign up with your chosen email address, answer some profiling questions for the system to understand what type of consumer you are, then match with surveys based on your profile.
Once you complete a survey, you earn points, which you can later redeem for rewards that range from PayPal money directly deposited into a PayPal account you previously synced with the system or other popular options like M&S gift cards.
The surveys usually take anywhere from a few minutes to half an hour, depending on the app and survey length, and top members can easily make over £1,500 a year.
Not only it's completely free to join, but they truly pay you for every survey you complete. Isn't that great?
Best Paid Survey Apps
Let's talk about some of the best-paid survey apps available to download in the UK.
One of the most popular and highly-rated apps available is LifePoints. What makes it stand out from the crowd is its intuitive and user-friendly interface, making it easy for even first-time survey-takers to navigate. Plus, LifePoints has a wide range of surveys on offer —  from market research to product testing, meaning there are always opportunities to earn rewards.
LifePoints also differs from other survey apps as its reward system is simple to use. Once you earn enough points (called LPs), you can redeem them for gift cards to major retailers, such as Amazon and M&S, or even cash deposits to your PayPal account. Committed LifePoints users have already earned over £5,000 over the years. If you stay on top of all the survey invites, it's possible to make some additional money to pay some bills at the end of the month or renew your subscription to Netflix.
If you're wondering how your data is treated, you can rest assured that LifePoints doesn't sell your personal information to third parties. Everything is encrypted to avoid unwanted calls and emails from undesired parties and the information collected while taking surveys is aggregated data from the responses all members give.
Without a doubt, LifePoints is the best-paid survey app in the UK.
Another example of a top survey app is Qmee, which also has a high rating amongst UK users. Qmee's unique feature is that it not only pays users for answering surveys but also gives you the opportunity to get some cash back in certain selected brands.
You may also want to explore other options like Toluna, FreeCash, or Survey Junkie. Each one of them has a different way of rewarding you, so it's good to explore before you decide if they are the right fit for you.
Overall, paid survey apps are an excellent way to earn money with minimal effort, making those mundane waits and coffee break worthwhile.
If you're new to the survey app scene, we recommend starting with LifePoints as it has a proven track record of being the best-paid survey app in the UK. It is available for Android and iOS.
As a final thought, remember that paid survey apps are not a get-rich-quick scheme, but they're worth considering as a side hustle and an opportunity to earn a little extra cash.
Now it's your turn to have your voice heard…
 These products and services are all around us, but they are only a small snippet of the products that surveys have improved. With LifePoints, you can say what you think about big brands, and that feedback is shared directly with decision-makers at big companies.
…And make some money as a reward
For each survey you complete, you get rewarded with points, also known as LifePoints. You can then exchange your LifePoints for a selection of rewards, such as Amazon gift cards, PayPal cash or a donation to the Special Olympics, among others. Read the How It Works page for how you can get the best from LifePoints.
---