How To Plan The Best Move-In Experience to University with LifePoints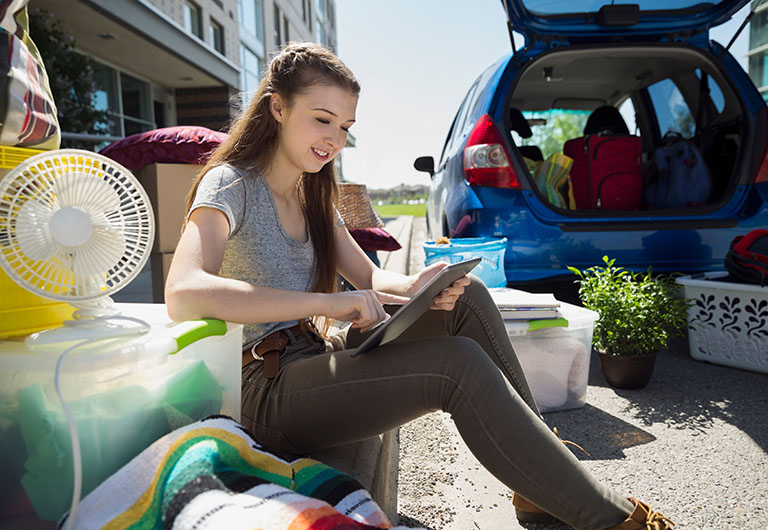 Starting university is an exhilarating time filled with new mates, endless possibilities, and cherished memories. However, it also brings some uncertainties and challenges. Fret not! With a few handy tips and tricks, you can smoothly transition to uni life and make the most of your experience from the start.
In this guide, you'll see a comprehensive checklist for your move-in and learn valuable tips to help you enjoy the day more. Additionally, discover how LifePoints can help you make money as you move in.
Your Comprehensive Packing Checklist for All Your University Essentials:
With these dorm necessities, you'll have your new digs ready to go from day one:
Bedding: Sheets, pillowcases and a doona for a quality night's sleep.
Bathroom essentials: Towels and toiletries to keep fresh on campus.
Clothing and footwear: Outfits for any occasion, along with underwear, socks and versatile shoes.
Kitchen supplies: Plates, bowls, cutlery, glasses, and basic cooking equipment for meals you whip up meals in your hall.
Study materials: Books, pens, pencils, and folders for those study sessions.
Electronic devices: Laptops, chargers, phones, headphones, and power boards. Any academic triumph starts with these tech essentials.
Storage stuff: Clothes hangers and under-bed storage bins can help you store your stuff more efficiently.
Cleaning supplies: Cleaning wipes, a broom, and other items can keep your place tidy and peaceful.
Important documents: Any IDs, paperwork or medical records.
Medications: Any prescribed medications for your well-being.
Personalised extras: Everyone is different, so add any other items that are important to you.
While not 100% needed, these items can make life easier and make you feel at home:
Decorations: Posters, photos, and personal mementos add character to your room and create a cosy atmosphere.
Entertainment: Books, board games, video games, or any other activities to help you unwind from studying.
Desk supplies: Things like a desk lamp and a mini whiteboard can be great tools to help you study more effectively.
Exercise equipment: Yoga mats, resistance bands, or other tools for staying active, especially if you can't make it to a gym.
Sentimental keepsakes: Mementos, photographs, or childhood possessions that bring comfort and familiarity.
Earn Extra Rewards for a Smoother Transition to Uni
Moving can be a costly affair. That's where LifePoints comes to the rescue. When you participate in LifePoints surveys, you can earn free rewards like Coles or IKEA gift cards. Sign up, answer a few questions, and get rewarded. It's an effortless and speedy way to add those finishing touches and transform your room into a space you adore.
Your opinions matter and have the power to shape the future of well-known brands. When you take surveys with LifePoints, your valuable feedback reaches decision-makers at big companies. It's common for LifePoints members to answer a survey on a product and then see those changes come to life in the future.
Five Extra Tips for a Successful University Move-In and Beyond
Embrace self-kindness and be proud of your accomplishments
Making it to university is an impressive feat, and it's natural to feel homesick or have questions. Luckily, your university is here to help. Take advantage of the excellent resources available, like educational support, counselling services, and student groups. These resources are designed to help you succeed and settle into campus life.
Connect with the people you'll be living with
As you'll likely be living with people you don't know, try to build a connection before moving in. Coordinate who brings what to avoid duplicate items and take the opportunity to learn about their interests and hobbies. This will foster a friendly atmosphere and prevent initial awkwardness.
Explore your new area
In a new area, it's important to learn about your new surroundings. Find nearby supermarkets, cafes, and other amenities to get a sense of the area. Another great idea is to locate all the buildings where your lectures will be before your first day. This way you won't get lost and be late on your 1st day of classes.
Plan logistics in advance
Planning the logistics of your move-in day can make a smooth and stress-free experience. Check with your building for instructions on when and where to arrive on campus. Knowing this information ahead of time helps you feel more prepared and gives you a sense of confidence.
Stay organised during the move
On move-in day, there will be a lot to manage— documents, keys, contact info, and a whirlwind of emotions. Keeping everything organised will make everything that much easier. Consider using a folder to store important documents, IDs, and anything else essential.
Now you're set to embark on your academic journey
A little preparation goes a long way when moving to uni. Create your checklist, follow the helpful tips, and earn LifePoints rewards to hit the ground running from day one.
LifePoints can help you not only during move-in but throughout your entire uni experience. Whether you crave lunch from Cole's, want a game from EB Games or need to buy someone a present on Amazon, LifePoints offers a fantastic range of rewards. LifePoints will quickly become a trusted companion on your journey.
In the last year alone, LifePoints has given out over $33 million. To join in and claim your share, sign up here. If you prefer using an app, you can download the Android or iOS app.
---