The Aussie Staycation: How to Plan the Ultimate Adventure Down Under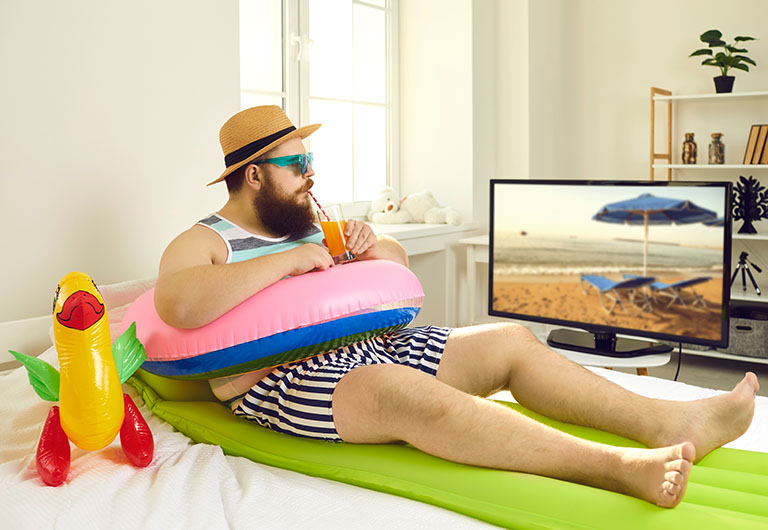 In the whirlwind of modern life, we overlook the hidden treasures just beyond our doorsteps. Staycations have become all the rage, and it's no wonder why. Staycations let you unwind, enjoy your passions, and dive headfirst into Australian wonders. What's more, they're much cheaper than an overseas trip.
Planning a staycation requires some careful planning, but fret not. This guide is here to lend a hand. By using these simple steps, you'll have a staycation planned in no time. Get ready to make lifelong memories, try new things and return completely rejuvenated.
Create a relaxing and cosy oasis at home
To make your staycation extra special, transform your home into a peaceful oasis. Start by cleaning and getting rid of any distractions or unfinished tasks. Adding soothing fragrances and soft lighting can add to the relaxing atmosphere. Finally, don't forget to bust out your most luxurious bedding for that extra touch of comfort. By creating a relaxing atmosphere, you can transform your home into a retreat.
Know what you want to get out of your staycation
Before planning your staycation, take a moment to decide what experiences you want. Is it time with friends, some self-care or exploring local food spots? Knowing your staycation goals will help guide your planning and make the most of your time. Share your ideas with family or friends so that everyone is on the same page and enjoys their time together.
Craft a staycation itinerary
Now that you know your goals, it's time to create an itinerary. An itinerary will help you make the most of your limited time and have the best experience possible. Research local attractions, events, and activities that pique your interest. You never know, you might even uncover hidden gems minutes away from your doorstep. Remember to leave enough time in your itinerary to relax and keep yourself refreshed.
Set a staycation budget
Planning your staycation with a budget is crucial but can also be exciting. With a budget, you can indulge in all the things you love without worrying about money.
Start by determining how much you can comfortably spend on your staycation. Decide how much you'd like to allocate to meals, activities, and, if necessary, hotels. This will help you set boundaries and spend your hard-earned money wisely.
While our 7 proven tips to planning a holiday on a budget guide is for foreign travel, it has some great info for staycation planning.
Boost your staycation budget with LifePoints
If you're looking to add some special touches to your staycation, LifePoints can help. LifePoints offers fantastic rewards for sharing your opinions on major brands. When you take surveys with LifePoints, you get paid with fantastic rewards.
With options like IKEA gift cards, UBER gift cards or PayPal cash, you'll struggle to pick just one. It's a quick and easy way to boost your staycation budget while sharing your thoughts on global brands. Sign up today and watch your staycation budget soar to new heights.
More staycation questions answered
What is a staycation?
A staycation is when you take a trip within Australia instead of abroad. You do what you would do on holiday, but in your own area, like bars, museums and tours.
What to pack for a staycation
Here are some staples to pack for your staycation:
Clothes
Entertainment like video games or music
Toiletries
Food and drink
Anything else you think you might need
What to do on a staycation
Here are 10 ideas for things to do on a staycation:
Visit attractions like galleries or museums
Take a day to do nothing and relax
Try a new cuisine
Go on a hike
See a film or play
Take a class
Go on a day trip
Have friends or family over
Volunteer and give back
Catch up on TV shows everyone talks about
How long is a staycation
The great thing about staycations is they have the flexibility to be as long or as short as you want. If you want to take a 2-week trip to the coast, you can. Or if you only have a day, you can use that time to explore your local area.
How to make a staycation special
Here are some simple ideas to make your staycation special:
Set up a hammock, fairy lights, and outdoor furniture in your garden
Have a gourmet picnic in a local park
Set up a theatre with a projector and popcorn
Take a sunrise or sunset yoga class
Hire a personal chef for a special dining experience
Set up a DIY spa day with facials, massages, and scented candles
Plan a surprise day trip to a nearby town
Have a themed dinner night with costumes, decorations, and food from another country
Take a hot air balloon ride or for a new view of your city
Create a personalised scavenger hunt with hidden surprises
 
Now you're set for some well-earned time off
Staycations are a great opportunity to discover local gems and create lasting memories. All without paying for expensive travel. By following the tips on this page, you'll have an exciting and well-balanced experience. If you're looking to boost your staycation budget, joining LifePoints is the way to go. Happy staycationing!
Sign up to LifePoints to take your staycation to the next level
You get rewarded with LifePoints. For each survey you do, you get points, also called LifePoints. When you have enough LifePoints, you get rewarded for your answers. You can get eBay gift cards, Amazon gift cards or PayPal cash. PayPal can be used like money, and you can buy anything you want with gift cards. This makes them perfect for staycation planning. To find out more, read the How It Works page.
Sign up today or download the app and you can get 10 free points to kick-start your earnings.
---