Save money and stress: your top ways to transfer money online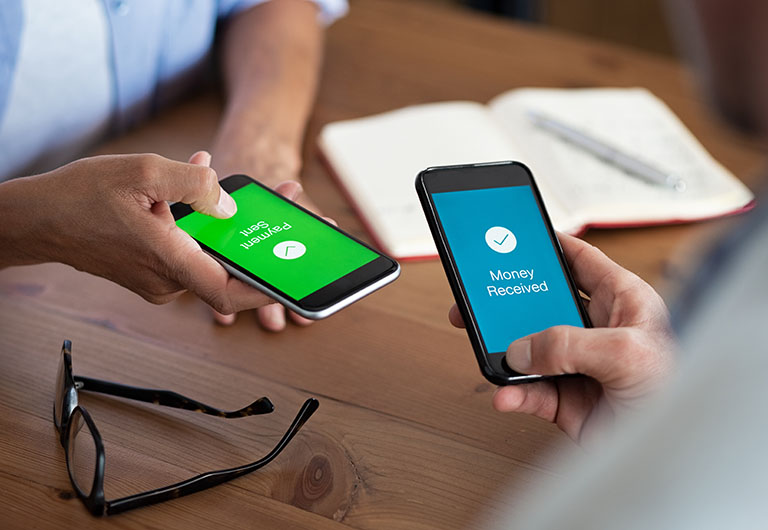 The beaches, the BBQs, the Bundys – there are plenty of ways to spend your days in the Aussie sun. If you've got friends or family Down Under who need a few extra dollars, it's never been easier to transfer money online. 
In this guide, we'll break down the best apps and services for sending funds overseas. 

 
The most popular methods for online money transfers are:
PayPal
Bank transfers
Digital wallets 
Earning with LifePoints
Extra tips to help you
PayPal: your trusted online money transfer pal
Since 1998, PayPal has been one of, if not the best way to securely transfer money online. To use it, you:

 
Create/log in to your account: Go to the PayPal website, or download the app to get started. 

 

Choose who to send the money to: Enter the email address or phone number connected to your friend's PayPal account. 

 

Link a way to pay: Connect PayPal to your bank either through a debit/credit card or a current account.

 

Transfer the money: Choose how much you want to send and confirm the transaction. Make sure you add a note to each transaction, that'll help you remember the what and why later on!
Bank transfers: the more traditional way to transfer money online
Wiring funds through a bank may be old school, but there's a reason it's still popular. It may take a little longer, but follow these steps for a secure online transfer:

 
Log into your account: Visit your bank's website or use their app. If you don't have an account, it's easy to get started.

 

Enter the recipient's details: Find your payments option and enter your friend's details. Double check all the details are right, then check again. 

 
Choose how much to send: Enter the amount to send, and add a reference for both you and the recipient.

 
Review and confirm: Review and confirm: Once you're happy with the amount, and the recipient's details are finalised, confirm the payment. 
Bank transfers, especially ones done between countries can take a few days (depending on your bank), so make sure you've planned for this.
Digital wallets: shaping the future of secure online payments
Forget leather, a good wallet should be made of 1's and 0's. Digital wallets work like a normal wallet but make all your cards digital. 
Some benefits include:

 
You can send money to friends: All you need is their phone number or email address, and you can transfer them money in the app.
 

They're easy to use and convenient: You probably already carry your phone everywhere. Once you have an app, your phone can become your wallet, which is much more convenient than a normal wallet. 

 

You're secure: What use is a payment method if it's not secure? Luckily for you, all the wallets need to pass rigorous tests to keep you safe.

 

They're eco-friendly: Digital wallets simplify your transactions and help make a greener world. By taking away the need for physical cash and plastic cards, they have a lower environmental footprint.

 

International uses: Some digital wallets let you transfer money overseas. If you have a friend or family member overseas, they're a great option. 

 
Some examples of digital wallets you can use are:
Samsung Pay
Google Pay
Apple Pay
Beem It
Click to Pay
LifePoints: Elevate your secure online transfers
Hopefully, this guide has simplified transferring money to Australia. The good news is, that we can help you do it for free through LifePoints.
Sign up, take a few surveys and earn LifePoints - with them, you can choose from over a dozen rewards, including PayPal cash.
Once you've earned enough LifePoints, you can choose a reward from our list of over a dozen gift cards. You can even get paid with some of the methods discussed earlier, like PayPal cash. 
So, if you want to send people money online without any money leaving your bank account, LifePoints helps you do that. 
 
Extra things to consider when transferring money online to friends or family
Safety and security: Make sure you know what protections you get on each platform. For example, some will refund you for an error, while others may not.
International transfers: A selection of the above allow international transfers, but not all. So, if you need to send money overseas, make sure you find a method that lets you do so.
Budgeting and tracking expenses: Budgeting is important, and places like your bank can help you make the most of your money. 
 
Customer support: Even with the best planning, things can go wrong, and money transfers are no exception. So, find a payment method that has good customer support. If there's good customer support, you can transfer your money with peace of mind knowing you're safe.
 
Read FAQs, chats, articles and other info on their sites. A little research helps you understand how you're supported.
 
Now you're ready to easily send money to your friends and family online
Sending money online has never been easier with PayPal, digital wallets and bank transfers. With LifePoints, you can send money to whoever you want without a dollar ever leaving your bank account.
In the last year alone, LifePoints community members have earned over $35 million in rewards. 
Join LifePoints today to get started.
---