25 Legit Ways to Earn Money Online Fast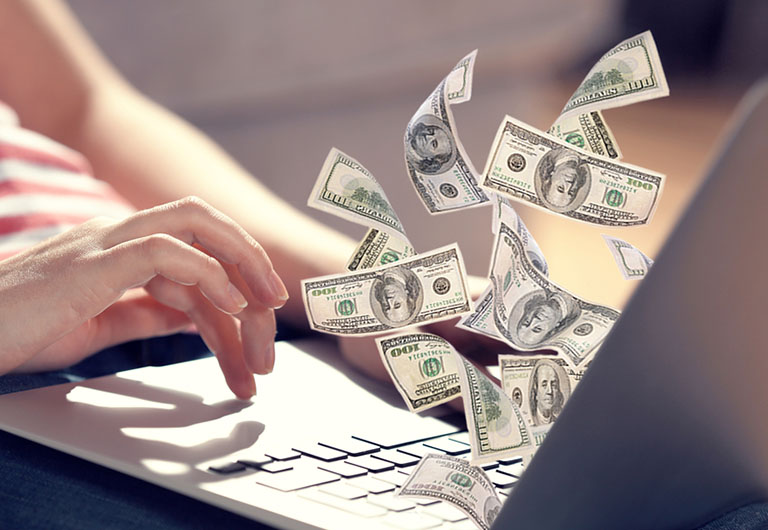 We all want some extra money to buy the things we deserve. But, let's be honest, we also want that money fast. A lot of the time, it can be hard to find options to get money quickly - that's where this guide steps in! We have found the 25 best ways for you to make money that won't take weeks, or months to pay you.
This guide will cover our favourite ways to earn money fast. What's more is some of these methods require no skill for you to start! There are a variety of options to choose from, so you'll definitely be able to find one that fits your lifestyle. Some you can do from the comfort of your home while you watch TV, while others give you the opportunity to be creative and express yourself.
Discover more in our full guide and browse by the categories below for ease:
How to make money from home fast
How to make money fast Australia
How to make money fast without a loan
How to make money fast without a job
How to make quick money in one day
You might find some of the methods cross over other categories. For example, for some of the ways to make money from home you don't need a job. So, while looking at different opportunities, it's worth exploring all of them. This is to make sure you don't miss out, as there might be an opportunity in a different category that's a great option for you. Happy reading, happy earning, and happy spending!
How to make money from home fast
Earning money from the comfort of your own home is already convenient, and earning that money quickly is even better. This section, like the title says, will cover the best ways to earn from home in a fast way. Like we mentioned in the introduction, these aren't the only possible ways to make money quickly from home. Other methods in this article can be done from home, so you may be able to find one in another section that you want to do.
1. Earn money from doing tasks at home
You may already be familiar with Amazon Mturk, but we'll cover the basics anyway! Companies will always have random tasks that need to be completed. A lot of the time they don't have the ability to do them, already have too much workload, or they can't employ somebody new to work on the tasks. Amazon Mturk, short for "Amazon Mechanical Turk", is a solution to this problem.
Companies can send these random tasks to Mturk, and people like you can complete them in exchange for cash. It's a great way to earn money from home, and the amount you can earn is high. There is a range of tasks available on through Mturk, and some are skill based while others require no prior skills. For example, if you have some coding knowledge, then a coding task is a great option.
If you want to earn money while completing tasks that require no prior skills, then data entry might be a good option. Below are some of the most popular ways people make money on Mturk:
Answering questions from a computer or mobile device about any topic
Ranking products based on how relevant they are to a search query
Evaluating the quality of an image
Removing duplicate content from business listings
Video transcription
Writing a product description
While these are some of the most popular Mturk tasks, there is a range of other options available. One advantage for Mturk is you can choose which tasks to complete, and can therefore choose tasks which will take a short amount of time. You will also be paid very quickly once the tasks have been completed. For more information or to sign up, click here.
2. Complete surveys online for quick cash
Taking online surveys is one of the easiest and quickest ways to earn money online. Taking surveys require no skills and anyone can participate. Each survey only takes a few minutes to complete and you can take as many surveys as you like! As long as there are surveys available, you can make as much as you want.
What's more, you can complete these surveys right here at LifePoints without ever having to leave this site! When you complete surveys with LifePoints, you are rewarded with points. These points can be exchanged for great rewards such as PayPal money or gift cards to top stores. Are you reading this blog on your phone? Why not download the Android and IOS apps, if that's more your thing. When you sign up, you'll receive 10 free points to get you started on your earning journey!
On top of earning cash quickly, completing surveys with LifePoints gives you the opportunity to have you voice heard. The feedback you give in surveys is sent directly to companies, which companies use when making decisions about their products or services. This means that when you give feedback, your favourite products improve. Got a product you don't like? Your feedback may help to improve it or take it off the market altogether.
3. Translate for quick cash
Are you bilingual? You've probably been told this before, but if you are, you can make some good money through translation. You can also earn that money quickly. The world is becoming more globally connected every day and this means the need for people who can speak multiple languages to translate is consistently growing too. These translations can be anything, such as:
Product descriptions
Captions
Web pages
Business documents
Even menus at restaurants
There are thousands of languages in the world, and countless documents that need translating every day. So, no matter which languages you know, there are a ton of opportunities out there to translate for cash. How to find the opportunities will depend on which languages you speak, and what you are trying to translate. A simple Google search is always a great place to start when looking for opportunities. Once you've found the right opportunities, this is an easy and fun way to earn money quickly! Due to the nature of translating, once you have delivered the translation you will typically get paid straight away.
4. Earn money quickly by solving captchas
You might be asking, what is a captcha? You might not know the term, but you have seen them hundreds of times online. When you try to sign up to a website, you are often asked to type out a set something you see in photo such as "RTB681FTB"? This is called a "CAPTCHA", (which means Completely Automated Public Turing test to tell Computers and Humans Apart).
Companies need to use Captchas all the time to stop bots from using their sites. But did you know that every Captcha you see has been tested by multiple humans to make sure it's accurate? You can be the person to test them and get paid (quickly) to do so.
There are dozens of sites available if you want to get paid for typing Captchas. Two of our favourites include MegaTypers and Kolotibablo, as they are reliable and pay well. How much you get paid will vary, but a general estimate is about $2-$3 for every 1,000 Captchas you complete. While 1,000 Captchas definitely sounds like a lot for a couple of dollars, each Captcha takes a second or two to complete. If you type quickly and focus, you can make a decent amount of money in a short time. Like translating, you will be paid very quickly after completing your Captchas!
5. Become an affiliate marketer for some fast money
This method only works if you already have an audience on somewhere like social media or a blog. However, if you do you will possibly be able to make money within as little as an hour or two. Being an affiliate marketer means you have a link to a specific product on an ecommerce store. When someone clicks the link and buys the product (or products) you get a share of the revenue as a commission.
Many ecommerce sites have affiliate programs, but our favourite is the Amazon affiliate program. This is because it offers up to a 12% commission, which is among the highest that we've seen. To be an affiliate you need to apply, and Amazon will accept or reject your application. To apply, click here. This page also includes some great information and explains all their policies. We believe that in terms of how much time and effort you need to put in relative to how much you get paid, this is the best option on this page. Once you have chosen the products and links to amazon, you can start getting paid straight away, if people start buying the product. So not only does this method have a high earning potential, but it can also be done very quickly.
How to make money fast Australia
As an Australian information page, we wanted to include ways to make money fast that are great opportunities for Australians. This next section will cover exactly that, so you can make the most of the opportunities available to you.
Here are some ways to make money in your local community along with some handy tips, so you can make the most of these opportunities and make money as quickly as possible. While these are methods you can do locally, some are also possible to do in other countries. So, if you are not Australian, still read on. You might find something that could make you some good money!
6. Become a mystery shopper for some fast money
Being a mystery shopper is not only a great way to make money quickly, but it can also be fun. A lot of times shops want to understand what the experience is like for the customers. A mystery shopper is someone who is hired by a shop to effectively go undercover to see what the experience for the average person without the store realising. They will go to the shop, act like a regular customer, and then give feedback to management on how their experience was. Mystery shoppers can even be hired to go to competitors stores to help companies understand the market more.
If you are interested in being a mystery shopper, it is easier than you expect. One option is a site called iShop for Ipsos, which allows you to take on random tasks that companies want completed. Sign up is easy and there are new tasks every month, so you can get a constant stream of mystery shopping tasks. There are some other options available, so do some further research to find best opportunities in your local community. Adding on to that, there may be some opportunities in your local area, so look out for those too. Overall being a mystery shopper is a fantastic way to make money quickly. As you are just visiting a shop and giving your opinion, you can do all of it in one day, which means you can get paid really quickly.
7. How to complete data entry tasks online for fast money
It is possible to make some good money entering data for money. We are in the data age, where so many decisions are data driven. At the same time, managing databases is a lot of work for companies. While companies want data driven decisions, they don't always have the resources to hire somebody full time to collect and enter all the data.
The solution for a lot of companies is to pay people like you to do data entry jobs. Luckily the process to get these gigs couldn't be easier. You have a few options if you want to do data entry tasks, but a good place to start is advertising on Fiverr. Because these are all remote and often have flexible deadlines, they can fit around your schedule. That being said, Fiverr isn't the only option out there for data entry tasks, so do more research to find the best option for you.
8. Walk dogs locally to get paid quickly
We are a nation of dog lovers. Our dogs need walking, but too often we're busy with work, family and life taking up our time. Walking dogs for other people isn't a new thing, and with modern technology it is easier than ever for dog owners and dog walkers to connect. Mad Paws does exactly this, connecting dog owners to walkers. If you want to use your phone, there is an app available for both iOS and Android. Mad Paws also has other services if you are interested such as pet sitting and grooming. You will also be paid weekly, so you'll get your cash fast, and frequently.
9. Housesit to get paid fast
When people go on holiday, they often need someone to take care of their house. This can be for a few reasons such as needing people to care for pets, taking deliveries, making sure the house is kept clean or, even just for peace for mind that their house is being protected while away. People will pay others to stay in their home and do these tasks. We're all used to spending money on hotels or Airbnb's. While getting paid to stay somewhere seems like a weird concept, it is legit.
All you need to do to get started is find a housesit opportunity. Finding these opportunities is easy too, with websites such as Trusted House sitters and Aussie House Sitters being great resources.
While this is not a full holiday, as you will have responsibilities from the owner, being in a housesit doesn't mean you are trapped in there the whole time. You will still be able to spend some time exploring the area you are in when you have some down time. This is a great opportunity to do a little traveling, get paid to stay somewhere and make that money in a quick manner.
10. Rent out your vehicle and get paid quickly
If you have a car that you don't use all the time, why not rent it out and make money? You can now rent your car out for as little as a whole day, and get paid for doing so. What's great about this method is your car is essentially doing all the work. Just give your car over to whoever is renting it, and you get cash in return. There are security checks to make sure anyone who rents your car will take good care of it. There are a few platforms to do this, but our favourites are Car Next Door and Get Around. Both are simple to use, pay well and are trusted, so you can use them with confidence and make good money.
While this is a great way to make money you also have to consider that when you rent your vehicle there are more miles driven so it loses some value. So, when looking at how much you can make, you should calculate if the depreciation or money from renting are greater. While this isn't the only consideration, it is an important step when evaluating whether this is worth it or not. That being said, this is still a great way to earn some cash quickly, and you don't really have to do all that much to get the money as your vehicle is doing the work for you.
How to make money fast without a loan
But too often you need a loan or investment to get started. Sometimes this is fine, but most of the time we don't want to take a loan out due to interest rates and not wanting to take on more debt. The following examples will discuss all the ways you can make money quickly, that don't require you to take a loan.
11. How to tutor or coach to make quick money
There are thousands of skills that people want to learn, and people will pay learn them. These skills can be anything, from photography, gaming, pottery, personal finance and even acting! Whatever skills you have, there is somebody out there wanting to learn. What's great is they are willing to pay a lot to learn! With a good plan you can start earning quickly.
Because every skill is different with a different community, each skill will have a different way people find tutors and coaches. This means that you'll need to do some research on your own to find someone who wants to learn.
This could be:
Word of mouth
Local message boards
Online ads
Direct messages
Creating a profile on a freelancing website
Making an online course
Once you've found the best way to reach people you can start tutoring and coaching for money and start earning right now!
12. Lead walking tours to make quick cash
Have you lived in an area for a long time and know the best spots and its history? If you live in a touristy area why not use your knowledge and make some quick cash? Plenty of people want to get an insider's information when traveling, and they will pay to do so in a tour. These tours can be a range of things, including history, architecture, nature, or food tours, among others.
You could apply to a company to be a tour guide, but if you're reading this, you want to earn money quickly. So, what's the alternative? You will need a plan, but you could promote on social media, advertise in hotel lobbies (that give you permission) or even approach people and offer up your services. As we said, you will need a plan of how to promote and how much to charge people, but you can earn some good money if you have it thought out fully.
13. How to become a freelance writer fast money
Can you write? If you can, freelance writing is a great way to earn some money in no time. Freelance writing comes in many shapes and sizes.
Examples include
Writing subtitles for shows and films
Writing short stories, ghost-writing for celebrities
Writing documents for businesses and more
Each type of freelance writing will have a different way to find people, so research the type you want to do and go from there. Freelance websites are always a great place to start your search if you have no idea where to look.
14. Sell unused gift cards for quick money
If you have some unused gift cards lying around why not sell them for some money? You may have had a gift card you know you won't use. Too often we let them sit until it expires. So, why not sell these gifts you won't use for some fast money? If you are never intending to use them then you might as well convert their value to cash before they run out.
Because there is no official platform to sell unused gift cards, you will have to find people. But everyone loves gift cards, so finding a friend or family member to sell yours too should be pretty easy. LifePoints is a company that rewards you with free gift cards, so you can sell the ones you get from us. But this is an added reason to complete our surveys. You know that even if you don't eventually use the gift cards you are able to still get money out of them. It's a win-win!
One thing to be aware of though is that you will typically have to sell the gift cards for less than the value on them. This is because there needs to be some incentive for the other person to buy them. If it was at face value, they could just buy it themselves or just pay with cash. The advantage you have here though is if they know they are going to buy something from the store, then they are getting a discount so convincing them to buy it shouldn't be too hard. This also means that you can get the money really quickly.
15. Sell some photos online for some easy and quick money
If you are a pro photographer, or even if you aren't a pro and think your photos are great, selling photos is a really good way to make money in a short period of time. We aren't talking about the old-fashioned way of selling physical prints. Rather, we're talking about selling your photos online digitally.
If have great photos that you think people would buy, you can upload them to sites such as Shutterstock and Adobe Stock. Once online, any time someone downloads them to use, such as on a social media account or in promotional brochures, you get paid through a commission. Once you have uploaded the photos your work is complete, and you can start getting paid. This means that the total time to start earning is exceptionally quick. If you already have some photos that you think would sell, why not upload them to see what happens?
How to make money fast without a job
Starting to make money without a job can be tough. When you don't have a job these ways to make money on the side are even more important. Here are 5 ways for you to make money without a job that will pay you quickly. We have also chosen these methods for this section due to them needing little to no investment. We want to make sure you are able to get going today. That being said, there are still many other viable ways that you don't need a job to do scattered across this page. While feel like the following 5 are the most appropriate, don't discount any of the others as they may be a great fit for you!
16. Sell data and information online for quick cash
Did you know that you can trade information that already exists to companies for money? Because this data already exists you can do this easily and quickly. You would also be surprised what counts as selling your data. One example of this is Nielsen's broadband panel. All you need to do is sign up, install their device and then you get $30 per month. Nielsen will then use the device to get some data that helps them improve their services. There are a lot of options available to sell data for quick money, so do some research if you want something other than the Nielsen broadband panel.
Selling data can be a bit intimidating and make us all uncomfortable. But the advantage here is you are choosing what to sell and who to sell to. This means that you can sell as much or as little as you want, whatever you are comfortable with.
17. Review money for quick money
Do you listen to a lot of music or think you know a lot about music? It is possible to listen to some music, give your opinion and get paid quickly. Slice The Pie is a site that allows you to do exactly that. Just create an account, listen to some songs, and give your honest opinions. All reviews are anonymous so you can be as honest as you want. You will be paid for each review you give via PayPal, and this money is sent to your account straight away. There is also no real limit for how much you can review. As long as there are songs to review you can get paid. This means you can earn a lot of money just by giving reviews.
18. Recycle old technology and earn money fast
All of us have old gadgets and technology lying around collecting dust. While the technology may not be useful anymore, there are still valuable parts inside that people will pay for. Or if the technology isn't that old you can still just sell it to be used by someone else. You have a couple of options to sell your old gadgets, including Gazelle and Sell Cell. While they are different, they work in a similar way. Get a quote for your tech, decide if you want to accept, send your device to them, and get paid quickly. There aren't too many things to add here. If you like the price and are happy saying goodbye to your devices this can be a great way to earn in no time!
19. Edit audio and video files to get money in no time
Right now, 92% of marketing professionals say that video is an "important part of their strategy. If you can edit, you could be looking at a payday in the very near future. If it interests you but you don't know how to edit video and audio, there are countless (free) resources available online to learn.
With some creativity, finding companies or people to edit for can be easier than you think. As long as you can show potential clients that you are skilled you can find opportunities. Because editing can both be done from anywhere around the world, the world is your oyster when it comes to opportunities. You never know, you could be editing an audio file for someone in Italy while also helping a client based in Brazil. Overall, while this method requires time to build, as opposed to doing something like completing a LifePoints survey, it can be a very profitable way to make money. And once you have the skills it is easy to make good money quickly.
20. How to transcribe files and make money quickly
We just talked about editing files to make money. But another important step is transcribing those files. Nearly all files need subtitles or a transcript of the content. The people who make the audio and video files often don't have enough time to write them. That's where you step in. Creators will pay you to listen to their audio and watch their videos, and transcribe what is said. This is one of those methods where once you have delivered your work you will be paid right away. The quicker you transcribe, the quicker you get paid.
If you are interested in transcribing for cash, there are a few sites to do so. Some options include Triple A Transcription and Transcript Divas. Both have their advantages and disadvantages, so we recommend looking at both and figuring out which works better for you and your lifestyle. There are also other options out there if neither of those feel like the right fit. Overall, this is a great opportunity to earn money quickly and can be done by anyone!
How to make money fast in one day
We saved one of the best sections for last. All the previous methods talked about are definitely ways to make money that don't take too long. This section however will cover the methods that you can have money in your pocket in one day. You might not be able to consistently do these methods over a long period of time. However, if you do need (or just want) money right away these methods are legit and will work. That being said, don't discount methods from other sections, there may be some that you can do and get paid in less than a day.
21. Sell your old stuff and make money instantly
You probably have some stuff you don't use that's lying around collecting dust. If you don't use the stuff why not sell it? Not only will you get paid, but the item will be used by someone who will enjoy it. You can sell anything too, as long as there is a market, and the items have value. You can even sell some items to recycle, such as empty cans and bottles.
If you do want to sell something, the best, and quickest, place to start is selling to friends and family. If you have no takers in your close circles a good option is Facebook marketplace or at local markets. It will be different depending on what you want to sell and where you live, but if you have something good to sell you will be able to find someone.
22. Return stuff for an instant payout
We just spoke about selling your old stuff, but returning unused items is also an option. There isn't much to expand on here, but if you recently bought something that you are unsure about, you should consider returning the items to get your money back. It might not have as much earning potential as some of the other methods, but it is instant and as long as the shop's policy allows it you are guaranteed to make your money doing so. Be aware that some stores may only offer in store credit, so make sure you check their policies beforehand.
23. Make money in a day by taking part in market research focus groups
Companies invest a ton of money into their products and services to make sure people will like and hopefully buy what they sell. Part of that process is focus groups. Companies will propose ideas and show their products to people participating in these focus groups. Taking part will then give their opinions and feedback and companies will take that feedback into account for future decisions. Focus groups are particularly valuable to companies as they hear things they might not have considered before, and they can ask follow-up questions to really understand what their customers want.
Because this information is so valuable and people are giving up their time, they are paid to do so. Some focus groups can pay $150 and up. If you are looking to take part in focus groups, there are a lot of opportunities out there. Some sites include Focus People, The Purple Corporation and Sydney Focus groups (don't worry they have focus groups nationwide and not just in Sydney). Like many of the other ideas in this guide, you can get paid on the same day. If you're looking at options, it's hard to argue against how quick focus groups are and how much you get paid.
24. Rent out your parking space and earn money today
Do you have a parking space that is in a great location but don't use? Or maybe you only use it a couple of times per week. If you do, it is possible to rent it out for cash. What's great for you is that with modern technology it is incredibly easy to advertise your spot and rent it out. Sites such as Parkhound and find a car park allow you to list your spots really easily and have thousands of users. but if you do this is such an easy and quick way to make money.
25 Get sign up bonuses for instant money
Companies will give out sign up bonuses all the time. So why not seek out the best ones and make money within a couple of hours? These signup bonuses can be for anything including banks, food/drink, stocks and even apps, among others. Companies will have different offers all the time, so we cannot link to any specific offers. That being said, there are always hundreds available and are easy to find. A simple Google search will help you uncover many of them. Just be careful to make sure you can trust the business and are confident in what you are doing as there are scams out there. Searching online for reviews about the company will let you know if it's safe.
How to start making money quickly
Hopefully by reading this you will have discovered dozens of new ways that you can make money quickly! With so many different methods to choose from, all of which offer something unique and have different advantages, there is bound to be something that fits your lifestyle!
Whether you choose just one method, like selling old stuff or completing data entry tasks, or you combine ways, like solving CAPTCHAs alongside online surveys, you can start making money right now!
If you want to start earning money and other rewards, sign up to LifePoints today!
---