How to Make Money from Home: Our Top 5 Picks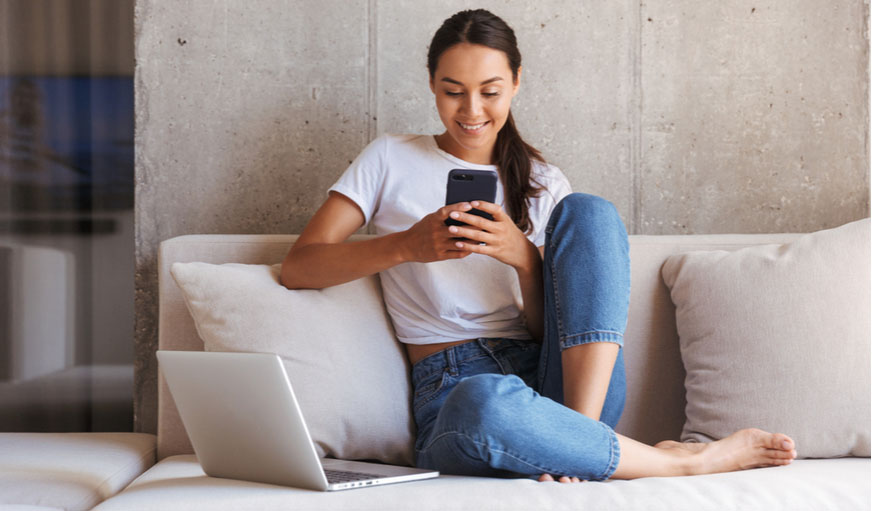 From catching up with social media to checking the morning commute, the internet plays a big role in our everyday lives. Thanks to the advancement of technology, the ability to connect with others across the globe, we can now use the internet for just about anything we like –including making money!
Knowing how to make money online is an essential skill for any modern-day individual and can open up a world of possibilities. Whether you're looking to supplement your main source of income or just want a bit of extra cash to play with, we've got you covered. Keen to learn more? Continue reading to discover how to earn money online with ease!
1. Start freelancing
These days, more and more people are turning to freelance life. The ability to work to your schedule and the lack of office-based restrictions means that people can enjoy a more flexible lifestyle without compromising on earning! You might find the prospect of self-employment daunting. However, the internet contains a wealth of resources available for those looking to get their freelancing off of the ground.
Sites such as GradAustralia and Xolo provide an easy-to-digest breakdown of everything you need to kick-start your freelance work, including vital information on financing and regulations. Be sure to give them a read before taking the leap of faith to avoid any complications later on down the line!
2. Sell your unwanted clothes and gadgets
If you have boxes and bags full of old clothes sitting and gathering dust in your wardrobe, it might be time to part ways with them! Thanks to platforms like eBay and Depop, selling garments that no longer fit you or suit your style is easy and can be done from the comfort of your own home. Games consoles and smartphones that are no longer in use can also be sold on for a decent sum of money, clearing out space in your home and putting a bit of extra cash in your pocket! We recommend taking high-quality pictures of your items before listening to them on the site of your choice – think props, lighting and a complimentary backdrop.
3. Complete online surveys
Have you ever tried a product or used a service and felt compelled to leave feedback for the provider? If so, completing online surveys could be for you. Big brands and retailers value the opinions of their customers – whether it's negative or positive – and are willing to pay individuals for their input! Knowing how to how to make extra money in Australia through market research is one of the savviest ways to earn money from home as it requires very little time and effort – what's not to love?
With LifePoints, you can complete your profile to only receive survey invitations that are relevant to you, making the process enjoyable from start to finish. In return, you can earn free gift cards from some of your favourite brands and retailers such as Coles, Wish and Myer. Rewards for sharing your voice can also come in the form of PayPal credit, which you can spend however you like! Top tip: we recommend familiarising yourself with the survey provider's privacy policy as it's important to know where and how your private data is being stored and what it's being used for.
4. Start your own blog
Whether you're a big foodie or have a knack for commentating on this year's new automobile launches, there's an audience out there waiting to read what you have to say. Starting a blog is a great way to reach people with similar interests from all around the round and – when done well – can be a fun, enjoyable way to earn money online. Our top tip is to start writing about something you have a true passion for – that way, your content will naturally come to you and transforming your ideas into content will be a breeze!
All you need to get going is a simple site that you can find through hosts such as WordPress and Squarespace, either for free or for a small fee. Choose a design that reflects your personality and allows you to structure your blog in the best way; consider whether you want to feature only text posts or whether you want to incorporate video content, too. As time goes on and your blog begins to gain traction online, brands and retailers may approach you to create sponsored content for them – meaning you'll be earning whilst creating! Have fun with whatever you choose to blog about and make sure you're confident about the fees you charge for this type of content.
5. Teach online
Your knowledge is a precious resource and can be put to good use when teaching. If you're well-versed in a particular subject or have the capacity to brush-up on a new one, online teaching could be for you! Knowing how to make money online through online teaching starts with being patient with students and possessing a passion for learning, so consider these factors before diving in.
Once you've decided on the subject you'd like to teach, sign up to job boards that advertise online tutoring roles. Sites such as Seek and Indeed allow you to create email alerts for jobs matching your interests, making it easy for you to stay in the loop as and when new opportunities arise. Some providers may require you to possess a qualification or training certificate before teaching with them, so be sure to check their employment conditions before applying.
After reading our blog, we hope that you're clued up on how to make money from home! If you want to learn more about LifePoints and our paid online surveys, find out How It Works and Who We Are before signing up for free today.
---