How to Safely Make Money Online as a Teenager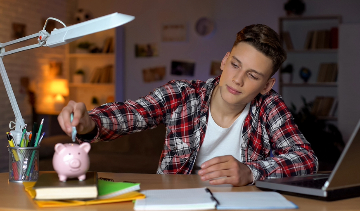 Whether you're making the most of your summer vacation or are taking classes, having a bit of extra cash in your back pocket is a must! If you have an internet connection then finding ways to make money online is easy.
Before you get started, knowing how to stay safe while making money online is essential; you don't want to be caught out by online scams or other nasties. For some great tips check out the how to shop safely online guide and continue reading to find out how to make money online in an enjoyable way.
1. Get paid for your writing
If you're a keen writer with an eye for anything creative, writing is a great way for teens to make money online. Once you're above the age of 13, you can join a platform such as Fiverr. Joining is straightforward and takes virtually no time at all. Once you're a member and your profile is up and running, you can be paid for freelance writing jobs ranging from product copy to long-form blog content. Upload examples of your written work and don't hold back when it comes to promoting your skills and interests to catch the eye of potential clients.
2. Become a YouTuber
If you love watching videos or have a skill for editing them yourself, YouTube could be the perfect place for you. With 2.1 billion users around the world, the site is one of the most used social media platforms out there! Whether you're a gaming fanatic or a cooking guru, earning money from sharing your passion on YouTube is an easy, safe way for teens to make money online. Once you've decided on the theme of your channel, creating a strong profile and uploading your videos will have you well on your way to becoming a YouTuber. Once you've reached 1,000 subscribers you can apply to their Partner program, allowing you to start earning from your videos.
3. Review music online
Everyone loves music, but did you know you could get paid for sharing your opinion on new, emerging artists and their tunes? Signing up to a site like Slicethepie allows you to get listen to new tracks. After listening all you need to do is give your thoughts and get paid, all from the comfort of your own home. You can even earn some extra cash when you refer your friends, adding to your PayPal balance and giving them a helping hand in return. And you may even find some hidden gems or up and coming artists that become your favorite.
4. Take online surveys
In order to make their services and products better, brands rely on the honest feedback of their users and customers. One of the most common ways for artists to learn what their audience wants and likes is with surveys. LifePoints is one of the top providers of paid surveys for teens 14 and older, allowing you to earn in a fun way with only a few clicks of your mouse! Your answers are used to make a difference in the world, shown in products that are used every day. In return, you can earn free PayPal balance transfers or gift cards from the likes of Apple, Amazon and more – pretty cool, right?
Time to earn
Now you have some ideas it's time to get started and get your money. You don't even need to leave this site to earn money. When you take surveys with LifePoints you get some LifePoints. Not only can you exchange LifePoints for PayPal balance transfer, but you can also get some other great rewards like gift cards from top stores.
If you're interested in learning more about online surveys for teens or the brands that LifePoints work with, be sure to visit our Who We Are and How It Works pages for more info.
If you want to start earning money and other rewards, sign up to LifePoints today and we'll give you 10 complimentary points to get you started on your earning journey.
If an app is more your style, then LifePoints has an app available for both Android and IOS.
---