All your questions about Cyber Monday answered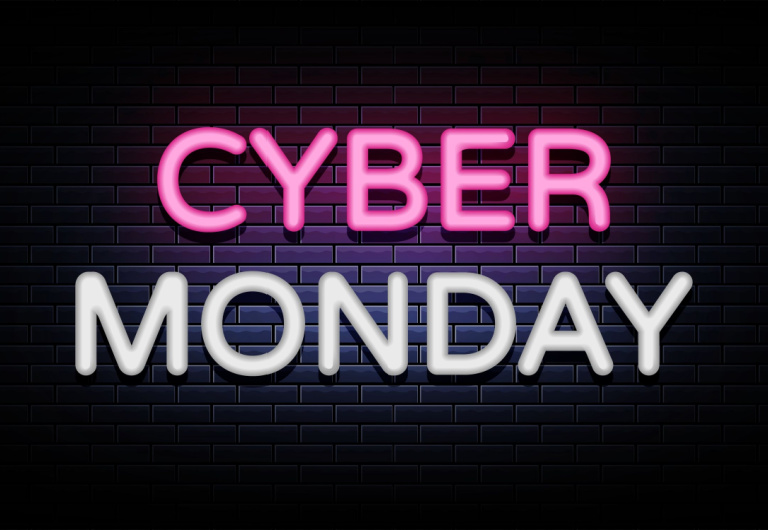 With the cost of everything going up fast, Black Friday is a great time to grab a budget-friendly bargain. But with people spending $1.8 billion more on Cyber Monday than Black Friday in 2021 it's clear that this Cyber Monday, you need to be ready to grab the savings while they're hot!
Did you know, if you're earning LifePoints rewards with us, you can use them to save money in the Black Friday and Cyber Monday sales? In fact, LifePoints has been getting so many questions from members about it we're sharing some of the most popular questions and answers so you can make your money go even further.
Q: When does Cyber Monday start and when does Cyber Monday end?
A: Cyber Monday this year is on Monday, November 28th. It varies every year, but it is always the Monday after Thanksgiving.
Q: Is Cyber Monday the same as Black Friday?
A: Cyber Monday and Black Friday are not the same thing. Black Friday will have in store deals and is the day after Thanksgiving. Cyber Monday will have online deals and is the Monday after Thanksgiving. A lot of the deals at stores can be the same and will run over both days.
Q: What is the Cyber Monday origin?
A: Cyber Monday began in 2005 when Ellen Davis, senior vice president of research and strategic initiatives for the National Retail Federation, found the Monday after Thanksgiving was one of the most popular days in the year to shop online. People were back at work, at their desks buying gifts and toys ahead of Christmas so their kids didn't get a sneak peek at their gifts. And the first Cyber Monday sale was born.
Q: Will Cyber Monday deals be better this year?
A: Deals are different every year. Check out what deals are available this year from your favorite stores and see if you like them more or less than last year.
Q: How to plan for Cyber Monday shopping
A: The best way to plan for Cyber Monday is to:
Know exactly what you're looking for
Make a list of what you want
Research what is available
Pick a budget and stick to it
Use gift cards, rewards and vouchers to help that budget stretch further
Q: How to find the best Cyber Monday deals
A: To find the best deals look at as many information sources as possible. Check out company websites, social media, billboards, emails or even word of mouth from friends.
Q: Which is better for online shopping Black Friday or Cyber Monday
A: If you're looking to shop online Cyber Monday is better. If you want to shop in-store Black Friday will be better. You could even do both to make sure you can get every deal.
Q: When is the best time to go Cyber Monday shopping
A: The best time to go Cyber Monday shopping is whenever you get some downtime during the sales. Just make sure keep coming back to check different deals so you don't miss anything as they can change or come and go quickly.
Q: How much shopping happens on Cyber Monday
A: Cyber Monday is one of the biggest shopping weekends in the entire year. According to Adobe research, people spend $10.7 billion on Cyber Monday and $33.9 billion throughout the week.
Q: What are the most popular stores for Black Friday shopping?
A: If a store sells their stuff online, it is likely that they will have a sale. But you might be wondering which stores people get excited about during Cyber Monday. You probably won't be surprised that the usual suspects dominate Cyber Monday and are the most popular. Research shows that the online stores people are most looking forward to are Amazon, Target, Walmart, Best Buy and Kohl's, respectively.
Those stores can offer you some incredible deals, but if you can find better deals, tell us about it and share with the wider LifePoints on our social media channels: Facebook, Twitter and Instagram. And remember, you can use a free gift card or PayPal transfer from LifePoints to get all those deals.
Why not make the deals even better and get your stuff for free?
Cyber Monday is a great time to shop and you can find some great deals. Equipped with our hints and tips you'll be ready to make the most of the weekend.
With LifePoints you can sign up, take some surveys and share your opinion to get rewarded with points. Once you have enough points you can exchange them for a selection of great rewards such as gift cards and a PayPal transfer. You'll even get 10 complimentary points just for signing up!
Or download the LifePoints App and start earning straight from your mobile.
It really is the best time to signup as you can get the gift rewards for free and make those free rewards go even further this Black Friday.
---