10 Things to Avoid When Taking Paid Surveys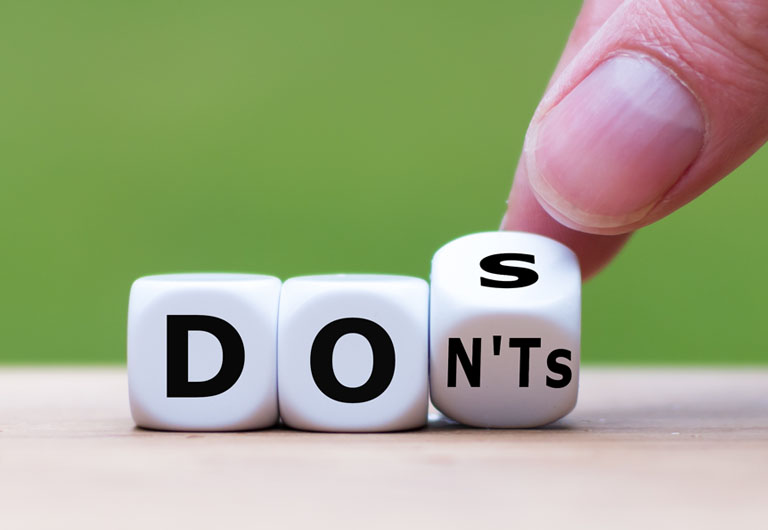 Looking for the best way to make money taking online surveys while ensuring the best possible experience? Good news! With the right strategies and guidelines, earning real cash with online surveys can be easy. Our 10 simple tips are proven to help boost your income from paid surveys without any headaches or worries.
Learn how to avoid getting your account suspended and how to maximize your earnings every time you answer a question or two, all factored into one guide just for you.
1. Having an incomplete profile
Completing a full profile increases the chance of you being eligible for more paid surveys that match your interests, and we all know how this goes: more survey completes equal more earnings —  and who doesn't want higher earning potential?
With a filled-out profile, you'll have the peace of mind of knowing each survey selected is tailored to what matters most to you. Avoid time-wasting disqualifications by giving as many details about yourself as possible, so you can get online survey invites that match better your interests.
It's also a good idea to check that the information attached to your profile is accurate and up to date. For example, have you moved recently? If that's the case, updating your home address will contribute to receiving more survey invites that are matched to the brands that need insights on topics relevant to your area.
2. Giving inaccurate profile information or being dishonest
When taking surveys, accuracy and honesty are key. Perhaps, the only thing that is worse than having an incomplete profile is giving inaccurate information or making false statements to avoid screenouts/disqualifications.
If your answers are incongruent, eventually these contradictions will be flagged by the survey site quality checks and will lead to either of the two following scenarios:
Receiving fewer surveys and/or multiple disqualifications
Your account being suspended
By being honest when taking paid surveys, you can avoid these problems and receive more relevant surveys with higher rewards. Plus, by being honest you're ensuring that the data gathered from your responses will remain credible and useful for every party involved. 
3. Racing through a survey
When completing a survey, take your time to read the questions fully before responding. We want to hear your genuine opinions, and on your end, that means taking your time to read the questions carefully so you can give your best answer on a particular topic.  
Legitimate online paid survey sites like LifePoints usually have quality control tools in place to ensure that the members do not rush through the surveys. Completing surveys without reading the questions, sometimes even too fast to be humanly possible, may result in your account being suspended or confused with a bot.
4. Ignoring attention-testing questions
In line with the previous point, sometimes surveys will show you a question that seems way too simple and feels unrelated to the survey topic. For example: "Click on the image of the banana."
These questions are there to test your attention and ensure you're not rushing through the surveys just to get rewarded with no effort put in. Failing these questions probably means you're not paying attention and that can lead to disqualification.
So, always keep your eyes open and focus even when you think a particular question is way too simple, too irrelevant, or unrelated to the survey topic.
5. Reacting slowly to new survey invites
Most paid surveys are only available for a short period of time and are scripted to be finished in one sitting. Don't let others beat you in taking advantage of upcoming survey invites – act fast and get rewarded for it. It really is that simple.
If you receive a survey invitation today, don't wait until it is too late, or you may find that the survey is no longer available, especially when it comes to studies with a specific quota of respondents. If you see a good survey, take it as soon as possible to maximize your earning possibilities.
6. Having multiple accounts
Legitimate survey sites like LifePoints want to ensure the highest quality of the responses members provide. We want your voice to be heard loud and clear, so it's very important that you open only one account. If you open more than one account, both accounts are likely to be suspended.
Instead of having multiple accounts on one paid survey site (which won't earn you anything anyway), you can update your personal details and enable other functionalities like webcam surveys to maximize the chances of receiving more surveys.
7. Taking surveys on multiple devices at once
We highly recommend avoiding using the same login session on multiple devices at the same time. Human beings can't be in two different locations at the same time —  at least until science finds a way. In the same fashion, you simply shouldn't take multiple surveys with one profile at once, not even if it's using two different devices. Also, we highly discourage you from opening multiple tabs for surveys completed.
8. Using a shared Wi-Fi
When you share a Wi-Fi network with others, the same IP address is used. Unfortunately for survey-takers, this can lead to quality checks interpreting it as an attempt to complete the same survey more than once.
To make sure your effort isn't wasted, we suggest trying to use an unshared connection or opting for mobile internet. If you cannot use mobile internet, try to link up your device so that its connection doesn't overlap with someone else participating in surveys.
9. Using a VPN
In order to make sure your surveys for money experience is seamless, it's important that you don't use a VPN while logged into a survey site.
Brands have different needs in different countries that cannot simply be interchanged. Market research results highly depend on your honesty and accuracy, so trying to "sneak" into another country will not be accepted by us or any survey provider.
When using a VPN most surveys for cash websites can detect you have an invalid internet connection and possibly try to fake your location. Doing so can lead not only to instant disqualification but even potential bans.
10. Taking surveys away from your home country
Finally, when you step away from your home country, the quality checks can be quick to judge. Just like when someone says: 'This isn't the same person I grew up with!'
The surveys you are invited to are always related to the country you signed up in. This is so you can participate in surveys that are relevant to you and your area, giving you a better experience.
If you are planning to travel abroad, it's always good to consult your case with the Help Center before resuming your survey activity outside of your country of residence. Know that we will miss you immensely during your time away but taking surveys out of country can be seen as fraudulent and lead to increased disqualifications or even bans.
Ready to put your opinions to good use and start benefiting right away? Fantastic. Join LifePoints today! We've paid over $23 (USD) million to our members in the last year alone. Sign up now and start making money anytime, anywhere.
---