How To Make Money Online As A Teen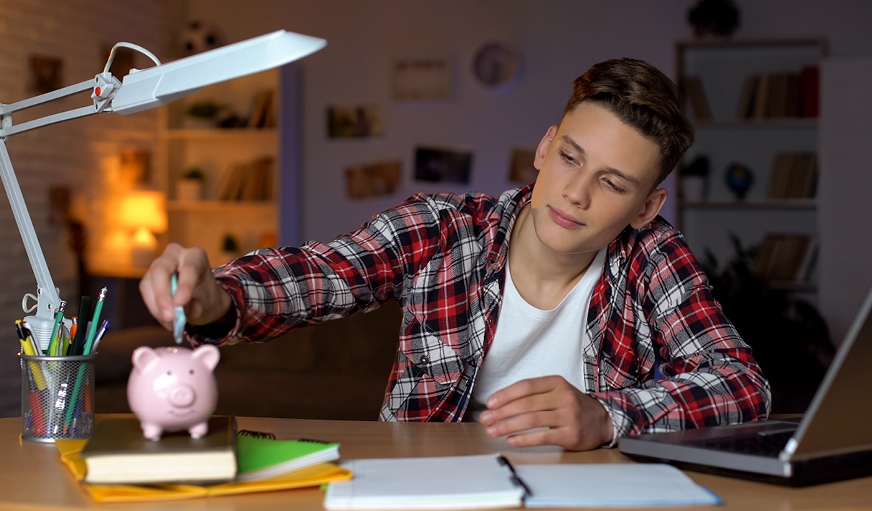 As a teen, there are more ways to earn money online than you may realize. Maybe you need money for something essential like gas, to add to your savings, or maybe you simply want to treat yourself. Either way, it's always good to give your bank account a boost!
With 31 different ways to make money online as a teen, there is bound to be one to suit you. Many of these require no prior experience or skills, and only take minutes to start earning.
You don't need to be hustling 24/7 to earn cash with these methods, and you can also have fun while earning. Do you have a passion for finding new music? You can earn money by listening to new songs and giving feedback. Are you a highly skilled writer? Write for other people and earn some cash. Maybe you want something very quick and easy that you can complete while relaxing on the couch? Take a survey with LifePoints to earn rewards in less than 10 minutes. This is only a small handful of the ways you can earn. Keep reading to discover more, including our personal favourite top 10 methods.
Please note, the methods explored in this article are tailored towards a Canadian audience and every country has different laws and regulations which determine how you can earn money as a teen. So, if you are not Canadian, you may be able to use these methods to earn money online, but it is not a guarantee. We encourage you to find out if any of the below are a viable option in your country before signing up or committing to a particular method.
Top 10 ways to earn money online as a teen
Keep reading to discover our top 10 recommended ways of earning a little extra money online.
1. Turn receipts into cash as a teenager
How often do you get a receipt and throw it straight in the garbage? How often do you feel like keeping your receipts is useless? Instead, you can now turn some of your receipts into cash.
There are a few apps that allow you to do this, with Checkout 51 being the most popular. It is available on both the App Store and the Google Play Store. The app will list certain products, and if you upload a receipt with that product showing a purchase, you can get cash in return. There is a huge range of products on the app and there are probably products on there that you already frequently buy. So, you might be losing out on easy money every day if you don't have the app. This is such a great option as it takes no skill, almost no time and is extremely easy to do.
2. Completing surveys online to earn money
Online surveys are one of the best and easiest ways to earn money online as a teen. All you need do is answer a few questions, often in less than 10 minutes, and you will be rewarded for your time. You can complete them right here at LifePoints too without having to leave the site, we'll even give you a sign up bonus to get you started!
Another benefit to LifePoints surveys is that your feedback goes directly to companies and is used in decision making for their products and services. This means that you can influence how your favourite products and services are developed, as well as improving products that you don't like as much.
With LifePoints you can earn rewards such as PayPal transfers, Amazon gift cards and iTunes gift cards, among others. So, if you want something other than cash there is flexibility. And if there is a cause that you believe in you might be able to help a deserving cause by donating your points to charity.
Sign up to LifePoints today!
3. Going for a walk to earn money
This one may be surprising to hear, we know it was for us. But you really can earn money just by going for a walk! Sweatcoin is an app that pays you for doing just that. Once you have the app downloaded, every step you take can be redeemed for money to spend. You probably already walk a lot, so why not turn those steps into some money?
Sweatcoin users have seen their activity levels increase by 20% on average. So, not only are you earning some money in one of the easiest ways possible, but you are also getting some great exercise at the same time.
4. Complete Micro jobs as a teenager to get some cash
Micro jobs are small tasks that companies will pay users to complete and can be almost anything from submitting reviews, sharing photos of food, entering data or telling a business what price another store is selling an item for. These micro jobs often require no prior knowledge or skill, so they are a great way to make a little extra money as you can get started in minutes.
Unfortunately, not all sites allow teens to sign up, but you only need one site that does to make money completing micro jobs. Premise is just that site. Simply download the app, sign up, explore different jobs available and start earning money. We really like this option for teens as there is so much variety and flexibility in the jobs available.
5. How to play video games for money
Video games are one of the most popular hobbies in the world, but did you know you can make some money whilst playing video games? Designing and creating a video game takes a lot of time and resources, so video game developers need people to test out their new games to make sure that they are good before they are fully launched. And some companies will pay you to help them do this.
One of these options is MistPlay, where you can play mobile games and trade in game rewards for real money. The more you game, the more money you earn! There are a variety of games available to choose from, including puzzle games, RPGs, card games, and strategy games, among others. To date they have given out over $25,000,000 so there is a lot of room for teens to make money. Who knows, maybe you'll find your new favourite game.
6. Proofreading for cash as a teen
Companies produce a lot of written content, from resumes and emails to blogs and website pages, and it's not always possible for them to proofread all of it for spelling or grammar errors. So they often look for individuals to proofread this content in exchange for money.
You have a few options for where to proofread, but one of the most popular options that allows anyone over the age of 13 to participate is Fiverr. Of all the methods on this page, proofreading is one of the most lucrative. It is possible to make a full-time living proofreading, so even if you only put in a small amount of time you can still earn some great money to spend on whatever you want or need!
7. Rating music in exchange for cash
In the same way that video game developers need people to test their new games, music producers and artists need feedback on their music projects. It is possible to listen to some music, give your feedback and then get paid. Music is already a huge component of all our lives, so being paid just to listen and give some pointers is a fantastic opportunity for teens to make money.
You can do all of this from the comfort of your home and don't need anything more than some free time to get started. If you are interested, some options for where to review the music include MusicXray and SliceThePie. Similar to how you might find your new favourite game by getting paid to game, you might find your new favourite music artist through reviewing music for money!
8. How to find the right side hustle to make money as a teenager
We hear about side hustles all the time in the media and online, and it can be hard to separate the good advice from the bad. That being said, a good side hustle can make you a lot of money as a teen, and there's no real limit to how much you can earn if you're really driven and successful.
This is where the Hustle Finder tool steps in. This tool allows you to search for side hustles using multiple categories and variables, including location, age requirements, ratings, earning potential, and how long it takes to get paid. Hustle Finder can help you find the perfect side hustle based entirely on your needs and wants, including those that you may have never seen or heard about before!
9. Testing websites for money
Companies spend a lot of money building websites, and for good reason. Websites can help businesses find new customers, provide their services and show the world what their business has to offer. Because of this, it is important that their website runs smoothly. This is why so many are willing to pay you to review and give your honest feedback.
Companies such as UserTesting and TestBird allow you to go to a website and give your feedback on factors such as design, speed, usability, bugs and anything else you see fit. Once you have given them your feedback, you will get some money in return. We believe some of the best ways for teens to make money are the ones that you can do in the comfort of your own home from the couch, and testing websites is another great example of this.
10. How to sell stock photos for cash
Selling photos is another great option for teens to make money. If you are a good photographer and have some decent photos, you can upload them to websites such as Shutterstock and Adobe Stock. Once they're available on the website, you'll receive a royalty payment every time someone downloads them.
Once you have uploaded your images, your work is done and as people continue to buy them, you can benefit from a passive income stream. If you have some existing photos that you've previously taken, why not just upload them and see what happens?
Making Money By Teaching
Teaching is a great way to make money as a teen and with modern technology, it is easier to reach and teach people new skills than ever before. Classes or sessions can even be taught online, from anywhere in the world.
Teaching in the modern world doesn't have to be face to face or through video calls. You have the option to teach in other ways such as creating a video course or writing a book. If you have already have a skill, teaching that skill is one of the easiest ways to make money.
11. How to teach a foreign language as a teen to earn money
If you are bilingual, this is one of the best ways you can make money as a teen. People want to learn new languages for multiple reasons - either to enable them to visit more countries, communicate with friends and family, or maybe they just want to learn for fun! Luckily for you, their reason doesn't matter if they have the desire to learn. If you want to teach your language online there are dozens of sites to choose from, such as one to one tuition sessions through Verbling or ITalki, where sessions are done through online video calls.
If you want to be more creative or don't want to teach one to one, then other options include starting a YouTube channel, developing an online course or promoting yourself on social media. It is also worth exploring offline options where you live. Many local places such as community centres or schools often look for local tutors, so there might be opportunities waiting for you close by.
12. Teach people how to play video games and earn some dollars
Are you an expert at one or more specific video games? Then, why not teach other people how to play? Most people have a competitive nature when it comes to video games, so they are willing to spend some money to get an edge, and if you can get people to that next level, you can make some serious money.
While the popular games such as Fortnite, League of Legends and Rocket league have the most players and coaches, that doesn't mean you have to coach one of these games. Even games with smaller audiences have online coaches, tutorials and more importantly, people looking for tips.
Video games are also one of the best areas to coach at home, as most games are online and you can play in the same games or lobbies as your students. If you're looking at getting into coaching, Gamer Sensei is regarded as one of the best places to do so. They test and assess all their coaches' abilities before they represent the brand to ensure high standards, so you have to be at the top of your game.
13. How to teach general skills for money
There are thousands of other skills you could market that we haven't covered yet, from coding and poker to sports, cooking, and DIY. Each of these skills will have a separate community and platform for people to find coaches or teachers, so you'll need to do some research to figure out the best way to get started in your field. Below are a few popular avenues and advice on where to start.
Making Money By Offering Skills
Even though you may only be a teenager, that does not mean that you can't bring skills to a company, or that they won't pay you for them. In fact, companies that sometimes struggle to find certain skills are more than willing to pay. Some can also be picked up very quickly, so don't feel overwhelmed or intimidated if you don't have the ability but still want to get involved, you can learn them very quickly.
14. Freelance writing
Earlier we discussed proofreading written pieces as a way for teens to make money. But did you know, you can also make money by writing the content itself? Writing is one of the areas that businesses will outsource the most, so there is always an opportunity to find a writing gig, especially online. Writing opportunities come in many forms too, including social media captions, articles, blogs and even ghost-writing entire books.
The bigger and more technical the writing needed, the more you can earn. Getting started is easy too, and once you start developing a portfolio you can land the more lucrative gigs. There are dozens of sites that allow teens to write as a freelancer, including Freelancer and Upwork. On top of earning money, you'll build very valuable skills that you can use in your everyday life.
15. How to make money as a teen through data entry
While it may seem like a mundane and tedious task, data entry is an easy way for teens to make money and has some great benefits. Unlike other methods, such as teaching or writing, you don't need to have any prior skills or knowledge. Additionally, the work is flexible and can fit around your schedule whether you want to work for 20 minutes or five hours. With most data entry tasks, you can complete it wherever you want, so if you want to do it while watching TV on the couch that's also an option! If you want to explore data entry as a way to earn money, we recommend checking out Fiverr and Clickworker.
16. Review customer service calls and make money as a teen
Have you ever been on a call and heard the phrase 'this call is monitored for quality assurance'? Well, companies often take sections of those calls and ask people to review them in order to help improve their services. Once you've listened to the calls, you are required to give some general feedback on quality and whether you experienced any issues, and you'll be paid for your time.
As with some of the previous methods, this is a great option due to flexibility; you can work anytime during the working day (from 9am till 5pm), from wherever you want, and you can do as little or as much as you want. If you're looking to mix and match ways from this blog, then reviewing customer service calls is a great option.
17. Transcribing audio files for money
Much like companies need people to write for them, they also need people to transcribe for them. This opens another door for teenagers to earn money easily and quickly online. It's as simple as it sounds, and all you need to do is listen to an audio-file and transcribe what it says to get paid.
Like many of the others on this page, it gives you flexibility in when and where you do the task and the number of hours you want to put in. Transcribing also requires no skill, knowledge or qualifications to start, so there are no barriers to you starting to earn money.
Rev is a great place to get started, as they will often pay over a dollar for each minute transcribed. So, if you can transcribe quickly and work hard, you can make more than you would in some full time jobs!
Making Money By Thinking Like An Entrepreneur
The previous section talked about various skills that you can use to benefit other companies, which are all great options. But, if you have more of an entrepreneurial streak in you and want to be more creative, then keep reading. One huge benefit of these methods is that they will help you develop useful skills you can use throughout your life.
18. Become an Amazon Associate and start earning cash as a teenager
If you have an established audience already, becoming an Amazon Associate is something you should definitely consider. In its most simple form, you get a personalized link to a product (or products) of your choosing, and if people click the link and buy the product, you will receive a commission!
To be eligible, Amazon states "Bloggers, publishers and content creators with a qualifying website or mobile app can participate in this programme." Amazon offers up to a 12% commission on some products, which is among the best in the industry.
This process can take minutes to set up and requires no work for you to upkeep. If you have a blog post that gains consistent views, you can get the benefits of sales every week with no extra work on your part once the link is on your page.
19. How Dropshipping can make teens a lot of money
Dropshipping is a side hustle that has grown in popularity over the year, but it's also one that you may not be fully familiar with yet. Despite that, it is a great way for teens to make money online.
Dropshipping is a retail fulfilment method that allows you to sell items without needing to store the items you stock. For example, when a Dropshipping retailer sells a product, the product is then delivered straight from a third-party supplier. This removes the need for any storage such as a warehouse or product inventory, which can take up a lot of your time as an entrepreneur. Essentially, you act as a shopfront for customers, without having to handle, store or shop the actual products. Shopify has a guide that explains this in more depth.
The main benefit to Dropshipping and the reason why it is such a popular item is that you can start a store with little to no capital. This method will take time to set up, and does carry slightly more risk than say, proofreading for money. But it also has the highest potential pay out. People from all corners of the world have been successful with Dropshipping and have become very wealthy doing so.
20. Develop a high-income skill of your choosing and start earning money
This option is a little broader but is still important to discuss. There are many skills that you can sell to other people, or companies, that will earn you money. These 'high-income skills' include copywriting, digital marketing, coding and video editing. How and where you learn each of these skills will vary depending on the skill.
Once you have mastered the skill, you can earn money as a freelancer, sell your skills to local businesses, write a blog about them, or create a course to teach more people if you choose. These types of high-income skills will be valuable when looking for a job or future education, so learning them as a teen is a great way to set yourself up for the future.
Making Money By Creating Content
There is so much content online these days, and good content often gets rewarded with money! Nearly all the content you consume or create can be (and is) monetized. So why not get in on the action and earn some money, even as a teenager!
With many different platforms available and a vast amount of content types to create, there is sure to be an outlet in the world for your creativity. Not only can content creation earn you cash as a teenager, but it can also be fun. However, the important thing to note with these methods is you won't make money on day one, as you need to have a large audience before it becomes profitable. But, don't let that scare you off, as if you do get to the monetization stage, the earning potential is high.
21. Create a TikTok account as a teenager and earn money from the creator fund
Your first option for content creation is creating a TikTok account. TikTok recently introduced a creator fund, which pays per 1,000 views. While it is only a few cents for those 1,000 views, TikTok is a platform that has a billion users, so it's very possible to go viral and earn a few hundred dollars for posting a video that could only be a few seconds long. Many companies also need help with TikTok, whether it be captions, video ideas or even people to make the videos, companies will pay.
So, even if you aren't able to get money straight from the TikTok creator fund, you might be able to earn money by using the skills you build!
22. How to start a blog as a teenager and earn money
Blogging has been around since the early days of the internet, and there is good reason why. One of the staples of the internet, there is a blog for anything, no matter how niche. Blogging presents a great opportunity for teens to make money online, as you can focus on things you enjoy doing and are passionate about. Are you interested in food in Toronto? There's a blog for it. How about building the best gaming PC? A blog exists. Maybe you have some tips for growing plants in a small apartment? There is a blog out there for you.
Once you get a big audience, there are multiple ways you can monetize your blog. Some companies will pay you to post about their products while others will send you free stuff to review. You can even run ads on your page that companies will pay for. We love blogging as you can focus on what you love and what you are already an expert in. It's also a great way to find like-minded people who have the same interests as you!
23. How to earn money from a YouTube channel as a teenager
Starting a YouTube channel has always been popular for many people, but what most people don't realize is quite how much money is available to earn. YouTube can sometimes be scary as long form video can be tough to make. If you are good at it, you can make some incredibly good money, even as a teen! We don't mean just the top YouTubers getting paid, there is money to go around for small creators too.
While there are no official figures or a set payment per view, Influencer Marketing Hub estimates that "On Average the YouTube channel can receive $18 per 1,000 ad views. This equates to $3 - $5 per 1,000 video views." To compare, according to HITC, TikTok pays its creators "2 to 4 cents per 1,000 views." This means that a video on YouTube that has 10,000 views earns as much as a TikTok video with between 750,000 and 2,500,000 views.
While YouTube is arguably a tougher skill to learn than TikTok, creating good YouTube videos that other people will want to watch will ultimately be worth it in the end.
24. Start a podcast as a teenager and earn some money
Podcasts are one of the most popular ways people consume media, which means there is money available, even for teens. Like the other content creation methods, once you have an audience, you can make money. This can be from money per stream on platforms like Spotify, sponsorships, or product promotions, among others.
Podcasting is also one of the best methods to meet interesting people as once your podcast grows, you will start to attract more and more interesting guests that you can learn from. If you have a microphone and an internet connection, along with something to say, why not start a podcast and make some money?
Making Money By Selling Goods
Sales, as a way to make money, can be viewed in a negative light, but that doesn't have to be the case. You also don't need to have a business to sell something or create a new product.
You may be able to sell some of your old stuff that you no longer need or want. As the old saying goes, 'one person's trash is another person's treasure' and you may have something lying around collecting dust that's worth a lot of money! Keep reading to find out what you can sell.
25. How to design and sell shirts for money
All you need for this one is a laptop and a dash of creativity. There are multiple websites, such as TeeSpring and PrintShop, where you can upload a graphic and have it printed onto a t-shirt. Once you have the graphic uploaded, have decided what types and colours of shirts to print, and have a description written, all your work is done! From that point, any time someone buys your shirt, the company will print it for you and ship it to your customer.
You can get a design done in less than an hour and once uploaded, you can get a constant stream of money if people like your design! The more shirts you make, the bigger the opportunity to make money. As a teen, you are naturally very busy with school and extracurricular activities, so with this method, you can make money in a much more passive way.
26. Selling crafts as a teenager on Etsy
If you're creative and have something physical to sell, why not try selling on Etsy? You can sell almost anything on Etsy, such as candles, 3D printed collectibles, vintage clothes, wallets and jewellery. While Etsy can be a lot of work, it has a huge user base and provides a great opportunity to make some money as a teen if you are creative and like hands-on projects.
Another advantage of Etsy is that anyone can list their products without many challenges as long as they follow Etsy's seller policy. In the past, you would need to find a store that's willing to stock your product, and Etsy has removed that barrier.
27. Selling clothes and sneakers for money as a teen
Everybody needs clothes and shoes, which means there is a huge market for selling these items. Selling clothes and shoes can be split into two categories to make money, the first being selling your old items. As a teenager, you're going through a time where you're growing in and out of clothes and fashion trends are continually changing, so some of your older clothes could be considered vintage and worth a lot of money. The great thing about this is all it takes to find out if you can make money is a quick Google or eBay search. If you do have a valuable item of clothing, then eBay is a great place to list them to sell.
The other way of making money through selling clothes and sneakers is flipping them. While this requires some research and knowledge, if you know what is valuable, you can find deals everywhere to buy and then sell on to someone else. You can find deals at garage sales, thrift shops, online stores or even from people you know. There will always be a market for clothes and sneakers, so this is a great option to make money as a teen as you won't have to worry about lack of demand!
28. Selling your old electronics as a teen for cash
While you may not use some of your old electronics anymore, somebody else might, and they also might be willing to pay you for them. Even if the technology is not desirable to you, there might still be some value for the parts within the electronics, so they may still sell for a lot. Plus, if you're not using them, why not sell them for some money? Like selling clothes, your best option is to do a quick Google or eBay search to see if your items are worth anything.
Fortunately, there are some electronics that will increase in value over time, as they become vintage items. So, holding onto old and unused electronics with the intent to sell them in a few years' time could also be a good idea.
29. How to sell old trading cards for cash as a teenager
During the pandemic, card collecting was one hobby that dramatically increased in popularity as more and more of us were stuck at home looking for something to do. This applied to cards of all varieties from ports cards to Pokémon cards, Yu-Gi-Oh cards, and card games like Magic the Gathering.
One example was a LeBron James basketball card that sold for over $5 million dollars recently. While you might not have a card worth millions, there is still a good chance that some of your old cards could make you some money.
Their value will depend on how desirable and rare they are, as well as their condition, so determining the exact value can be difficult. If you're unsure of how much value you might have, there are people and websites that can help. Niche forums and other websites where you can post pictures of your items are a great place to start. You may also have some friends or colleagues who know much more about their value who could help you out. Another option is to take your cards to a local card shop, not only can they give you a value, but they might also buy them off you on the spot! If you do have a valuable card or cards, there are many places you can sell the cards, such as eBay, Facebook marketplace or local card shops.
30. Selling all your general items for cash
You may not think it, but things like artwork and pottery are popular items people look to buy and can be even more desirable if they are handmade and unique. Or, perhaps you have some old collectables like LEGO or cooking equipment that you're no longer using that might have some value. Whatever it may be, there will be a market out there and someone willing to buy it, you just have to find them!
While every item will have a different marketplace where people go to buy and sell, Facebook marketplace and eBay are generally good places to start. If they don't seem to have an audience for what you're looking to sell, it's worth doing a quick Google search to find independent website and forums that might have an interest in your goods.
31. What about earning money on the stock market?
People will often think of the stock market as a way to make money online, after all how much do you hear about it in the news and on social media? We hear you, and the stock market is one of the most popular ways to make money online. We do, however, want to preface by saying that in Canada you have to be 18 to have a broker account to trade. If you are 18 and you want to start trading there are some important things to bear in mind.
You need to consider a couple of things before you get started, including:
How much of a risk tolerance do you have?
How much time are you willing to dedicate to learning how to trade?
How much money do you want to invest?
Do you want to focus on dividends or growth?
Do you want to engage in active investing or passive investing?
All of these questions are crucial to answer and will greatly affect the type of strategy you should pursue.
Once you have answered these questions, it's important to start learning as much as possible. The more you learn, the more you'll earn!
While the stock market can be a great thing to invest in, and the returns can be great, we also want to stress that it is not a guarantee (especially in the short term), so only invest money that you are comfortable losing.
Hopefully you are now fully equipped to start making money as a teen!
We hope that by reading this blog, you have discovered dozens of new ways that you can make money as a teenager without having to fit in a full-time job around your studies and other commitments!
With such a wide variety of methods, that all offer something unique and have different pros and cons, there is bound to be something that fits your lifestyle, skills and goals! You could dedicate your money-making time to one method such as building an Etsy store, or you could combine some of the methods together such as doing some data entry tasks and signing up for Lifepoints to take surveys to start earning money during your spare time right now!
Want to learn more about LifePoints and the great rewards we offer, from Target gift cards to PayPal credit and more, in Canada? Discover more about How LifePoints works and sign up today!
---