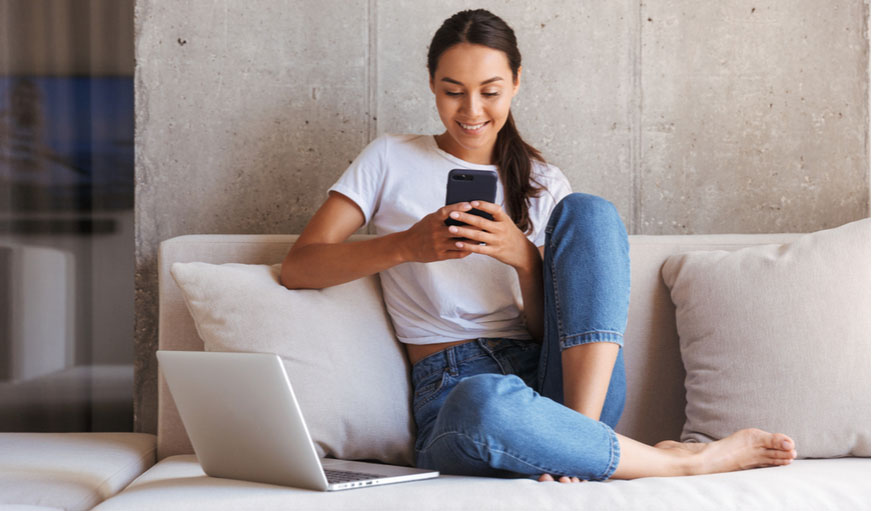 The internet is full of possibilities and with many of us spending more time on the web, making money online is a great way to benefit from this. With so many options out there, it can be difficult to decide on the best ways to make money online.
Whether you're looking for a thrifty way to spend your spare time or are saving up for a treat, we will explore how to make money online, including tips for beginners. From setting up an email account all the way through to becoming a fully-fledged YouTuber, read on to discover cool and fun ways to make money online in Canada.
How to make money online for beginners
Before you start earning online, it's a good idea to get prepared.
It's highly likely that you have an existing email account, but it's advisable to set up a separate one to your personal account. Ideally, the email address will be professional; however, this may differ depending on how you choose to earn online. For content producers, why not get creative and base your username on interests or the direction of your content. Be sure your email address corresponds with your quirky username!
Next, it's important to have your financial information up to date. If you have an existing bank account, make sure you submit the correct details when finalising enrolment paperwork. If you're yet to open a bank account, there's no time like the present. Online jobs use a variety of payment methods, so be sure to confirm this with the employer and anticipate that you may need to download apps such as PayPal or CashApp to receive payment.
Lastly, consider that you may need to declare any new finances to the tax services. We recommend visiting Canada Revenue Agency for more information.
Once you've got all of your affairs in order, you should be ready to start making some bucks!
1. Get creative with video content
Some of the best places to make money from producing digital content are platforms like YouTube and TikTok. If you have an outgoing personality and a natural creative flair, these are the perfect outlets for you!
Before you can start earning money from YouTube, you must tick four very important boxes:
     1. Have at least 1,000 subscribers on your YouTube channel
     2. Have generated a minimum of 4,000 watch time hours over the last 12 months
     3. Have an AdSense account
     4. Fully comply with YouTube's policies and guidelines
If you see yourself as the next big YouTube star, why not check out this YouTube guide for further advice?
TikTok is another exciting place to start creating and sharing video content. You can create fun, short videos and it's completely free to join. Just be aware, to be part of the TikTok Creators Fund and start earning money, you must have gained 10,000 followers. Take a look at this interesting guide from Social Publi to find out how to start earning with TikTok.
2. Try out podcasting or blogging
If you've ever been told you've got the perfect face for radio (hey, it's technically still a compliment!), podcasting could be for you. Podcasts have become hugely popular, and you only need a few bits of kit and software to get you started. Just grab a co-host, microphone, laptop and download free software such as Audacity, and you're good to go! You can share your podcast via YouTube to monetise content, or alternatively, brand sponsorships are a great way to earn.
If writing is more your thing, why not try your hand at blogging? Sites such as WordPress are easy to use and can help you to reach a wide audience. Once you gain a following, you can get involved in paid partnerships in exchange for goods or experiences. Who doesn't enjoy an all-expenses-paid day out?! And if you're fortunate enough for your work to reach the right person, you may end up with a job offer!
3. Complete paid surveys online
Completing online paid surveys is a quick, fuss-free way to earn online. By signing up to LifePoints, you can provide honest feedback on big brands and receive rewards in exchange. Market research is important to companies, so whether your opinion is positive or not – get sharing!
With LifePoints, you can complete surveys that are tailored to your interests, which means you get to leave feedback on the brands you're invested in. You receive LifePoints (LPs), which can be exchanged for fab gift cards or PayPal credit, if you prefer.
If you want to learn more about LifePoints, visit our How It Works page and FAQs, which are full of useful information. Happy Earning!
4. Become an online gamer
Gaming is an entertaining way to be part of a community and even positively impacts your mental health. Whether you're a Fortnite fanatic, GTA gamer or can't get enough of Zelda, becoming an online gamer can have some savvy financial benefits...
Twitch is a video game live streaming site that also hosts Esports competitions. Twitch streamers are known to earn up to millions of dollars! Although we can't guarantee you'll be earning a seven-figure salary, you could earn a little extra for some nice treats.
Ways to make money via Twitch include subscriptions, donations and 'Twitch Bits'. Other methods include ads, merchandise, and game sales. To start earning the big bucks, you do need to become a Twitch Affiliate or Partner, and most importantly, you need to invest time and dedication.
5. Start freelancing
If your blogging site and writing skills are well-established, you could offer freelance writing services. Freelancing offers you variety and flexibility to fit in projects around your existing schedule.  You could do so by signing up to popular Canadian agencies like Randstad or Creative Circle who seek out paid work on your behalf.
As well as this, you can earn online through affiliate marketing. Affiliate marketing involves paid partnerships and allows you to earn a commission for generating traffic or sales for your partner. For a strong fit, the brand partnership should align with your content. ClickBank and ShareASale are some of the good affiliate programs in Canada.
We hope our handy blog has given you some inspiration on ways to make money online, whatever your interests might be! Find out full details on how to sign up to LifePoints Canada here.
---