How To Plan The Best Move-In Experience to University with LifePoints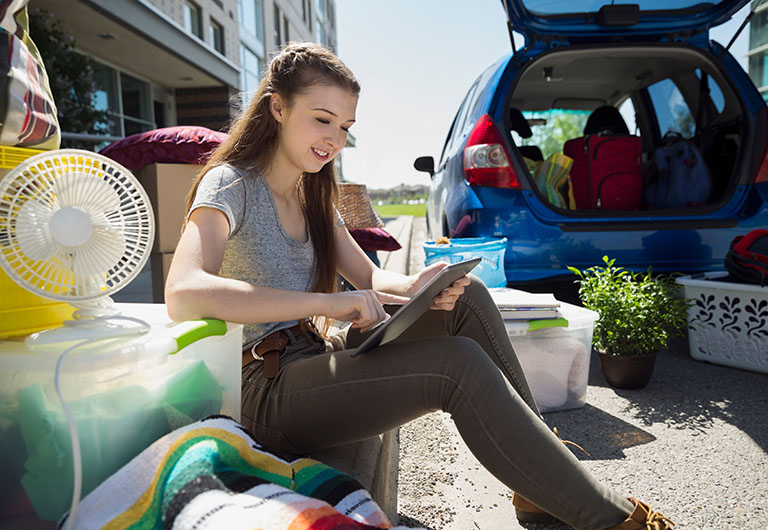 Starting your university journey is an exciting time brimming with new friendships, boundless opportunities, and cherished moments. However, there are some uncertainties and hurdles. Don't worry though. With some knowledge and a few tricks, you can seamlessly transition into campus life and enjoy yourself from the start.
In this guide, you'll find a checklist that covers everything you could ever need to bring. You'll also find some incredible tips so you can thrive from your first day. Finally, you'll see how LifePoints can help you earn some rewards while you settle into your new university life.
Your Comprehensive Packing Checklist for All Your University Essentials:
With these dorm necessities, you'll have your new digs ready to go from day one:
Bedding: Bedsheets, pillowcases, and a comforter to keep you rested.
Bathroom essentials: Towels and personal care products to keep you fresh.
Clothing and footwear: Clothes for occasions, including innerwear, socks, and versatile shoes.
Kitchen supplies: Plates, bowls, utensils, glasses, and basic cooking so you can make food to eat without needing to go out.
Study materials: Books, pens and pencils for study sessions.
Electronic devices: Laptops, chargers and phones are all crucial for academic success.
Storage solutions: Clothes hangers and under-bed containers help you organise your space.
Cleaning supplies: Cleaning wipes, a broom and other cleaning tools can keep your room neat and tidy.
Important documents: IDs, paperwork, and any relevant records that you might need.
Medications: Any medications required for your well-being.
Personalised extras: Everyone is unique, so pack any other items that you need.
Your student loan questions answered
What are student loans?
Student loans are a form of loan to help students cover the cost of their education. They cover things like tuition fees, books and living expenses.
How do student loans work?
With student loans, students borrow money from a bank or government programme. After your education is over, you pay back what you borrowed with some interest.
How to get student loans
To get student loans, you need to apply with a financial institution. Do some research and find the loan that fits your needs the best. Once you've decided on a loan, you can normally apply online or at the bank in person.
When does interest start on student loans?
Interest starts after you complete your studies. How soon after will depend on your loan, so make sure you read your policy and know when your interest kicks in.
Earn Rewards to enhance your university experience
Moving can be expensive. That's where LifePoints can help you. By taking LifePoints surveys, you have the opportunity to earn fantastic rewards like Flipkart or Myntra gift cards. Sign up, answer a few questions and reap the benefits. It's a quick and easy way to add those final touches and transform your living space into one you love.
Five Extra Tips for a Successful University Move-In and Beyond
Embrace self-compassion and be proud of your achievements
Reaching university is a huge accomplishment, and it's natural to have some questions. Luckily, your university is here to help. Use the resources available, such as academic support, counselling services, and student associations. These resources are designed to help you thrive and enjoy campus life.
Connect with the people you'll live with
Since you'll probably be living with new people, try to connect with them before moving in. Coordinate who brings what to avoid duplicate items and try to learn about their interests and hobbies. You might find out you share some common interests, which will foster a warm atmosphere.
Explore your new home
In a new area, it's important to familiarise yourself with the environment. Find local supermarkets, shops, and other amenities to get a sense of the area. It's also a great idea to find out where your lectures will be before your first day. This way, you won't get lost and risk being late for your classes.
Plan logistics in advance
Planning the logistics of your move-in day can help you feel more relaxed and confident. Find out when and where to arrive on campus. Knowing this information beforehand will make you feel more prepared and give you a sense of confidence.
Stay organised during the move
On the day of your big move, there will be a lot to manage— keys, documents and a whirlwind of emotions. Keeping everything organised will make everything easier. Consider using a folder to store important documents, IDs, and any other essentials.
Now you're set to start on your academic journey
A little preparation goes a long way when moving to university. Create your checklist, follow the useful tips, and earn LifePoints rewards to kickstart your journey from day one.
LifePoints can help you from day one and throughout your entire university career. Whether you want delivery from Zomato, cash from PayPal or something random from Amazon, LifePoints offers an incredible range of rewards. LifePoints will become a trusted companion during your time on campus.
In the last year alone, LifePoints gave out over 1.8 billion rupees. To join in and claim your share, sign up here. If you prefer using an app, you can download the Android or iOS app.
---