9 essential tips to shop online safely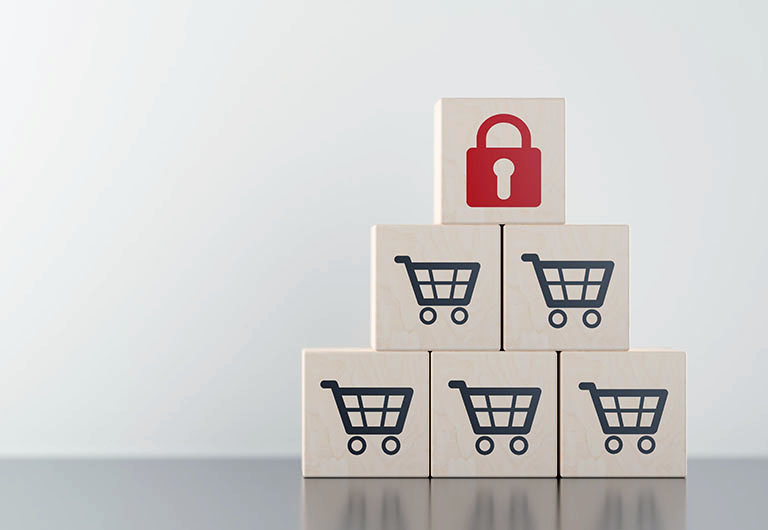 Did you know online shopping in the India is now worth over trillion Rupees a year. You can shop wherever you want, have more options to choose from, find the best deals and you can save time. But how do you know you're shopping safely and you're not about to fall victim to a scam? Knowing how to stay safe while you shop online can allow you to be confident and happy on every step of the way. Let LifePoints guide you through the nine best safety things you can do so you can make the best decisions possible when surfing the web.
1. Use secure sites only
When shopping online only use secure sites to protect your data. Secure can mean different things, but did you know that all major browsers tell you if the site has a security certificate? On the search bar there is a padlock icon if the site has a security certificate. Don't worry, your browser will alert you if it isn't secure. Certificates aren't a total guarantee, but they are as close as possible so should help you shop in confidence.
2. Create a strong password
A strong password gives you a lot of relief and security when shopping safely online. The stronger your password is the more security you will have from hackers. The password for your email address needs to be the most secure as a lot of your passwords are connected to your email address.
Some other tips for creating stronger passwords include:
Using special characters such as "*" or "%"
Using a password manager
Using a random password generator
Monitoring the news for data breaches
Check to see how secure your password is with Password Monster, which lets you know long it would take a hacker to figure it out.
3. Use a safe internet connection
The Wi-Fi network you use can change how safe you are when shopping online. When you use a secure internet connection, your data will be safe. But not all networks are the same. The best for finding a good network is to avoid using public Wi-Fi networks when shopping. If you use a public network, using a VPN can help disguise your location and protect your data.
4. Look for happy customer reviews for site you're on
Google reviews, Facebook reviews and even social media are a great way to see if it is safe to shop online. A lot of the time if a site is not safe, feedback from other customers will tell you. If other customers are saying the site is safe you can have more confidence.
5. Use a secure payment online payment system you trust
Using a secure payment method you trust is one of the best ways to feel safe when shopping online. Gift cards are great because you don't connect your bank. Apple Pay is great because there is a thorough security system. Credit cards are a good option as you can get insurance on things you buy, and your bank will provide customer service if you run into any challenges. You need to pay for your shopping one way or another, so a trusted payment method is a must.
6. Only give away the necessary details
As you know, when you shop online you need to provide your name, address and all sorts of payment information. To help stay safe online make sure you only hand over those details that are absolutely needed for your purchase. If they are asking you for extra information that you feel is not needed, be careful and choose exactly what information to give away and what to protect. If in
doubt, look for your item on another, more secure website.
7. Follow the news for recent data breaches in India
From time-to-time websites have data breaches where criminal hackers can steal customer data that is sold on the dark web. The breaches can be for personal info for identity theft, customer profiles or even financial information. So keep an eye on the latest cyber security news to see who has been breached can help you stay alert so you can react and protect your data when you shop online.
8. Keep track of the most common online scams
We've all heard about scams when shopping, but when you know what to look for you can beat the scammers and shop with confidence. A few things to look out for are phishing scams (when someone pretends to be someone else), identity theft (when someone gets your info then pretends to be you), email fraud (when someone tries to get your email information) and viruses. If you are aware of these, as well as using the other tips on this page, you know what to avoid and can shop safely online.
9. If you're not sure about something check again
If something doesn't feel safe when shopping online, it's worth a double check. If you feel like you need some more information on something a great place to start is a company's privacy policy. Privacy policies should include what data is collected, how that data is collected, how it's used and whether a company shares it with third parties. If you can't find the right info the best thing to do is trust your instincts. More often than not, you're right.
Now you know how to shop online safely
Shopping online has so many benefits and it's growing. Over 75% of people in India shop online and that number is growing every year. and using the tips and info in this article you know how to shop online safely.
If you want to make it even better and do that online shopping for free, why not earn a gift card for free with LifePoints? Sign up, take some surveys and share your opinion to get rewarded with points. Once you have enough points you can exchange them for great rewards. You can even get 10 complimentary points just for signing up.
Or start earning today from your mobile with the LifePoints App.
---