Save money and stress: your top ways to transfer money online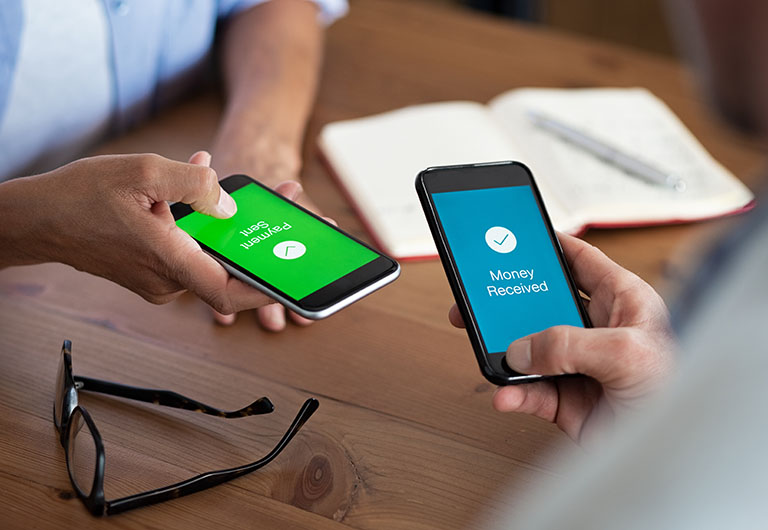 Exploring India's diverse landscapes and vibrant street markets with friends but need to pay your share? Luckily it's as easy as ever to transfer money online. This guide will cover how to transfer money online, so read on to find the way that fits your needs and wants.

 
The best online money transfer methods are:
PayTM
PayPal
Bank transfers
Earning with LifePoints so it's free
Extra tips to help you even more
PayTM: India's premier mobile wallet
There are a lot of digital wallets out there, but PayTM is among the best of the best. With simple transactions, bill payments and peer-to-peer transfers, PayTM offers the most. Here's how to use it:

 
Download the PayTM app: download it from your phone's store.

 
Account Setup: follow the on-screen instructions to set up your account. You'll need to give PayTM your phone number and choose a strong password.

 
KYC verification: occasionally, PayTM will need to use KYC verification, which stands for Know Your Customer. If you do need to do a KYC verification, upload an ID and photograph so they know you are who you say you are.

 
Choose the service you want: select the type of transfer you want complete like mobile recharges, utility bills or sending money to a friend.

 
Enter needed details: put in the details PayTM needs. These will be different depending on what you're trying to do, but they normally include account numbers or phone numbers. 

 
Choose how you want to pay: select your payment method, like your bank account or credit/debit card. Make sure all the info is correct, then click confirm. PayTM will handle the rest and the money will reach your family or friends.
PayPal: your online money transfer pal
Dating back to 1998, PayPal is one of, if not the best way to transfer money in India. To send money online using PayPal, follow these steps:
Create an account: If you don't have one already, sign up for a PayPal account using your email address or phone number.

 

Link a way to pay: Connect your bank account or credit/debit card to your PayPal account.

 

Choose who to send to: enter your friend or relative's email address connected to their PayPal account.

 

Choose how much to transfer: Specify the amount you want to send and confirm the transaction. You can also include a note or message.

 

Transfer the money: once you've put all the details in, click send and the money will go over to their account.
PayPal is a global money transfer platform, so you have the option to transfer money overseas to people with accounts in other countries.
Bank transfers: old reliable and online
If you prefer a traditional approach, online bank transfers are as secure as ever. Here's how to do one:
Visit your bank's online portal: head to the app or website.

 

Add details for the person getting the money: add any info that your bank needs, like the recipient's name, account number, and IFSC (Indian Financial System Code).

 
Set how much you want to send: choose the amount you want to transfer and add it to the transfer information.

 
Review and confirm: look over the info to make sure it's all right. Then click confirm, and your bank will start the transfer.
Remember that bank transfers can take a few days. So, make sure you leave enough time for your friend or family to get it when they need it.
LifePoints: online money transfers for free
Hopefully, this guide showed you how easy it is to transfer money in India. The good news is LifePoints can help you do it for free.
Sign up, take some surveys and earn points, also called LifePoints. Once you have enough LifePoints you can choose from over a dozen rewards, including PayPal cash or PayTm credit.

 
So, if you want to transfer money online without any money leaving your bank account, LifePoints helps you do that. 
Extra things to consider when transferring money online to friends or family 
Safety and security: make sure you know what protections each platform gives you. For example, some have built-in insurance, and others don't.
 
Transferring money overseas: only some of the above let you send money overseas. So, if you need to send money outside of India, choose a method that lets you.
Budgeting: budgeting is key with anything money-related. Luckily for you, places like your bank can help you budget and save.
Customer support: even with the best planning, mistakes happen, and money transfers are no exception. So, having good customer support is important. 
FAQs, chats and articles are all great places to learn what customer support is available. 
Now you know the best ways to transfer money online 
Sending money online has never been easier with PayPal, PayTM and bank transfers. Plus, with LifePoints, you can send money through all of them without impacting your bank account.
 
In the last year alone, LifePoints community members have earned almost 2 billion rupees in rewards. 
Join LifePoints today to get started.
---