Make holidays easier with Christmas gift cards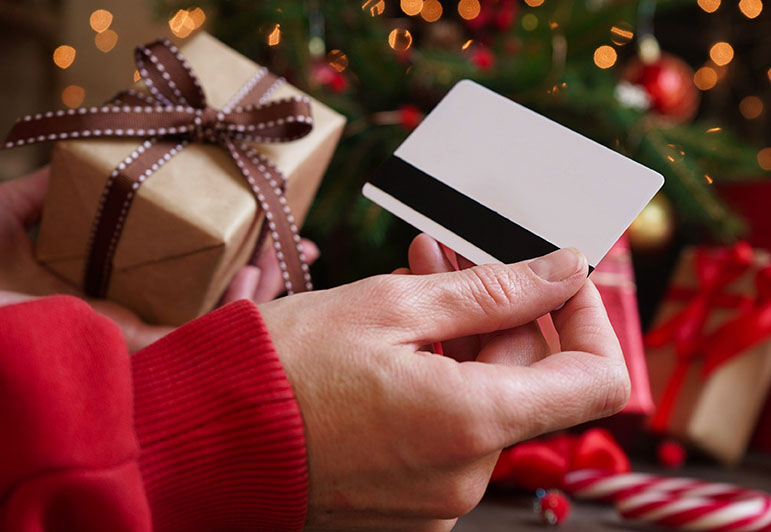 Make your budget go that extra bit further this year with our Christmas gift card tips. Christmas is a great time to celebrate with the people you love, but the build up to the big day can be stressful and pricy. With inflation on the rise, you need to make every rupee count if you want the Christmas you deserve. So, if you're looking to make the most of your budget, gift cards can help out in more ways than you might think! If you're reading this in Summer and think you're too early, online research tells us that people start planning and shopping for Christmas as early as August, so you're not alone.
Use a free Christmas gift card to help with rising inflation
Everything has become more expensive recently because of inflation, so you'll need to make your budget stretch that extra bit this year. Luckily, there are a lot of great ways to cut down your costs and still keep up the Christmas spirit.
You can use free gift cards and cash rewards in more ways than you might think, and the flexibility of a gift card offers you so much. You won't even need to leave this site to get some free gift cards. Here at LifePoints you can share your opinion on a range of engaging subjects and get rewarded with points. You can then swap your points for gift cards or PayPal cash added to your balance. As a gift to you, you can even get 10 complimentary points just for signing up.
How to reduce Christmas stress with a free gift card
If you're anything like us, you look forward to Christmas because you get to spend time with the people you love, you get some time off work and you get to enjoy all the celebrations. But Christmas time can be stressful and frustrating. Shops can be crowded and confusing, and you can't always find what you're looking for. So beat the crowds and avoid the stress by getting clever with Christmas gift cards. You can sit on your sofa, browse the internet, and buy some presents without ever leaving the comfort of your home. Not only will you be saving money, you'll also beat the crowds.
Use your gift card to take part in all the fun Christmas traditions in India
India has a lot of Christmas traditions and being able to join in makes the holiday season can create some special memories. You can attend midnight mass, make a Christmas crib, enjoy the beautiful decorations, or eat some Kheer, among others. You probably even have some local traditions in your hometown. Like most other things at Christmas though it is yet another thing you have to spend money on. Again, this is one of those areas where a Christmas gift card could come in handy. Your wallet will thank you and you still get to make those special memories that only a Christmas tradition can give you.
Use your gift card on all the delicious Indian Christmas food
Everyone has their favourite delicious Indian Christmas Food. During the holidays you get to savour some of the best seafood in the world and that's just scratching the surface. There are fantastic meat, veggie and vegan options too. But having a full feast can cost you a good chunk of change. That's where a free gift card can help. Whether you need that little bit extra to help you get the basics or you want to splurge on something special, a free gift card can help you get there.
Use a gift card on some fun Christmas day activities
The big day is a great time to enjoy time with your family, and you may want to plan a few fun activities, just to ramp up the fun and memories some more. You might have a favourite film or boardgame? Perhaps you all get together to celebrate with some fireworks. Whatever your style, even these can be an unexpected strain on your budget. Gift cards are the ideal solution for this. You are able to buy what you need to add a fun Christmas day activity, and if you earn your gift card with LifePoints you can get it for free.
Use a gift card this Christmas for a charity donation
Christmas is also great a time to give back and donate your time. Donating some money, no matter how much or how little, will always give you a warm feeling this time of year. It's easy to get caught up in a busy lifestyle, but now is the ideal opportunity to take a step back and make an impact. There are so many great charities out there and at this time of year they will be looking for donations, so it can be hard figuring out exactly what to do and where to donate. If you're looking for Christmas charity donation ideas, it is easy to donate right here at LifePoints. If you have some spare points left over from taking surveys, you can exchange those points for a donation to the Special Olympics.
Make your Christmas day even better with a gift card
These days you can get everything you need for the Christmas on the internet. So why not make your Christmas better with all the different opportunities a gift card gives you? You can get food, decorations, rent films, buy necessities such as gift wrap, and of course get any present you could ever think of online. Whatever you need to up your Christmas game you can get with a gift card, and you can get them for free if you earn the gift card online. Even something as small as adding a little treat to your Christmas table with high quality lights can add a little sparkle into your Christmas, so a gift card is the ideal way to add those extra special touches.
Use your gift card and make the most of the Christmas sales
Did you know you can also use your Christmas gift card for something non-Christmas related? The holiday season is full of sales like New Year's Day sales, Diwali sales or even general holiday sales. Most shops, especially online stores, will have one of these sales towards the end of the year. Sometimes more than one sale. This makes the holiday season the perfect time to use any gift card you earn or have. Using your gift card on the sales to get something for Christmas is still a great option and combining a gift card with other end of year sales helps you manage your budget and spend even more.
Now it's time to make the most of your Christmas gift card
Whether you have a gift card already or you are going to earn one by taking our surveys, a gift card during the holidays can make a big difference to your holiday season and help you make the most of your budget.
Whether you want to use a gift card on family or friends, use it on household essentials for the big day or just for a cheeky treat for yourself, there are so many possible ways that a gift card can help you. You can even stay right here on this site to get your free gift card.
Share your opinion with us and earn rewards for PayPal simply by signing up with LifePoints. In the season of giving, we're even giving you 10 complimentary points to get you started when you sign up.
---