Valentine's Day Ideas On A Budget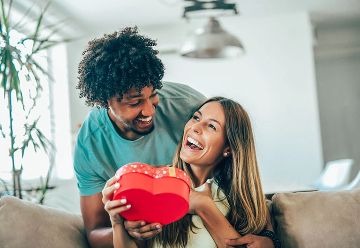 Valentine's Day is the perfect time to express love and appreciation for your special someone. Deciding how to spend the day and finding a gift that won't break the bank can be a little tricky, but worry not; we're here to help.
LifePoints is an online platform where you can earn rewards and gift cards for sharing your opinion about brands and products. So, we reached out to our community of members and asked how they celebrate Valentine's Day, and we're keen to share some of the results with you.
Many of the ideas in this article are inspired by the findings of the survey. Interestingly, nearly a third of you opt for dinner at home than dining out. What better way to spread the love than with a home-cooked meal?
From homemade gifts to creative date ideas, this article covers tips and tricks to make your Valentine's Day special, whatever your budget.
How Much Do Couples Spend On Valentine's Day?
With plenty of pampering on the cards, Finder projected spend a staggering £1.37 billion spend on Valentine's in the UK. In 2021, there was a noticeable drop in spend per person with Brits spending £23 compared to a £35 per person in 2020.
Get Creative With Valentine's Decorations
Decorating your home with Valentine's decorations is a fantastic way to set the mood and spread some love. It's also a great opportunity for snapping up sweet selfies and sharing your special moments online.
From romantic wall art to heart-shaped balloons and beautifully scented candles, there are countless ways to decorate your home for Valentine's Day.
To keep décor ideas kind to your purse, we suggest upcycling and making use of any existing party decorations.
It's time to grab the Christmas box for twinkling fairy lights and scour the bedroom for red blankets, cushions and throws – the perfect pop of colour! Pink, red and white coloured paper are ideal for paper garlands and hanging decorations.
Thoughtful Homemade Valentine's Gifts
12% of those surveyed said you give "chocolate - can't go wrong"
What says 'I love you' better than a thoughtful homemade Valentine's gift? Show your significant other how much you care about them, and put your craft, baking and even DIY skills to the test!
22% of those surveyed said "send a card – or even a letter"
Whether it's a lovingly-made Valentine's card, a delicious baked treat or painting the bathroom ceiling, there are plenty of ways to make sure your special someone feels loved at this time of the year. Extravagant spending is out, and romantic gestures are in. With a fifth of those surveyed showing your nearest and dearest some affection with a card or letter, why not seal it with a kiss and make it from scratch. After all, it's the thought that counts!
Our top tip: add a personal touch to your homemade gift by including photos of you and your love. You can either print them off in the comfort of your own home, order prints online or nip to a local photo store.
Fun Valentine's Day Crafts
Get your creative juices flowing this Valentine's Day and make some pocket-friendly Valentine's Day crafts. With a little bit of imagination and effort, you can create a wonderful craft that will make your loved ones' hearts skip a bit!
12.6% of those surveyed said they "give flowers – you can't go wrong"
While real flowers maybe going out of fashion, fancy keeping Valentine's Day sustainable? Origami and paper flowers are a sweet choice, sure to put a smile on your loved one's face. Not only are they a wonderful treat, but they also make a fun activity for you and your Valentine to spend quality time together.
Have a go at everything from clay painting to jewellery making and sewing goodies your loved one will adore. It's time to get creative and start crafting.
Romantic At Home Date
When it comes to romantic Valentine's Day celebrations, there's no need to venture too far. Looking for ways to make this Valentine's Day special without leaving the house? Enjoy a private and intimate celebration with a cosy at-home date.
27.9% of those surveyed said "Dinner at home - nothing says love like a home cooked meal"
One of the most popular ways our members like to spend Valentine's Day is with a tasty home-cooked meal (22.6% of respondents). Avoid busy restaurants and long wait times and tuck into a delicious Valentine's meal at home. If you consider yourself somewhat of a MasterChef, 14th February is a fab chance to showcase your culinary skills.
Wow your partner with a lovingly prepared three-course meal and serve alongside your drink of choice. If you'd rather skip the washing up, order your favourite takeout and dig into a tasty treat.
With careful planning and a dose of love, you can create a romantic evening for two from the comfort of your humble abode. Create a dreamy ambience with candles, flowers, music and décor.
Whether you order takeout, cook dinner or host a movie marathon, there are plenty of Valentine's Day at home ideas to ensure your special evening is one to remember.
10.7% of those surveyed said you like "dining out - the one day we deserve to be served!"
On the other hand, if you are the sort of culinary calamity only your other half could love, then maybe you are part of the 15% of members that prefer stepping out and letting the professionals handle it.
Enjoy A Valentine's Movie Night
Did we mention movie marathon? Snuggle up on the sofa and celebrate in the cosiest way possible with a romantic Valentine's movie night. Just as our users shared, cuddles on the sofa are an essential part of Valentine's plans.
Whether you're a rom-com aficionado or looking for a heart-warming drama, there are an endless number of movies at your fingertips.
Once you've chosen your flick, finalise your set up with comfy cushions, snug blankets and dim the lighting. It goes without saying popcorn and snacks are a must – so once you're fully equipped, get ready for a night of love and laughter!
Enjoy More Valentine's Day Treats With LifePoints
With our exciting and affordable Valentine's Day ideas, there's no doubt you'll be keen to get your celebrations well underway!
Whether you decide to celebrate Valentine's Day from the comfort of your own home or treat one another to homemade gifts; we hope our handy suggestions have helped.
Make use of your LifePoints rewards today, and why not download your Valentine's movie with an Amazon gift card or Paypal balance?
14.5% of those surveyed said "I do nothing. I celebrate my Valentine every day." Of course, if you prefer, you can use your Amazon and PayPal rewards for loads of other amazing savings and gifts every day of the year.
Join LifePoints Today
If you're interested in earning points that you can exchange for gift cards and rewards, sign up to LifePoints today!
Amazon sells everything you need this Valentine's Day, so earn a free Amazon gift card right now.
---