How to Plan the Best Move-in Experience To University with LifePoints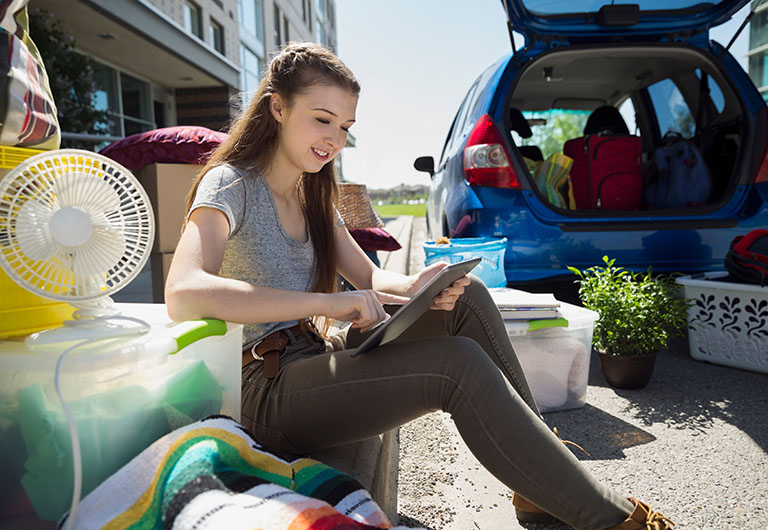 Moving into university is an exciting time filled with new friends, opportunities, and cherished memories. But it can also bring about unknowns and challenges. Luckily, with a few simple tips and tricks, you can have a smooth transition to Uni life and make the most of your experience from your first day.
In this article, you'll see a comprehensive move-in list and learn valuable insights to address any concerns you may have. You'll also learn how you can make money along the way by sharing your opinion with LifePoints. With this knowledge, you'll be able to buy essentials for your room or buy yourself a treat as you step into the next chapter of your life.
Your Comprehensive Packing Checklist for All Your University Essentials
With these dorm necessities, you'll have your new digs ready to go from day one:
Bedding: Sheets, pillowcases, and a duvet for a good night's sleep.
Bathroom essentials: Towels and toiletries to stay fresh on campus.
Clothes and shoes: Outfits for any day, underwear, socks, and shoes for any moment.
Kitchen supplies: Plates, bowls, knives, forks, spoons, glasses, and any basic cooking equipment to make food in your hall.
Lecture supplies: Books, pens, pencils, and folders for when you need to hit the books.
Electronics: Laptops, chargers, phones, headphones, and power strips are all key to succeeding in your exams.
Storage solutions: Clothes hangers, storage bins and storage containers for under your bed can help you better use your space.
Cleaning equipment: Wipes, a dustpan & brush and other items for a clean living space.
Important documents: IDs, documents, and medical records for any official purposes.
Medication: Any prescriptions to keep you healthy.
Anything else that matters to you: Everyone is unique, so if there's something you need, add it here.
Although not necessary, these can make your new digs feel more like home:
Decorations: Posters, photos, and personal touches to make your halls cosier.
Entertainment: Books, board games, video games, or any other entertainment for when you aren't studying.
Desk supplies: A desk lamp and something like a mini whiteboard to help you learn better.
Exercise equipment: Yoga mats, resistance bands, or small tools for staying active, especially if you don't have a gym membership.
Sentimental items: Mementos, photos, or cherished possessions to bring comfort and familiarity.
Earn extra rewards to make the transition easier
Moving can become expensive quickly. From coat hangers to books, there's a lot to buy. That's where LifePoints comes in. With LifePoints, you can earn free ASDA or Costa gift cards for sharing and taking surveys. Sign up, answer some questions and get rewarded. It's one of the easiest and quickest ways to get those extra touches and make your room a place you love to be in.
Your opinion matters and makes an impact when you take surveys. When you take surveys with LifePoints, your opinion shapes the future of some of the world's biggest brands. When you answer surveys, it directly reaches decision-makers at huge companies. You might answer a question on something like food and see that food change to what you want in the future.
5 more tips to prepare for a successful college move-in and beyond
Be kind to yourself and proud of yourself
Be proud that you've made it to university! It's a huge achievement and it's normal to feel homesick or have some questions. Universities have some great resources available, if you need help or have questions. Whether it's educational support, counselling or student societies, universities provide great resources to help you succeed. Using these services will help you settle in and get the most out of your time on campus.
Connect with housemates or flatmates
A lot of the time, you'll live with random people. If possible, connect with them before moving. Decide who's bringing what to avoid duplicates and get to know their hobbies. This way you can get to know them and avoid some awkwardness.
Explore your new city and campus
You'll be in a new environment, so taking time to learn the area is important. Look for nearby supermarkets, cafes and other amenities to get to know the area. Another great idea is to find all the buildings where your lectures are before the first day. This way you won't get lost and will feel less stressed on your first day.
Plan logistics in advance
Planning the logistics of the move-in day can help the day go smoothly and reduce stress. Check with your halls for instructions, like when you can get to campus or where you need to go. Knowing logistics ahead of time can help you plan better and reduce stress.
Stay organised during your move
On move-in day, there will be a lot to manage. You'll need to manage documents, keys, and contact information, as well as all the emotions of the day. Keeping all of them organised will make everything easier for you. One option to keep organised is to have a folder to store any papers, IDs or any other important info.
Now you're ready to start your academic journey
When you move to university a little preparation helps so much. Create a checklist, follow the general tips, earn LifePoints rewards and you'll hit the ground running when you get to campus.
LifePoints can help you past move-in and all the way to when you graduate. Whether you want a meal deal from Sainsbury's, clothes from Primark or a coffee from Costa, LifePoints has so many rewards to choose from. LifePoints will quickly become a trusted friend.
Lifepoints has paid its members over £18 million in the last year. To get in on that action and earn your slice of the pie, sign up here. If an app is more your style, we have one available for both Android and IOS.
---