The Great British Staycation: How to Plan the Perfect Adventure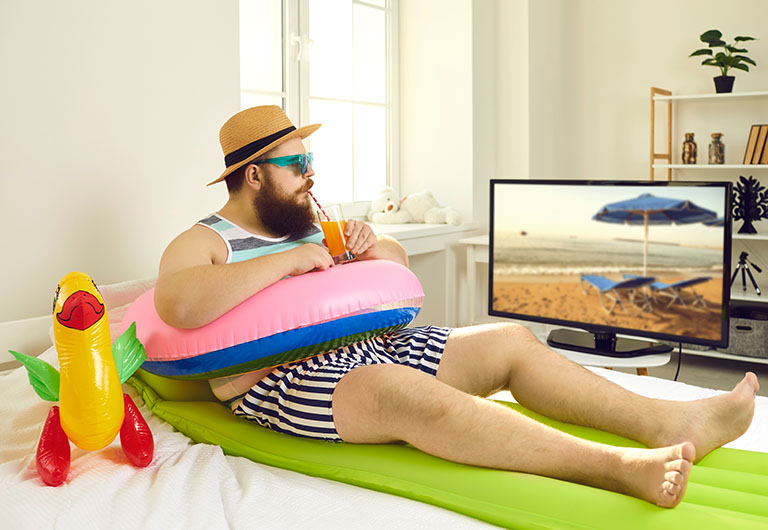 In the hustle and bustle of modern life, we often fail to recognise the gems in our own communities. Staycations have become trendy, with over half of Brits preferring staycations to traditional holidays. It's easy to see why. Staycations let you unwind, indulge in your passions, and immerse yourself in the wonders of the UK without the hefty price tag of a foreign holiday.
Staycations need careful planning. But fear not, this guide is here to help. With these simple steps, you'll have a memorable experience without traditional holiday expenses. Get ready to create lasting memories, experience something new and feel revitalised.
Know what you want to get out of your staycation
Before planning your staycation, take a moment to decide what experiences you want. Is it quality time with family, some self-care, or the opportunity to explore new local food spots? 
Deciding on the goals for your staycation will help you plan suitable activities that make the most of your time. Discuss your ideas with family or friends so everyone is on the same page and will have a fantastic staycation. 
Create a staycation itinerary to maximise your adventure
Now that you've defined your goals, it's time to set an itinerary. An itinerary will help you maximise your precious time and have the best experience possible. Do research on local attractions, events, and activities that align with your established goals. You may even discover hidden gems minutes away from your doorstep. Remember to leave ample time for relaxation, giving you a fun balance of leisure and outings.
Set a staycation budget
Planning your staycation with a budget is not only essential but also exciting. With a budget, you can indulge in all the things you love without worrying about your finances.
It might sound simple but determine how much you can comfortably spend. Decide how much you want to spend on meals, fun activities, and, if needed, cosy accommodation. This will help you set boundaries and wisely allocate funds.
Remember when setting your budget to keep your enjoyment at the centre of everything. It's your time to relax and have a blast, so keep enough money for special treats or activities that make you happy.
While our How to Plan a Holiday on a Budget guide is for traditional travel, it has some great tips for staycation planning.
Create a serene and comfortable staycation space
To make your staycation at home special, transform your home into a serene space. Start by organising your space to get rid of distractions or unfinished tasks. Enhance the ambiance with soothing scents and soft lighting, helping you relax. Don't forget to break out your most luxurious bedding, adding that final touch of comfort. By altering the atmosphere, your home will feel extraordinary.
Elevate your staycation budget with LifePoints
If you want to add those extra special touches to your trip, LifePoints is here to help. LifePoints offers fantastic rewards for sharing your opinions on major brands. When you take surveys, you earn points, known as LifePoints. Once you have enough points, you can claim rewards like Costa gift cards, ASDA gift cards or a donation to the Special Olympics.
It's a quick way to bolster your staycation budget while sharing your opinion on global brands. So why not use those spare moments in your day to earn valuable rewards with LifePoints? Sign up today and witness your staycation budget soar to new heights.
Bonus tip: LifePoints picks for a staycation in London
London is the most popular UK staycation location, so we decided to share our top spots for a memorable staycation.
Dine in luxury in Knightsbridge to elevate your staycation
Food can be one of life's great pleasures. So, treat yourself to some luxury dining in the vibrant streets of Knightsbridge. There are endless options to choose from, but we recommend classic Italian at Osteria, Ognisko for elegance or the Harvey Nichols café and terrace for an afternoon tea experience. With an all-day menu, brunch menu and afternoon tea in a relaxed atmosphere, you'll find something to fit your gastronomical desires.
Wander through time
Experience history at the Tower of London with ancient architecture, the Crown Jewels, and legendary royal tales. At Buckingham Palace, witness the Changing of the Guard and marvel at the grandeur of the palace. Finish your day at Westminster Abbey, where you can wander through magnificent Gothic architecture and see the final resting place of notable figures. London has so much for any history buff that you'll never be short of things to see.
Take to the skies
Experience London from a bird's-eye view by boarding the iconic London Eye. As the wheel rotates, you'll see breath-taking panoramic views of the city's skyline. See if you can spot landmarks like Big Ben, St. Paul's Cathedral, and the Houses of Parliament.
For another elevated experience, venture to the top of The Shard, the tallest building in London. From the Shard, you'll get unparalleled 360-degree views that stretch for miles. It's one of the best ways to see the beauty and vastness of London.
Visit some of the best museums in the world
London has some of the best museums in the world, and the best part is that a lot of them are free to visit. See masterpieces at the National Gallery, home to works by Van Gogh, Monet, and Da Vinci. If you're into fashion, the V&A has everything from intricate jewellery to fashion through the ages. For art lovers, the Tate is a must-visit, boasting a collection that celebrates the best of British creativity.
Enjoy a West End show
Take in London's West End during your staycation and see anything from beloved classics to up-and-coming productions. Make sure you get your tickets in advance, add it to your itinerary you made earlier and arrive early to savour the theatre's ambiance. The theatre is the perfect chance to dress to impress and let the talented performers transport you to another world. No matter what you choose, you'll have an experience to remember.
Walk down the Southbank
Take a casual stroll along the picturesque South Bank of the River Thames. No matter the time of year, a plethora of sights and sounds await. See Shakespeare's Globe Theatre, the iconic Tate Modern and the OXO Tower. Once you're at the end of the Southbank, you'll reach the bustling Borough Market. At Borough Market, you can sample gourmet treats including artisanal cheese, fresh pastries and street foods. Like the museums, the Southbank is completely free, so you can save your money for other activities.
Your staycation questions answered
What is a staycation?
A staycation is when you take a trip within the UK. You do all the same things you would do on holiday, but in your own area, like museums, restaurants and shopping.
Where to staycation in the UK
The UK has no shortage of options for staycations, so go wherever fits your budget and goals. Our top 10 UK staycation locations:
London
Lake District
A seaside city like Brighton
The Scottish Highlands
The Welsh countryside
The Isle of Wight
The Cotswolds
A historical city like York
Pembrokeshire
A city with Royal sites like Windsor
What to do during a staycation
Here are 10 ideas for things to do on your staycation:
Explore local attractions like exhibits or museums
Take a spa day to rejuvenate and refresh
Go to a new restaurant or food market
Explore nature
Go to the cinema or theatre
Learn a new skill
Take a day trip
Host friends or family
Volunteer and help causes you care about
Catch up on TV shows you want to watch
Why staycations are better
There are a few reasons why staycations can be better than a normal holiday abroad:
They're cheaper
There's less travel time
No time zone differences
Less environmental impact
You can go without a passport
You support the local economy
Familiarity with the surroundings
No foreign languages
You can get home more easily if there's an emergency
You have more flexibility
What to pack for a staycation
Remember that each staycation is different, and you'll need to plan differently for each one. What you need for a beach staycation will be different to a city staycation.
Regardless of what your do on your staycation, here are some staples to pack for any staycation:
Clothes
Things to keep you entertained, like books or magazines
Toiletries
Snacks and drinks
Anything else you need for your trip
Now you're set for some well-earned time off
Staycations offer a wonderful opportunity to discover local treasures and create lasting memories. All without the need for extensive and expensive travel. By following our staycation tips, you can have a fulfilling and well-balanced experience. And remember, if you're looking to boost your staycation budget, joining LifePoints is the way to do it. Happy staycationing!
Sign up to LifePoints to help you maximise your staycation
You get rewarded when you take surveys with LifePoints. For every survey you do, you get points, also called LifePoints. When you have enough LifePoints, you get rewarded for your time. You can get Love2Shop gift cards, Primark gift cards or PayPal cash. PayPal can be used like money, and gift cards can buy you anything you want. This makes them ideal for staycation planning. To find out more, read our How It Works page.
Sign up today or download the app and you can get 10 free points to kick-start your earnings.
---