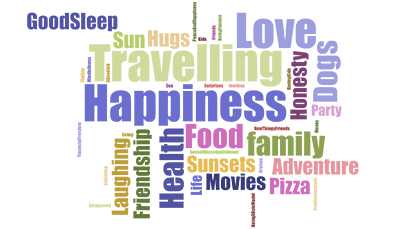 Some answers from "The best thing in life is...." quiz!
Last week we've posted this quick and fun quiz THE BEST THING IN LIFE FOR ME IS...
and we've picked some answers that have impressed us.
BEST THING IN LIFE IS.....
"Being able to explore and learn new things that you didn't know and have the ability to pass the knowledge on to someone you love."
"The best thing in life is that it just goes on. You go through really bad and rough days then there are good days, but you will never stay there, life will carry you forward to make new memories giving you also the opportunity to learn, mature and choose what you need to carry forward and what you need to leave behind."
"Just being contented with the things that I have and the people I am with. And of course, FOOD." :)
"A/C on a hot day :))
"...to step outside your comfort zone!"
"When everything just falls into place!"
"Relationships: all forms.... Mom, Dad, Son, Daughter, Brother, Sister, etc....co-worker, boss, neighbour..... What really matters in life isn't what we have but it's who we know and who we allow to know us, and it's about being a positive influence to them."
"When you're able to make an impact in someones life so much so that their life will never be the same"
Thank you for taking part, we hope you had fun and keep an eye on our community section future quizzes!