Discover the Joy of Staycations: How to Craft an Unforgettable Indian Adventure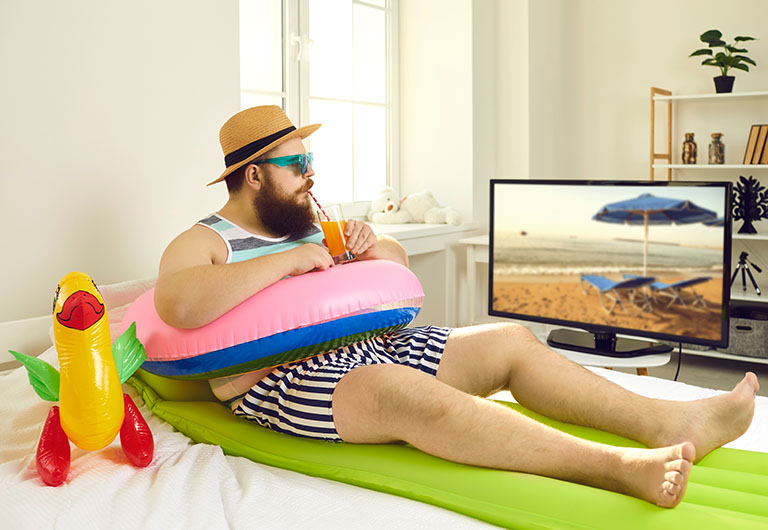 In the craziness of modern life, we overlook the hidden gems right at our fingertips. Staycations have become increasingly popular in recent years, and it's easy to see why. Staycations let you unwind, indulge your passions, and explore the wonders of India.
What's more, they're much cheaper than a trip abroad. Planning a staycation takes some careful thinking but worry not; this guide is here to help you. By following these simple steps, you'll have your staycation planned in no time.
Get ready to create lifelong memories, try new experiences, and return completely rejuvenated.
Decide what you want to get out of your staycation
Before planning your staycation, take a moment to define your desired experiences. Do you want to explore nature, catch up on TV or try exotic foods? Understanding your staycation goals will help shape your planning and maximize your time. Share your ideas with family or friends, so everyone can be on the same page and enjoy their time.
Make a staycation schedule
Now that you have your goals, it's time to create a schedule. A good staycation schedule will help you make the most of your time and give you a well-rounded experience. Find local sites, events, and activities that interest you. You might even uncover hidden gems moments away from your home. Remember to not overload yourself and leave enough time in your schedule to relax.
Set a staycation budget
Setting a budget for your staycation is important, and it can also be exciting. With a good budget, you can experience everything you love without worrying about money. Start by determining how much you can spend on your staycation.
Set a specific amount for meals, activities, and, if needed, a hotel. Setting boundaries will help you make the best decisions possible with your hard-earned cash.
While our Holiday on a Budget guide focuses on foreign trips, it has some great tips for staycation planning.
Turn your home into a staycation haven
To make your staycation memorable, turn your home into a peaceful haven. Start by tidying up, removing any distractions and finishing any errands. Use calming fragrances and soft lighting to create a more soothing atmosphere. Don't forget to bring out your most luxurious bedding for that final touch of comfort. These small touches can transform your home and give you a sense of peace.
Up your staycation budget with LifePoints
If you're seeking to add some special touches to your staycation, LifePoints can help. LifePoints offers fantastic rewards for sharing your opinions on world-famous brands. When you participate in LifePoints surveys, you earn useful rewards.
With options like Zomato gift cards, Jio gift cards, or PayPal cash, you'll find it difficult to pick just one. It's a quick and easy way to boost your staycation budget while sharing your opinion. Sign up today and watch your staycation budget soar to new heights.
Your staycation questions answered
What is a staycation?
A staycation is when you take a trip within India instead of abroad. You do what you would do on any other holiday, but in your own area, like shops, exhibitions and going to restaurants.
What to pack for a staycation
Remember that each staycation will be different, and you'll need to pack differently for each kind. What you need for a hiking staycation will be different from a spa staycation.
Regardless of what you do on your staycation, here are some staples to pack for all staycations:
Clothing
Things to keep you entertained, like magazines or streaming services
Toiletries
Food and drink
Anything else you can think of
What to do on a staycation
Here are 10 ideas for things to do on a staycation:
Visit a museum
Go to a spa
Try a new food
Explore nature
Go to the cinema
Take a local class
Go on a day trip
Host friends or family
Volunteer and help a worthy cause
Watch TV shows or films you missed
Where to go for staycation
Staycation wherever you like! India has some of the best travel destinations in the world, so make the most of them and go to one that interests you.
How long is a staycation
The great thing about staycations is that they're flexible and can be as long or as short as you want. If you want to take a week-long trip, you can. Or if you only have one day, you can use that time to explore your hometown.
Now it's time for a well-deserved staycation
Staycations are a great opportunity to discover local gems and create lasting memories. All without paying for expensive travel. By following the tips on this page, you'll have an exciting and well-balanced experience. If you're looking to boost your staycation budget, joining LifePoints is the way to go. Happy staycationing!
Sign up to LifePoints to take your staycation to the next level
You get rewarded for taking LifePoints surveys. For each survey you do, you get points, also known as LifePoints. When you have enough LifePoints, you get to select from our catalogue of rewards for your answers. You can get Jio gift cards, Flipkart gift cards or PayPal cash. PayPal can be used like money, and you can buy anything with gift cards. This makes them perfect for staycation planning. To find out more, read the How It Works page.
 
Sign up today or download the app and you can get 10 complimentary points to kick-start your earnings.
---