The Great Indian Bucket List: Our Top 10 Bucket List Ideas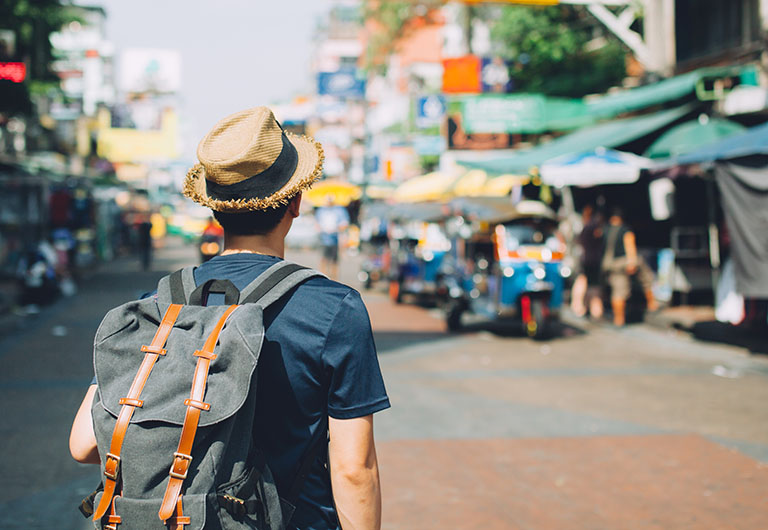 Building your bucket list and need some inspiration? You've come to the right place!

In this guide, you'll see a bucket-load of bucket list ideas – all of them are popular places from across India. What's more, you'll learn how LifePoints can help you save on travel. From immersing yourself in Varanasi to joining the colourful fun of Holi, you'll be ready to embark on your bucket list travel adventures once you're done reading.
Here are our top 10 bucket list ideas in India:
Marvel at the Taj Mahal at sunrise
Check trekking the breath-taking mountains of Gangotri off your bucket list
Sail away on a Kerala houseboat adventure
Add some peace to your bucket list and immerse yourself in the spirituality of Varanasi
Travel to Ladakh, feel on top of the world and check some monasteries off your bucket list
Uncover the mysteries of Jaipur's Amber Fort
Add the colourful fun of the Holi festival to your bucket list
Add some tranquillity to your bucket list at Spiti Valley
Get lost in the streets of Jaipur
Immerse yourself in tribal traditions in Nagaland
1. Marvel at the Taj Mahal at sunrise
The Taj Mahal is more than just a building. It's a white marble palace that looks like something from a fairy tale. It's also one of India's most iconic monuments, making it the ideal first item for your bucket list. To see it in the best possible light, consider seeing it while the sun rises. As the sun rises, its beauty becomes even more magical with the morning glow.
2. Cross off Gangotri's breathtaking mountains from your bucket list
Is hiking up a tall mountain on your travel bucket list? Well, Gangotri is the perfect opportunity to do exactly that. Trekking up the mountain will be a challenge, but one full of adventure. As you climb higher, you'll find yourself in the middle of awe-inspiring peaks, fresh air and a sense of peace.
3. Sail away on a Kerala houseboat adventure
Close your eyes and drift away on a cosy boat that gently glides over calm waters. You can add this to your bucket list and make this dream a reality in Kerala. The boats are like floating homes, giving you all the comforts of your house and the fun of a boat. Along the way, you'll pass by swaying palm trees, charming villages and stunning landscapes. It's a journey you won't forget.
4. Immerse in Varanasi's spirituality for bucket list peace
Traveling to Varanasi, one of India's most ancient cities deserves a spot on your bucket list. The river Ganges is at the cultural centre of the city, and there are a lot of activities to do. Look into the Ganga Aarti festival, where people offer lamps to the river and play traditional music. Being part of the festival will help you connect with the deep spiritual soul of India.
5. Travel to Ladakh, feel on top of the world and check some monasteries off your bucket list
Ever thought about what it's like to touch the sky? In Ladakh, you can visit ancient monasteries that sit high on cliffs. As you climb, colourful flags will welcome you and you'll experience breath-taking views as far as the eye can see.
Once you reach the monasteries, you'll experience a sense of timelessness. The echoes of centuries-old chants and prayers will let you feel at peace, and you'll be grateful you added it to your summer bucket list.
6. Uncover the mysteries of Jaipur's Amber Fort
Step into a world of kings and queens at the Amber Fort in Jaipur. It's a royal experience that deserves a spot at the top of your Indian bucket list. With a mix of Rajput and Mughal architecture, Amber Fort showcases the best of what India can do.
As you explore its ancient halls, rooms, and courtyards, you'll feel history come alive and see how royals live. With each step you take through the intricate passages, you'll trace the footsteps of the Maharajas. After your visit, you'll have a deeper appreciation for a bygone era and India's regal heritage.
7. Add the colourful fun of the Holi festival to your bucket list
Add a canvas of colours to your bucket list and attend a Holi festival, and see all the colours of the rainbow. From vibrant pinks to bright yellows and cheerful blues, every colour is on show. People playfully splash each other with colours, dance to traditional music, and enjoy yummy treats like gujiya and pakoras. You'll leave the festival covered in colour and full of energy.
8. Add some tranquillity to your bucket list at Spiti Valley
If tall mountains and clear skies sound like something you want on your bucket list, check out Spiti Valley. The air is crisp, the views are stunning, and the silence is soothing. You'll see ancient monasteries and the whole experience is like entering a world where time stands still. It's a chance to unwind, connect with nature, and embrace the tranquillity around you.
9. Get lost in the streets of Jaipur
Jaipur, known as the "Pink City," is jam-packed with architecture and colourful markets. A city break is one to add to your bucket list, and Jaipur is one of India's finest cities. Start your city break by visiting the Hawa Mahal, known for its intricate latticework. Then check out the Grand City Palace and take a walk through the bazaars of Johari and Bapu markets. And don't forget about the food. Whether you want cheap street eats or fine dining, Jaipur has you covered. The city charms you as you wander through its bustling streets.
10. Immerse yourself in Tribal Traditions in Nagaland
Make your summer bucket list a true Indian experience and venture into Nagaland's heart, India's most mountainous state. As you venture into Nagaland, you'll find rich indigenous cultures like the Konyak and Angami tribes.
Engaging with the tribes goes beyond tourism. It's an experience that connects you to their land, customs, and rituals. You can dance in tribal festivals, adorned in tradition and full of stories of bravery. You can share meals, exchange stories, and learn about their worldviews. Many companies offer packages to help you visit the tribes, taking away the hassle of planning your trip.
Let LifePoints help you cross these items off your bucket list
All of our bucket list ideas are perfect for your list, but bucket list holidays can get expensive. That's where LifePointscan help.
Once you've signed up for LifePoints, you're invited to take our surveys and share your opinions on everyday brands and products. For each survey you complete, you get points, also called LifePoints.
When you have enough LifePoints, you can exchange them for free gift cards or cash from our list of rewards. Look out for Myntra gift cards, Pantaloons gift cards or Paytm, among others. Paytm is like cash, and depending on the gift card, you can buy things for your trip like travel snacks or sunscreen. Whatever bucket list adventure you go on, LifePoints has a reward for you.
Want to know more? See our How It Works page.

Sign up today or download the App, and you get 10 complimentary points to start your earnings.
---