6 Legitimate Ways to Make Money Online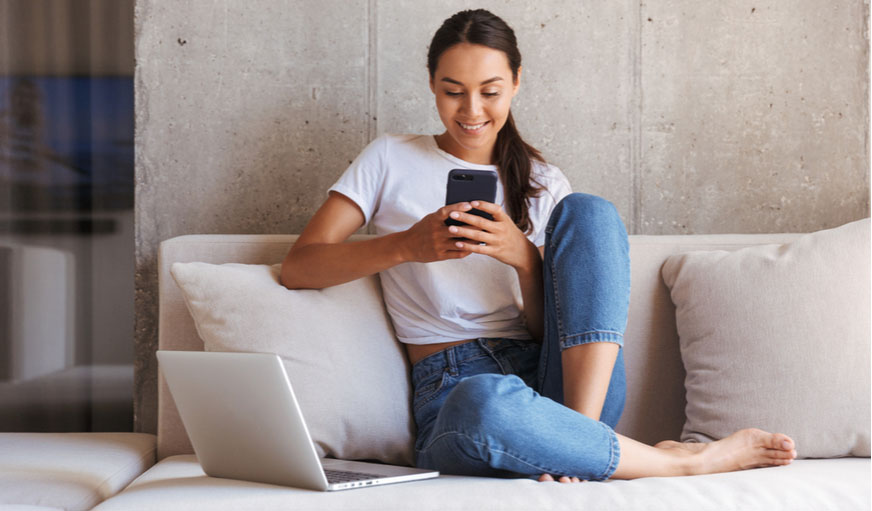 These days, it seems like there are 101 ways to make money online. With so much of our day-to-day lives spent browsing the web, the idea of earning some extra cash via our phone or laptop becomes more and more appealing.
It's almost made to look too easy with the amount of content, particularly from the younger generation, being shared across different social media platforms. From viral videos and branded sponsorships to TikTok's creators' fund, just how easy is it to make money online?
Despite how quick and easy most of the content we consume online looks to create, most require a considerable amount of time and hard work. That's not to say that making money online isn't worth it. There are countless things you can do, sell and share on the internet and so, we've rounded up six legitimate ways you can make money online.
From posting a video on TikTok and waiting to go viral to becoming a freelance creative, keep reading to discover how to make money online.
1. Start selling
From old electronics like mobile phones and laptops to spare winter coats and ill-fitting occasion wear, you could make money from selling things you no longer use or wear. Not only do websites like Music Magpie and Envirofone help recycle your old phone for cash, they even take broken or damaged handsets so, even if you think it's not worth selling, you might still be able to make a small fee!
They say one man's trash is another man's treasure, so if you have items of clothing taking up space in your wardrobe, consider selling them online. You are likely to reach the widest audience by listing your items on Depop or eBay but, if you have valuable, designer clothing, take a look at Vinted or Vestiaire Collective.
2. Put your language skills to good use
If you're fluent in more than one language, there are many websites, like Fairlingo, that will pay you for translation work. Bear in mind that some companies pay based on your skill set, so the more advanced your language, whether intermediate or fluent, the more money you could get paid for your work. You are also likely to be required to upload qualifications to prove your skills or take a test when registering – so make sure you are prepared before applying.
3. Complete online surveys
Did you know you could make money online by completing surveys? Major brands like Apple and Amazon are always on the hunt for feedback from their consumers in order to develop better products and services. By joining LifePoints, you can make a difference by simply providing your honest opinion and feedback and, as a reward for your participation, you can collect points that add up to PayPal credit or online gift cards for a number of top brands. Find out more about How it Works here and sign up for free today!
4. Consider freelance work
Would any of your existing skills from your 9-5 job transfer well online? If the answer is yes, then freelancing could be for you. Websites like The Dots provide an online community for individuals across the creative industry to network with potential clients and gain freelance work. So, if you have an eye for all things creative – from graphic design to photography and styling, then join for free and start networking.
5. Become a TikTok creator
TikTok is a great platform for easily sharing and making money from your content – whether you like creating recipe videos, want to show off your dance skills or simply want to use the platform to educate or share information on a particular topic. While it's free to create a profile, building a following takes time and the TikTok Creators Fund, which was introduced last year, only kicks in when you hit 10,000 followers. Take a look at this guide from Social Publi and find out everything you need to know about getting started.
6. Make money from copywriting
We've already mentioned utilising your language skills to earn some extra money, but it's also worth considering what other skills you could market online. Similarly to translation work, writing is another skill that you can monetise with very little effort. Of course, building a portfolio takes time but, again, this can be done easily and without any cost. Consider creating a free blog to practise your copywriting and build a portfolio before reaching out to potential clients to offer your services. This will also help when it comes to selling yourself!
When you're ready to get started, there are a number of copywriting job boards you can browse for your first freelance gig – take a look at FreelanceWriting.com to UpWork.com and sign up to this newsletter to get weekly updates emailed to you.
And there you have it! Six legitimate ways you can start making money online – whether you are utilising existing skills or tapping into a new hobby. To find out more about the LifePoints Community and how you can start completing online surveys, visit our FAQs page.
---