Save money and stress: your top ways to transfer money online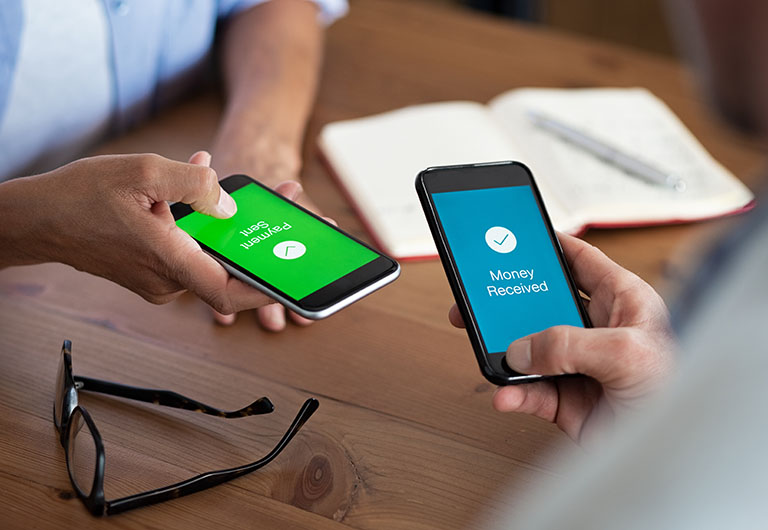 Left your wallet at home, and it's your round? With so many ways to transfer money online these days, ensure you don't miss a pint with the following guide. 
Here you'll learn all the best ways to transfer money safely and reliably online:
PayPal
Revolut
Bank transfers
LifePoints
Bonus tips
PayPal: A versatile online money transfer platform
Across the UK, we've been using PayPal to send funds as far back as the 90s. To send money using PayPal, follow these easy steps:

 
Create a PayPal account: Connect PayPal with your bank. You can use a debit/credit card or a current account.

 

Add who you're sending money to: Enter your friend's email address or phone number connected to their PayPal account.

 

Link a payment method: Connect your bank account or card securely to your PayPal account.

 

Choose how much to send: Put in how much money you want to send. Make sure you add a note every time you send money so you remember why you sent the cash!

 

Transfer the money: Click send, and the money will go to their PayPal account.

 
Revolut: great to transfer money abroad
Revolut is the go-to transfer app when you need to send money abroad. It's become popular because it's easy to use and has fantastic exchange rates. Here's how to transfer money using Revolut:
Download the Revolut app: Or, use their website

 

Create an account: Follow the steps as directed.

 

Verify your identity: Because you're sending money abroad, Revolut will need to make sure you are who you say you are. This can be with things like your passport and driving license. You'll also need to upload a selfie.

 

Add money: Link your bank account or debit card to Revolut and top up your Revolut balance.

 

Transfer the money: To send money, choose "Payments" from the menu. Put in your friend's phone number or Revolut username, choose how much money to transfer and hit "Send."
It's as easy as that. 
Remember that you're sending money abroad and exchange rates will change every day. So, make sure you plan accordingly.

 
Bank transfers: the reliable online money transfer choice
If you want a more traditional approach, bank transfers are a reliable option for sending money within the UK. Here's how to do it:
Sign in to your online banking: Login to your bank's online portal on the app or website. This guide is for sending money online, but you can still go to a bank in person to transfer money if you prefer.

 

Put in the person's details: add the recipient's name, account number and the bank's sorting code. Your bank will verify all the info is correct, but it's still important that everything is right to stop any problems.

 

Choose how much to send: set how much you need to send. You can also add a note so they know what it's for.

 
Review and confirm: once you are comfortable that everything is right you can click send and the money will go over. 

 
Processing time: Some transfers will be quicker than others. For example, it will be quicker to transfer money from a Lloyds account to another Lloyds account than to a Barclays account. 
To be comfortable, plan for the transfer to take a few business days. 
LifePoints: Elevate your financial transfers
Hopefully, this guide has helped you understand all the ways to transfer money in the UK. The good news is you can send free money with LifePoints.
Sign up, take some surveys and earn LifePoints. Once you've earned enough LifePoints, you can choose a reward from our list of over a dozen rewards. You can even get rewarded with some of the methods discussed earlier, like PayPal cash. 

 
So, if you want to send people money online without any money leaving your bank account, LifePoints helps you do that. 

 
Extra things to consider when transferring money online to friends or family
Safety and Security: make sure you know what protections each way to transfer money gives you. 
International transfers: some of the methods discussed don't allow international transfers. So, if you need to send money abroad, choose something like Revolut.
Budgeting and tracking expenses: some options, like your bank can help you budget and plan for the future. This can help you make the most of your money and save even more.

Customer support: even with some careful planning, mistakes happen, and money transfers are no exception. So, look into the customer support options for these platforms. If you know customer support is good, you can have even more confidence when sending money online. 
Read FAQs, live chats, customer support articles and other info on their sites. A little bit of research will help you understand how they support their customers.

 
Now you're ready to easily send money to your friends and family online
Sending money to friends and family has never been easier with PayPal, Revolut and bank transfers. Plus, with LifePoints, you can send money to your friends or family without a penny leaving your bank account.
In the last year alone, LifePoints community members have earned over £18 million in rewards.

 
Join LifePoints today to get started.
---