How Christmas gift cards can make the holidays easier for you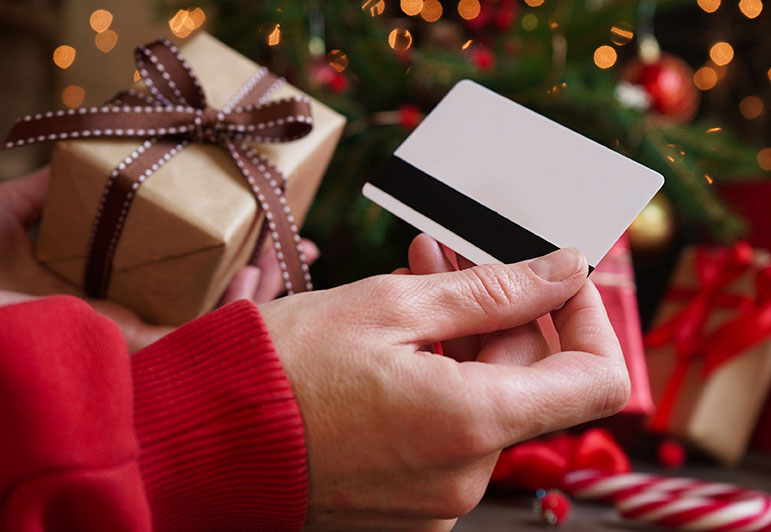 Make your Christmas cash go that bit further this year with our money spinning tips. Christmas is a great time to celebrate with the people you love and care about, but the lead up to the big day can be stressful and pricy. With the cost of living going up you need to make every penny count if you want the best Christmas possible. So, if you're looking to make the most of your budget and still have a great Christmas, gift cards and rewards can help out in more ways than one! This page will cover all the ways that gift cards can help you make your holiday season as good as it can be. If you're reading this in summer and think you might be a little too early: online searches tell us that people start planning and shopping for Christmas as early in the year as August, so you're not alone.
Use a free Christmas gift card to help with the cost-of-living crisis
The cost of everything has gone up recently because of inflation. This means that for Christmas you need to make your money go that little bit further. Luckily there are lots of great ways to cut down your costs without losing any of the Christmas cheer.
You can use free gift cards and cash rewards in a lot of different ways as the cost-of-living crisis effects everybody in a different way. If you want flexibility, you can use gift cards to stores like Amazon just like cash.
You don't even need to leave this site to get free gift cards. Here at LifePoints you can share your opinion on a range of interesting topics and get points as a reward that you can swap for gift cards or PayPal cash added to your account. As a gift to you, you can even get 10 complimentary points just for signing up.
Use gift cards to ease some stress at Christmas time
Christmas is a great time of year. You get to spend time with loved ones, get time off work and enjoy all the festivities. But a lot of Christmas can be stressful and annoying. Shops can be crowded, confusing and a lot of the time they are sold out of what you want, so you need to find the best ways to avoid Christmas stress. Using gift cards around Christmas time helps you avoid all of this. You can sit on your sofa, browse the internet, and buy presents without leaving the comfort of your home. Not only will you be saving money, but you'll also beat all the crowds.
Upgrade the gift you were going to buy with a gift card
During the holidays you always need to buy a lot of presents for a lot of people. Whether that's friends, family or even your work Secret Santa, the list can get long. Wouldn't it be great to get someone more than what we have to budget with? So why not use a Christmas gift card to upgrade that present instead? Let's say you are looking at a 25-pound jumper on Amazon but decide to use a free 5 pound gift card to buy one that's a bit nicer. They will definitely appreciate the better gift and you'll feel better without having put the extra strain on your bank balance.
Treat yourself during the holidays with a gift card
Christmas is a time of giving, so remember to give yourself a treat too! You've worked hard this year so why not use a free gift card on that thing you've wanted for a while. It might not always seem like it but buying a Christmas presents for yourself is important. It lets you unwind, focus some energy on yourself and reward yourself for your achievements. So why not use a free gift card this Christmas season and finally get yourself what you want.
Treat your pets with a gift card this Christmas
Pets are part of the family, so some Christmas gifts for pets are always a nice way to include them in the Christmas festivities. We all love treating our pets, but you might be having second thoughts what with the cost of living this year. If you earn a free gift card online, you can save the money you would have spent but also still get them the present you wanted to. You know they'll love you for it, you'll be able to make some memories and get your furry friends something they'll love.
Use your gift card this Christmas to give back
Christmas is also a time to give back and donating your time and money will always give you a good feeling. It's easy to get caught up in a hectic lifestyle, but now is the perfect opportunity to take a step back and do some good. There are so many charities out there and at this time of year they will be looking for donations, so it can be hard figuring out what to do. If you're looking for Christmas charity ideas, it is easy to donate here at LifePoints as you can exchange your points for a donation to the Special Olympics.
Make your Christmas day even better with a gift card
These days you can get everything you need for the big day online. This means you'll get loads of things to make Christmas better with a gift card. On the internet you can get food, decorations, rent films, buy necessities such as wrapping paper, and of course get any present under the sun. Whatever you need to get to up your Christmas game you're able to with a gift card, and for free if you earn the gift card online. Even something as small as fancy napkins can sprinkle a little sparkle into your Christmas, so a gift card is the perfect partner to add those extra special touches.
Use your gift card to hit the sales
If you earn a gift card around Christmas time it doesn't mean you need to use it on something Christmas related. The holiday season is full of sales like Black Friday, Cyber Monday, Boxing Day, New Year's Day sales or even general holiday sales. Most stores will have one of these sales, so it is a great time to use any gift card you have or earn. Using a gift card during the sales to get something for Christmas is still a great option, but if you are looking for something different for your gift card the other sales are a great way to make the most of it.
Now it's time to make the most of your Christmas gift card
Whether you have a gift card already or are about to earn one by taking our surveys, a gift card at Christmas time can really make the difference in your holiday season better and help you keep to a budget. Whether you want to use it on someone else, use it on essentials for the day or treat yourself, there are so many possible ways that a gift card can help. You don't even need to leave this site to get a free gift card. Here at LifePoints you are able to sign up, share your valued opinion and get points that can be exchanged for rewards such as gift cards or PayPal balance transfers. In the season of giving, you are even able to get 10 complimentary points to get you on your way. To learn more or to sign up click here.
---