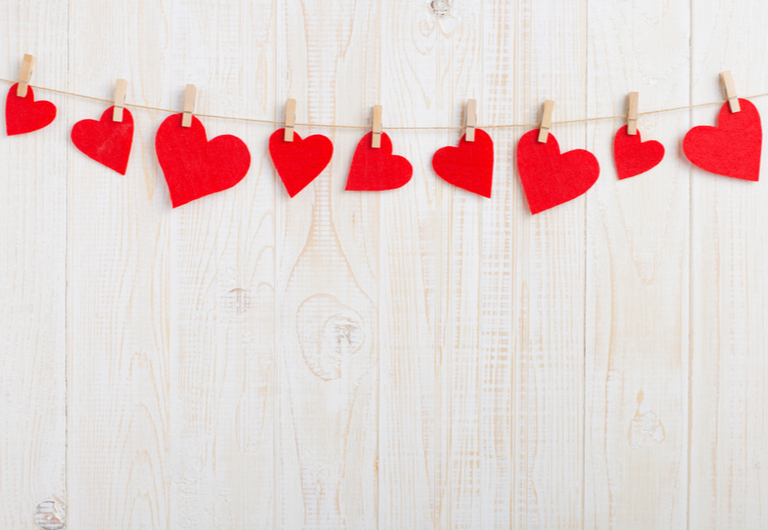 What do people really want for Valentine's Day in 2020?
Just 27% of people plan to celebrate Valentine's Day this year!
It's Valentine's and to honour the occasion we've asked more than 5,000 members how they will be celebrating and what gifts they would like to receive. Interestingly, 61% of people consider themselves romantic, but only 38% consider their partners to be romantic (interesting, huh?). Let's see if the below results can help you hit the spot for your partner this year!
Where has the romance gone?! According to our poll, only 27% of people will be celebrating Valentine's Day this year. It seems that an increasing number of people think that Valentine's Day is just another occasion to spend money. The results show 89% of people in the UK and 82% of people in the U.S believe that Valentine's Day has become too commercialised in recent years.
However, there are many ways of showing your affection to your partner which don't involve buying a material gift! It seems the old saying "it's the thought that counts" still rings true. Our research shows that people would actually prefer to receive experiences and gestures for Valentine's Day (hint, hint).
Our research shows that approximately a quarter (24%) of the overall respondents would prefer a 'hug and a kiss' as their Valentine's gift. That's even higher for men across Canada, U.S and the UK, where nearly three in ten men (29%) would choose a 'hug and a kiss' (n'awww). Another very popular choice amongst the respondents was a weekend away (20%) and a special dinner (16%), so throw the chocolates away and treat them to a nice meal! (Okay, don't do it if you have already bought them?).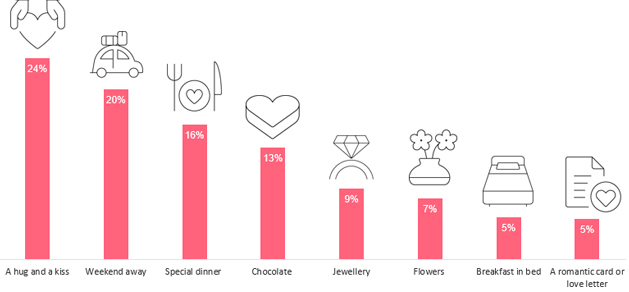 Conventional or modern gifts?
Conventional gifts such as flowers (7%), jewellery (7%) or cards (5%) are not as popular as they once were! Chocolate as a gift (14%) for Valentine's Day is in a sharp decline as people look for healthier alternatives in 2020. However, chocolate was still popular in the U.S with 1 in 5 Americans saying they would like to receive chocolate this year.
Women and men tend to agree on their preferred gifts, with more women enjoying the classic flowers (8%) and jewellery (12%) set. You can never go wrong with these, can you? The only exception was young American males who reported wanting jewellery (29%). Who knew, eh?
Love letters or post-cards were the least popular option (5%), alongside with breakfast in bed (5%). It seems that members of our community don't want all these crumbs in bed – fair enough. However, young British women 18-24 years, 12%) and Canadian millennials (15%) say that they would like to receive a romantic card or a love letter!
True love!
Love can take many forms, and pets are certainly loved on this special day, as more and more people are choosing to show their affection to their beloved pet on Valentine's Day with a gift! Our research shows that one in five people have purchased a Valentine's gift for their pet in their lifetime.
Whilst we are talking about romantic gestures and love, did you know that globally 28% of people questioned met their true love though their friends or family members? But don't worry if you haven't met them yet, 15% of LifePoints members are in the same boat and there's always time. ?
Source: LifePoints Quick Polls & Social Media Polls, January 2020. N= 5,300. US, UK, CAN & AUS. All bases are relevant to the online population.