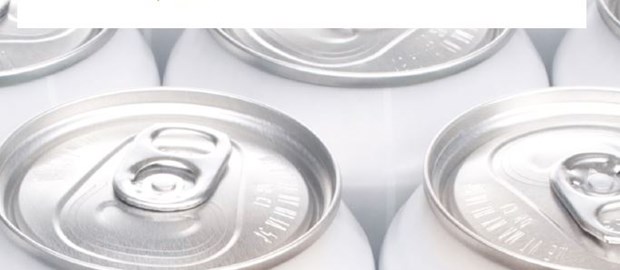 Coke Tops List of the World's Most Chosen Brands
Coca-Cola maintained its position as the world's most-chosen brand for a sixth year in 2017, but smaller local brands are fueling their growth at the expense of such global giants.
According to Kantar Worldpanel's sixth annual Brand Footprint report, the global population made some 354 billion brand choices last year, representing an increase of 1 billion Consumer Reach Points (CRPs). 17 fast-moving consumer goods brands were chosen by consumers more than one billion times a year.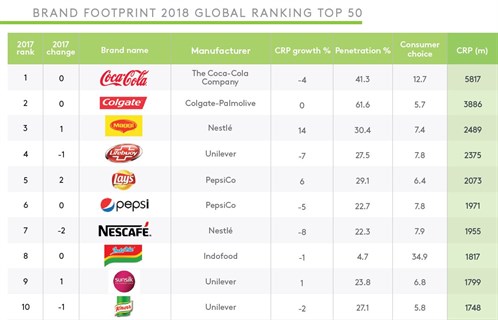 Coca-Cola is the world's most-chosen brand, picked from the shelves 5.8 billion times a year. Colgate and Maggi both achieved podium positions as the world's most chosen personal care and food brands. Colgate is the only brand chosen by more than half of the global population, with 62% penetration globally. Maggi is the fastest-growing Top 50 brand with a global presence—with 14% growth in CRPs, which helped the brand rise one position to become third in the ranking this year.
"A lot has been said about the FMCG market being more challenging in recent times, and despite all this, 22 among the top 50 global brands managed to be chosen by consumers more times in the last 12 months," said Josep Montserrat, CEO of Kantar Worldpanel. "Our data shows that out-of-home and growing channels such as e-commerce, discounters, cash and carries and convenience stores are growing faster than the overall FMCG market and it is time to invest more decisively in what consumers are asking for."
Kantar Worldpanel's Brand Footprint study is based on research from 73% of the global population; a total of one billion households in 43 countries across five continents—covering 75% of the global GDP. As part of the study, Kantar Worldpanel tracks more than 18,000 brands across beverages, food, dairy, health and beauty and homecare. This year's ranking analysed more than 18,000 brands and 1 billion households in 43 countries across five continents, in the 12 months to November 2017.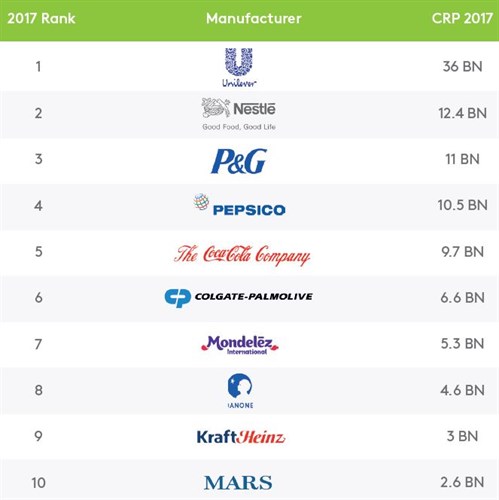 Six out of the 17 brands chosen more than one billion times in a year are owned by Unilever, which leads manufacturers ranking with 36 billion CRPs per year.
Local brands on the rise
Local brands grew in 2017, taking 64.6% of all brand spend, compared with global brands' 35.4% share, with every 0.1% gained now worth $500 million.
Global brands are stronger but still losing share in the homecare, and beauty and personal care categories, taking 47% and 58.4% of global spend per sector respectively. It was only within the beverages sector that global brands are winning, having gained share from local brands three years in a row (38.3% global versus 61.7% local in 2018, compared to 38.1% global vs. 61.9% local in 2015).
To access the full global, regional, country and sector rankings and a complete index of the brands included in the Global Top 50, please visit www.kantarworldpanel.com/brandfootprint
Source: Kantar Worldpanel